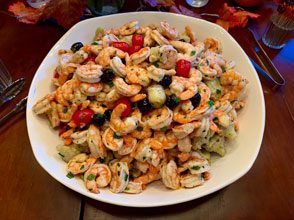 It's the most wonderful time of the year and everyone is throwing a holiday party, including you. Aren't you tired of serving (and being served) sliced ham and turkey with cocktail rolls? A bowl of shrimp with cocktail sauce has been done to death. Cheese and vegetable platters are totally boring fare. Even traditional crab dip is getting old. You're in luck! Your guests are sure to love these three delectable cocktail party recipes. Best of all, they're all simple to prepare and can be made in advance. Happy Holidays!
Italian Marinated Shrimp and Artichokes
Something new, beautiful and fabulously delicious!
1½ pounds large shrimp, peeled and deveined
¼ cup white balsamic vinegar
3 tablespoons olive oil
1 (.75-ounce) package dry Italian dressing mix
2 tablespoons finely chopped Italian parsley
2 tablespoons finely chopped green onion
1 (14-ounce) can artichoke hearts, drained and halved
1 (6-ounce) can large black olives, drained
1 cup grape tomatoes, halved
Cook shrimp and set aside to cool. In a medium bowl, combine vinegar, olive oil and Italian dressing mix. Add shrimp, parsley, green onion, artichoke hearts, olives and grape tomato halves. Toss gently to combine. Refrigerate for 4 to 8 hours before serving. Serves 8.
Chinese Buffet Crab Spread
Surimi is imitation crabmeat. Admit it. If you've ever been to a Chinese buffet, you've tried this dish. Sometimes called Mayonnaise Crab or Crab Casserole, it's one of the most delectable selections on the buffet. 
1¼ cups shredded cheddar cheese, divided
16 ounces surimi
1 (8-ounce) package cream cheese, softened
½ cup sour cream
¼ cup mayonnaise
2 stalks celery, chopped
¼ cup chopped red onion
1 tablespoon lemon juice
1¼ teaspoons Worcestershire sauce
1 tablespoon sugar
Pinch garlic salt
Dash dried dill weed
Dash Old Bay Seasoning
Reserve half of shredded cheddar cheese. Preheat oven to 350 degrees. Lightly grease a casserole dish with cooking spray. Combine all of the ingredients and remaining half of the shredded cheddar cheese in a medium bowl. Spoon into prepared casserole and top with remaining half of shredded cheddar cheese. Bake, uncovered, for 25 to 30 minutes or until heated through. Serve with crackers or crusty bread. Serves 6 to 8.

Baked Brie En Croute
Prepare up to 3 hours before serving. Keep refrigerated until ready to bake. Let Brie En Croute come to room temperature for 15 minutes before baking.
1(8-ounce) container refrigerated crescent roll dough
1 (16-ounce) wheel soft-ripened brie cheese 
1 egg, beaten
¾ cup light brown sugar, packet
½ cup chopped pecans
Preheat oven to 375 degrees. Prepare a baking sheet with baking spray. Unroll the crescent roll dough and divide in half, using the perforations. Place brie (do not remove the white rind) on half of the dough and press dough around to cover one side. Place remaining piece of dough on the other side of brie to cover the entire wheel of cheese. You may need to tear pieces of dough to fill in spaces that aren't covered. Make sure entire wheel of cheese is encased in the dough and no white places are showing. If the brie is not completely encased in the dough it will melt and leak out all over your baking pan. Place dough covered brie on prepared baking sheet. Brush top and sides with beaten egg. Top with brown sugar and sprinkle with chopped pecans. Bake in preheated oven for 12 to 18 minutes or until dough is golden brown and pecans are toasted. Remove to a serving platter with a large spatula. Serve with a sharp serrated knife. Serves 6 to 8.
The writer owns Catering by Debbi Covington and is the author of three cookbooks, Celebrate Beaufort, Celebrate Everything! and Dining Under the Carolina Moon. Debbi's website address is www.cateringbydebbicovington.com. She may be reached at 525-0350 or by email atdbc@cateringbydebbicovington.com.