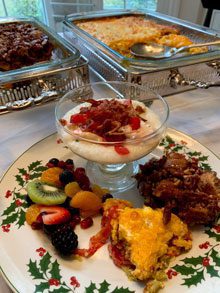 The big day is finally here! It's time to open gifts. It's time to celebrate with family and friends. It's also time to eat. Isn't it interesting how everyone is extra hungry on Christmas morning? These make ahead recipes will feed your crowd and you won't have to miss a moment of the joy and merriment of the day.
Kick off the festivities with Bloody Marys, Mimosas and Irish Coffee. Everyone can snack on Cream Cheese Sausage Balls while you cook the grits, warm the shrimp sauce and pop two delicious casseroles in the oven. The addition of a fresh fruit salad is all you'll need to create the perfect Christmas Brunch. Merry Christmas and Happy New Year!
Cream Cheese Sausage Balls
A southern staple at Christmastime, the addition of cream cheese makes these yummy sausage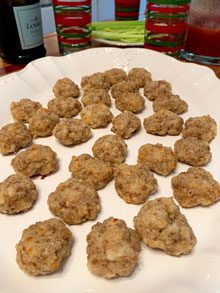 balls very tender.
1 pound hot sausage, uncooked
1 (8-ounce) package cream cheese, softened
4 ounces shredded cheddar cheese
1¼ cups Bisquick
Preheat oven to 375 degrees. Mix all ingredients in a large bowl until well combined. Roll dough into 1-inch balls and place on lightly greased baking sheet(s). Bake for 15-17 minutes or until browned. Serve hot. Makes about 60.
Shrimp and Grits Martinis (top)
This recipe is adapted from one of the most popular entrees on my wedding catering menu! Delicious and fun!
8 cups water
1 stick butter
3 cups quick-cooking grits
1 cup heavy whipping cream
Salt, to taste
Freshly ground black pepper, to taste
3 pounds shrimp, peeled and deveined
4 tablespoons butter
¼ cup all-purpose flour
1 (14-ounce) can chicken or vegetable broth
1½ cups heavy whipping cream
3 egg yolks, lightly beaten
½ cup grated Parmesan cheese
8 ounces diced ham or cooked bacon
½ cup chopped Italian parsley
Chopped tomatoes, to garnish
Chopped fresh Italian parsley, to garnish
Boil 8 cups water in a heavy stock pot or Dutch oven. Add butter. Slowly stir in grits. Reduce heat to medium-low and cover pot. Cook for 5 minutes or until thickened, stirring occasionally. Stir in heavy cream; season with salt and pepper. Remove from heat, cover and set aside. Cook shrimp in a large pot of boiling water until just pink and cooked through. Remove from water and set aside. Melt butter in a large saucepan. Blend in flour with a whisk until smooth. Add the chicken broth and whipping cream. Cook over medium-high heat until mixture thickens and bubbles, stirring constantly. In a bowl, stir one cup of the sauce into the beaten egg yolks, mixing well. Pour egg-sauce mixture back into saucepan. Stir in Parmesan cheese. Stir in cooked shrimp and ham; heat until warmed through. Remove from heat and stir in parsley. To serve, place a serving of grits in a stemmed glass, top with shrimp sauce and garnish with chopped tomatoes and fresh Italian parsley. Serves 12 to 15.
Chorizo, Tomato and Green Chile Frittata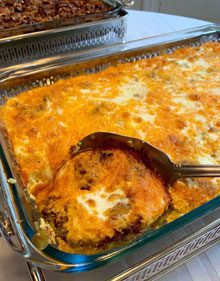 Mexican chorizo is quite greasy. Be sure to drain the cooked meat very well on paper towels before adding it to the baking dish.
½ pound Mexican chorizo
2 (4-ounce) cans chopped green chiles, drained
3 to 4 roma tomatoes, sliced
Salt and pepper, to taste
1 pound sharp cheddar cheese shredded
12 eggs, beaten
Remove chorizo from casings and cook, without additional oil, in a hot skillet. Remove meat from skillet and drain well on paper towels. Preheat oven to 350 degrees. Spray a 9×13-inch baking dish with cooking spray. Spread green chiles evenly over the bottom of the dish. Top with sliced tomatoes. Season tomatoes with salt and pepper. Sprinkle with cooked chorizo. Top with shredded cheddar cheese. Pour beaten eggs over the cheese. Cover with aluminum foil and bake for 55 to 60 minutes or until center is set. Serves 8.
Pecan Pie Croissant French Toast
Croissants that are 2 or 3 days old work best. I used Bourbon Cream instead of milk. You can use Rum Chatta, Bailey's or any other cream liqueur, to add a festive flavor.
6 small butter croissants (5 to 6 cups, torn)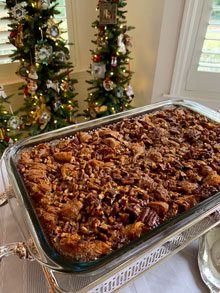 6 eggs
½ cup whole milk
¼ cup light brown sugar
½ teaspoon ground cinnamon
2 cups roughly chopped pecan halves
1 stick butter
1 cup light brown sugar
½ cup light corn syrup
1 teaspoon ground cinnamon
Lightly grease a 9×13-inch baking dish with cooking spray. Tear croissants into bite-sized pieces and spread evenly in bottom of prepared dish. In a mixing bowl, whisk 6 eggs, milk and ½ teaspoon cinnamon until smooth. Pour egg mixture over croissants. Sprinkle pecans evenly over the top. Set aside. Melt butter in a small saucepan. Whisk in 1 cup brown sugar, corn syrup and 1 teaspoon ground cinnamon. Cook for a few minutes until well combined. Pour butter-sugar mixture evenly over the top of the casserole. Cover and refrigerate overnight. To bake: Preheat oven to 350 degrees. Bake, uncovered, for 30 to 45 minutes or until center is set. Serve warm. Serves 8.
The writer owns Catering by Debbi Covington and is the author of three cookbooks, Celebrate Beaufort, Celebrate Everything! and Dining Under the Carolina Moon. Debbi's website address is www.cateringbydebbicovington.com. She may be reached at 525-0350 or by email at dbc@cateringbydebbicovington.com.