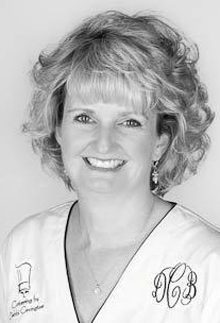 It's the day after Christmas and I'm holed up at my computer, still in my pajamas, sipping on hot cinnamon tea from my Cindy Lou Who mug. Vince's mother headed home to Florence a couple of hours ago. Vince, who has been trapped at home since December 23rd, flew out of the house right behind her to hang out with his friends.
All three of our cats are so very obviously grateful for the peace and quiet. Gizmo is passed out on a warm pile of freshly dried laundry and both Taz and Belle are camped out on our still unmade bed.
Christmas was a blur. It always is. A never-ending whirlwind of parties, out-of-town friends, family, house guests and FOOD. Mountains of food! We went the traditional route this year with a baked ham, mashed potatoes and gravy, praline sweet potatoes, cranberries and apples, green bean casserole, sourdough bread with compound butters, sour cream coconut cake, chocolate pie and gingerbread with warm lemon curd — and there were only four of us.
I figure we have one week left to relax a bit and enjoy the rest of the holiday season. We still have a handful of parties to attend and we need to take the Christmas decorations down. I want to update my website, finalize some new menus and catch up on bookkeeping for both of our businesses before going back to work full time. The next week will be a great opportunity take a break from the kitchen with some easy-to-prepare menus. This week's recipes are all one-dish meals. All are pasta – great comfort food for cold January evenings. I'm thinking a fresh salad, a dish of pasta, a slice of Mama's Sourdough Bread (bread recipe may be found online in the November 5, 2013 issue of Lowcountry Weekly) and a glass of wine will be the makings for a wonderful meal. Soon 2014 will take over and once again our busy lives will be back in full swing. Stay tuned. I have some delicious recipes to share with you and lots of new ventures on the horizon. Happy New Year!
Tuna Au Gratin with Dry Sherry
Serve this yummy entree with extra dry sherry on the side. It's not your Mama's tuna casserole! (Substitute a drained 12-ounce can of chunk light tuna in water if fresh tuna is not available.)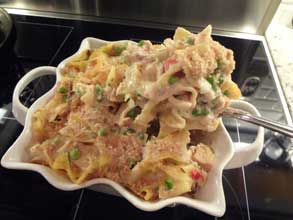 1 (8 to 10-ounce) tuna steak, grilled or baked to desired doneness
1 (10.75-ounce) can cream of mushroom soup
1 cup heavy whipping cream
¼ cup dry sherry
1 tablespoon lemon juice
½ cup grated parmesan cheese
¼ cup cup diced onion
¼ cup diced bell pepper
1 cup frozen baby peas
1 (4-ounce) can sliced mushrooms, drained
2 tablespoons diced pimento
1 tablespoon chopped fresh Italian parsley
1 (12-ounce) package wide egg noodles
2 tablespoons dry breadcrumbs
Season tuna steak with salt and pepper. Cook tuna and cut into 1-inch pieces; set aside. In a large bowl, combine soup, whipping cream, sherry, lemon juice and parmesan cheese; mix well. Stir in onion, bell pepper, peas, mushrooms, pimento and parsley. Cook egg noodles according to package directions, drain and add to vegetable mixture; toss to combine. Gently fold in tuna, being careful not to break the pieces. Place mixture in a lightly-greased casserole dish. Sprinkle with dry breadcrumbs. Cover and bake in a preheated 350 degree oven until warmed through, 30-40 minutes. Serves 8.
Pizza Pasta
A family night favorite for kids and adults!

1 (16-ounce) package mild Italian sausage
1 (7-ounce) package sliced pepperoni, reserve 15-20 slices to top casserole
¼ cup diced onion
¼ cup diced bell pepper
1 (26-ounce) jar prepared tomato sauce
1 (14-ounce) jar prepared pizza sauce
1 (8-ounce) can sliced mushrooms, drained
1/3 cup grated parmesan cheese
2 cloves garlic, chopped
1 teaspoon dried oregano
1 (16-ounce) package penne pasta
2½ cups shredded mozzarella cheese
Cook sausage until browned; drain on paper towels and let cool. Place cooked sausage, pepperoni, onion, bell pepper, tomato sauce, pizza sauce, mushrooms, parmesan cheese, garlic and oregano in a large bowl; mix well to combine. Cook pasta according to package directions. Drain and add to meat and tomato mixture. Toss well to combine. Spread in a lightly greased baking dish. Top with shredded mozzarella cheese and garnish with reserved pepperoni slices. Bake, uncovered, in a preheated 350 degree oven for 30 to 40 minutes or until cheese is melted and pasta is warmed through. Serves 12.
Drunken Spaghetti (Spaghetti Ubriachi)
Flavorful, fast and delicious. A pleasure for all the senses.

3 cups red wine, divided
6 cups water
1 pound spaghetti
4 tablespoons extra-virgin olive oil
4-5 anchovy fillets, chopped
3 cloves garlic, finely chopped
2-3 tablespoons capers
½-¾ teaspoon red pepper flakes
½ cup chopped Italian parsley
½ cup freshly grated Parmesan cheese
Sea salt
Bring two cups of wine and 6 cups of water to a boil in a large pasta pot. Add the spaghetti and cook until al denté, about 8 minutes. In a large frying pan, heat the oil; add the anchovies, garlic, capers and red pepper flakes. Sauté while the pasta cooks, 5 to 7 minutes. Drain the pasta and add it to the frying pan. Pour in the remaining cup of wine and cook until wine is reduced and spaghetti is cooked through, about 4 minutes. Toss with parsley and cheese and serve hot. Season to taste with sea salt. Serves 4 to 6.
The writer owns Catering by Debbi Covington and is the author of two cookbooks, 2013 Gold Medal Winner of the Benjamin Franklin Award, Celebrate Everything! and Dining Under the Carolina Moon. Debbi's website address is www.cateringbydebbicovington.com. She may be reached at 525-0350 or by email at dbc@cateringbydebbicovington.com