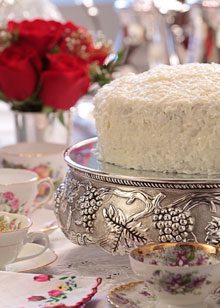 I had to bake a couple of cakes for a catering gig yesterday. At the last minute, I thought to add my Mama's secret ingredient, black walnut flavoring. That's what triggered it. As the cakes baked, my kitchen was ensconced with a lovingly familiar and kind of melancholy scent. My mind was flooded with memories. Smells do that to me more than anything else. And then, hot tears started streaming down my cheeks.
I've been thinking about my Mama a lot lately. I've been remembering her in her kitchen. That's where she hung out. Mama's kitchen was the busiest spot in the house. It's where we ate reheated taco pizza for breakfast while standing in front of the oven for warmth on cold winter mornings.
Mama's kitchen smelled like pot pies or date nut bars after school. It was Mama's kitchen where birthday parties were held, science projects were created and many of the real things in my adolescent life happened. It's where Mama cooked family suppers and Thanksgiving feasts for my grandmothers, aunts, uncles and cousins. It was where Mama baked her famous coconut cakes and hundreds of loaves of sourdough bread. It was where I did my homework, endured the torture of home perms, and the only place where I was allowed to paint my fingernails. Mama's kitchen was where I cracked pecans, snapped green beans and polished silver for punishment when I came home after curfew. It was where Mama and I drank two bottles of champagne, while laughing and crying, in the middle of the afternoon, when I received my college diploma.
I can still see Mama sitting at the kitchen table writing thank you notes, paying bills and addressing Christmas cards. There was always a pile of something on the kitchen table besides food – and more times than not, the family cat, Fluffy.
It was in my Mama's kitchen that I learned how to cook.
Three weeks ago, Mama's kitchen was destroyed by fire. A fire in my Mama's kitchen! I can't begin to imagine. I haven't seen photos but understand that the kitchen is a total loss. Even in the ashes and rubble, I have my memories. Very happy memories, actually. If the fire hadn't happened, I wonder if and when these things would have come to mind again. Right now, I envision Mama's kitchen quiet and dark with charred walls and burned cabinets. The good news is, her kitchen can be rebuilt and remodeled – and I hope that's what will happen. Fire can destroy a lot of things but it can't burn love. I still have that. My heart is full.
(Photography by Paul Nurnberg)
Banana Salad
Growing up, Mama would make this salad on special occasions. She used iceberg lettuce and
chopped salted peanuts. This is my twist on her recipe. When roasting the pecans, don't be afraid of the bacon grease. It gives the pecans a rich and smoky flavor that you just don't get if you use butter.
1 cup pecan halves
2 teaspoons bacon grease or butter, melted
1 tablespoon light brown sugar
¼ teaspoon salt
10 cups salad greens
4 ripe bananas, sliced
8 tablespoons salad dressing (Miracle Whip)
Preheat oven to 350 degrees. Toss pecans with melted bacon grease, brown sugar and salt until well combined. Spread in a single layer on a baking sheet. Bake for 8 minutes, stirring once. Remove from oven and cool; chop and set aside. Divide salad greens on 8 individual salad plates. Top with banana slices. Place a dollop of salad dressing in the center of each salad. Garnish with chopped pecans. Serves 8.
Vanilla-Topped Brownies
Not the most creative name for a recipe, but this is what we've always called them. My mother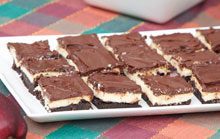 made these brownies for my bridesmaid's luncheon back in 1991. The recipe is tried and true and men love the sweet result! The brownies will cut evenly if you use a plastic knife – one of the many tricks I've learned over the years!
1 (21.5-ounce) package fudge brownie mix
1 (8-ounce) package cream cheese, softened
2 tablespoons butter, softened
1 tablespoon cornstarch
1 (14-ounce) can sweetened condensed milk
1 egg
2 teaspoons vanilla extract
1 (16-ounce) can chocolate fudge frosting
Preheat oven to 350 degrees. Prepare brownie mix according to package directions. Spread into greased 9×13-inch baking pan. In a small bowl, beat cream cheese, butter and cornstarch until fluffy. Gradually beat in sweetened condensed milk, egg and vanilla until smooth. Pour evenly over brownie batter. Bake for 40 to 45 minutes or until top is lightly browned. Cool thoroughly. Spread with frosting. Store covered in refrigerator. Makes 24 brownies.

Sour Cream Coconut Cake (top photo)
Big, beautiful, moist and delicious! This is one of the recipes for which my mother was famous! Bake and frost the cake at least three days before you plan to serve it. It actually gets better with age.
1 (24-ounce) carton sour cream
1 cup sugar
1 (14-ounce) package sweetened flaked coconut
1 (18.25-ounce) yellow cake mix
1 teaspoon black walnut extract (optional)
Combine sour cream, sugar and coconut in a medium mixing bowl. Cover and refrigerate for 2 hours. In the meantime, prepare cake according to package directions, with the addition of 1 teaspoon black walnut extract, making two 8-inch layers. When completely cool, split both layers making 4 cake rounds. Reserve 1½ cups sour cream-coconut mixture. Spread the rest between layers. Frost cake with reserved sour cream-coconut mixture. Seal in an airtight container. Refrigerate for three days before serving. Serves 10 to 12.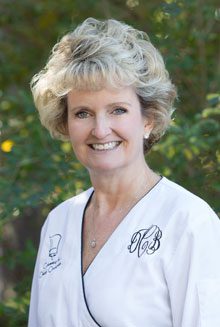 The writer owns Catering by Debbi Covington and is the author of three cookbooks, Celebrate Beaufort, Celebrate Everything! and Dining Under the Carolina Moon. Debbi's website address is www.cateringbydebbicovington.com. She may be reached at 525-0350 or by email at dbc@cateringbydebbicovington.com.