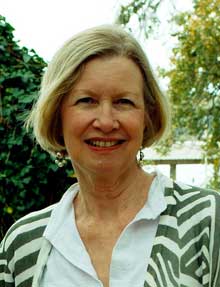 New York Times best-selling author Cassandra King will make a special appearance on Saturday, January 25 at the Chart House, 2 Hudson Road on Hilton Head Island from 4:00 to 6:00 pm. King will talk about her latest book Moonrise and share her insights about her inspiration, her craft and more.
Inspired by Daphne du Maurier's gothic classic Rebecca, Moonrise is set at an eerie mansion in Highlands, NC. The plot revolves around a group of old friends, some of whom are reluctant to accept the new wife of one in their midst after his first wife has died. As the women focus on life changes and the unsolved mystery of Rosalyn's death the previous year, the high emotions of envy, passion, and friendship all come into play. Novelist Anne Rivers Siddons says of Moonrise, "Cassandra King writes with clarity and insight about the age-old and contentious subject of friends and lovers, and with love and lyricism about a beautiful slice of southern mountains. Moonrise is a fantastic, not-to-be-missed novel."
Tickets to the Evening with Cassandra King are $60 per person and include hors d' oeuvres and a signed copy of Moonrise. A cash bar will be available at Happy Hour prices. Seating is limited. The event is not handicap accessible.
Order your tickets now. The deadline is January 10, 2014. No tickets will be sold at the door. To reserve you place call (843) 815-6616 or email Dodi at daeschenbach1@lowcountryliteracy.org.