On July 8th, members of USCB's Osher Lifelong Learning Institute were invited to join photographer Susan DeLoach and me for a behind-the-scenes look as we demonstrated and taped several cooking videos for "My Fabulous Cooking Show" on YouTube. We had such a good time and completed five recipes in less than an hour. The recipes this week are the offerings that were shared during our presentation. Happy Cooking!
Blooming Onion Bread
This is a great way to use pieces of leftover cheese. Any combination of cheeses will work with this recipe. Wonderful as an appetizer or with a big bowl of beef chili!
1 (16-ounce) loaf sourdough bread, unsliced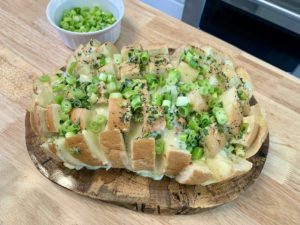 16 ounces jalapeno-jack cheese, thinly sliced
1 tablespoon Dijon mustard
1 tablespoon chopped fresh Italian parsley
1 cup chopped green onions, divided
Preheat oven to 350 degrees. Cut the bread lengthwise and crosswise without cutting through the bottom crust. (The bread slices easier if it's a day or two old.) Place a large piece of aluminum foil on a baking sheet. Spray foil lightly with canola oil cooking spray. Place the prepared bread on the foil. Insert cheese slices between cuts. In a small bowl combine melted butter with mustard, poppy seeds, parsley and ½ cup green onions; drizzle evenly over bread. Wrap loosely in foil. Bake in preheated oven for 15 to 20 minutes. Unwrap the bread and bake for an additional 10 to 15 minutes or until cheese is melted. Sprinkle with remaining ½ cup of green onions before serving. Serves 6 to 8.
Herb-Marinated Tomatoes
These are better the second day. More tomatoes may be added to the left-over marinade.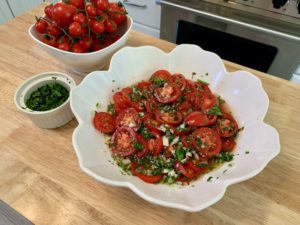 1/3 cup white wine vinegar
1/3 cup finely chopped onion
1 tablespoon chopped fresh cilantro leaves
¼ cup chopped fresh Italian parsley
¼ cup chopped fresh chives
½ teaspoon dried marjoram
½ teaspoon dried tarragon
1/3 cup extra-virgin olive oil
Arrange tomato slices in a shallow glass dish. In a small bowl, whisk remaining ingredients together; pour over tomatoes. Cover and marinate in refrigerator for a least 5 hours.  Serves 8 to 10.
Tex-Mex Stuffed Avocados
For the taco seasoning mix: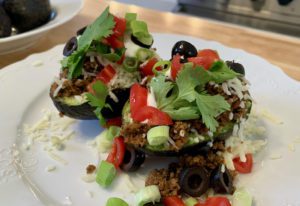 1 tablespoon crushed red pepper flakes
1½ teaspoons garlic powder
1½ teaspoons black pepper
Mix all ingredients in a small jar with a tightly fitting lid. Keep airtight until ready to use. This recipe will make enough seasoning for 6 pounds of ground beef. Use 2 tablespoons per pound.
2 tablespoons taco seasoning mix (recipe above) or 1 (.85-ounce) packet taco seasoning
1 cup shredded cheese (cheddar, mozzarella, pepper-jack)
½ cup grape tomatoes diced
¼ cup sliced black olives
Cook ground beef in a medium-sized skillet. Drain meat well on paper towels and return to skillet. Stir in ¼ cup water and 2 tablespoons taco seasoning mix. Stir to combine. Cook for 2 to 3 minutes. Remove the pits from the halved avocados. Spoon out some of the avocado to create a space for the taco meat. Load the avocados with taco meat. Place on a heat-proof microwavable dish and top each avocado with cheese. Place dish in microwave and heat for 30 to 60 seconds until cheese is melted. Top each avocado with sour cream, tomatoes, black olives, green onions and cilantro leaves. Serve immediately. Serves 6.
Lemon Lush Pie
1 (3.4-ounce) package instant lemon pudding mix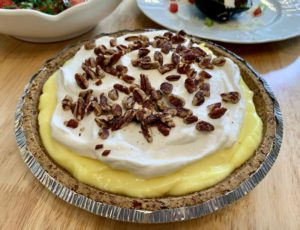 1 prepared pecan pie crust
½ (8-ounce) package cream cheese, at room temperature
½ (8-ounce) container frozen whipped topping, thawed in refrigerator, divided
Chopped toasted pecans, to garnish
Prepare instant pudding according to package directions; refrigerate. With an electric mixer combine cream cheese, powdered sugar and ½ cup whipped topping until well blended; spread evenly in prepared crust. Top with lemon pudding. Spread ½ cup of remaining whipped topping over lemon pudding layer. Sprinkle with chopped toasted pecans. Refrigerate until ready to serve. Serves 6 to 8.
Rosemary Greyhound Cocktail
For the rosemary simple syrup: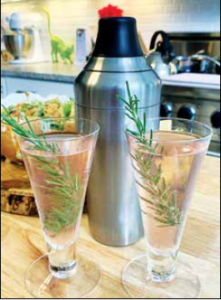 1 teaspoon rosemary simple syrup
Sprigs of fresh rosemary to garnish
In a small saucepan over medium heat, dissolve the sugar in the water for about 3 minutes. Do not let the mixture boil or the sugar will crystalize. Remove from heat and add 3 sprigs of rosemary; let steep for one hour. Strain syrup through a sieve into a container with a lid. Cover and refrigerate until ready to use. They syrup will last in the refrigerator for up to 10 days. To make the cocktails: fill a martini shaker with ice. Add grapefruit juice, vodka and rosemary simple syrup. Shake well to combine. Pour into two 5-ounce glasses and garnish with sprigs of fresh rosemary. Serves 2.
The writer owns Catering by Debbi Covington and is the author of three cookbooks, Celebrate Beaufort, Celebrate Everything! and Dining Under the Carolina Moon. For more great recipes and to view her cooking demonstrations, visit and subscribe to Debbi's YouTube channel. Debbi's website address is www.cateringbydebbicovington.com. She may be reached at 843-525-0350 or by email at dbc@cateringbydebbicovington.com.