NEW FEATURE! (Wherein an elite corps of aficionados roll up their sleeves and get good and greasy in search of The Lowcountry's best burgers)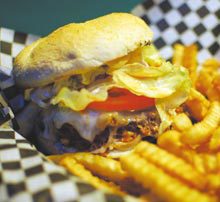 First Up…

ROSIE O'GRADY'S
Boundary Street, in Beaufort Town Center
843.379.7676
Owner Michael Pressley ("Mikey" to his regulars) is proud to call Rosie's "a five star dive bar." So are we. You'll find the bar adjacent to the K-mart off of Boundary Street. The exterior only hints at what awaits on the other side (get more at lcweekly.com > Food & Drink > Life Behind Bars). This is a bar's bar with an abundance of draught beers and just the right amount of neon and miscellaneous junk ("bar crap") on the walls. Rosie's is also one of the only spots left in Beaufort where you can enjoy a friendly game of billiards with your pint.
But Rosie's is also known for its food. Pressley spent nearly 30 years running high-end resorts before he and wife, Leslie, dropped anchor in Beaufort Town Center. The burgers – like everything else that comes out of the kitchen – "are made with love," says Pressley, who makes every choice beef patty by hand. You can taste the freshness in every bite. No pre-packaged patties allowed.
The menu is full of choices, none of them bad, one slightly dangerous. The Big Babbaloo is a pair of seasoned patties grilled and stuffed with jalepenos, pepperjack cheese and yum yum sauce (all house sauces are made from scratch). The Philly Cheeseburger's a 1/4 pound of beef topped with four ounces of Philly Meat, peppers, onions, provolone and sauce. The most popular burger is the Beaufort basically because it's a build-your-own proposition. This is your burger, your way. Craving a little extra pig on your patty? Go ahead and add bacon and the house made BBQ pork. Hell, go nuts and slap on some jalepenos, chili, grilled onions and some sharp cheddar. If it's in the house, it's yours says Mikey. "We'll put anything on a burger." Napkins are no problem, either. Bring your own eye protection, however. You might need it for the Samuel L. Jackson Chili Cheeseburger From Hell! (Correctly pronounced, "Hay-Uhl!). This half-pounder comes with the works and as much of Mike's homemade habanero sauce as your physician will allow. In other words, much like its namesake in Pulp Fiction, it's been known to make grown men cry.
Pressley's burger philosophy is in line with my own. A great burger should make your knees buckle. "Everybody likes hamburgers and a good hamburger is easy to make," he says, "but a lot of people screw it up by cooking all the juice out and turning it into a hockey puck. We don't serve hockey pucks." (Insert punchline.)
My partner samples the Sam Jackson while I choose the Beaufort Burger topped with lettuce, tomato and goat cheese (yes, chevre). The burgers are hot and juicy with a pile of perfectly done crinkle cut fries. The goat cheese adds a layer of luxury to the ground beef while my partner observes that he could see how some folks might not be up to the Sam Jackson challenge. He is, however. Not a morsel survives. To paraphrase Mr. Jackson, these are some damn tasty burgers.
EXRA TOPPINGS
Join Rosie's and 104.9 The Surf for an oyster roast to benefit animal rescue on 4/29. The covered back patio will be open and Mike's flying in mollusks from all over the country.
Join the fun (and a great cause) for a paultry $10 donation. The event is dog friendly. Call Rosie O'Grady's for more info.
JOIN THE BURGER BEAT
We're in search of the best burgers in The Lowcountry and we need your help. Email us at backyardtourist@gmail.com and tell us about your favorite burger. The criteria's simple: no national chains and all burgers must be handmade on site.