The search for the Lowcountry's best handmade burgers continues. But first, a recap…
Story and photos by Mark Shaffer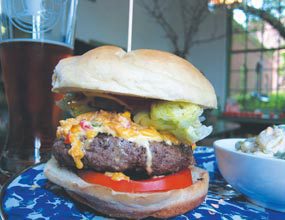 Jules: You know what they call a Quarter Pounder with cheese in France?
Brett: No.
Jules: Tell 'em, Vincent.
Vincent: A Royale with cheese.
Jules: A Royale with cheese! You know why they call it that?
Brett: Because of the metric system?
Jules: Check out the big brain on Brett!
– from Quentin Tarentino's "Pulp Fiction"

The writer and humorist Calvin Trillin once wrote, "Anybody who doesn't think that the best hamburger place in the world is in his hometown is a sissy." I might have picked a different word, but I get where he's coming from. When I was a kid the concept of "fast food" was still barely in its infancy – in fact, it wasn't even out of the cradle. The Golden Arches had yet to lead the fast food conquest of America (much less the rest of the globe). Towering corporate logos were still years away from gathering in ubiquitous clusters at every interstate exit. The American Hamburger was still something we ordered at hometown diners and drive-ins with names like Ruth's and Big Al's.
It was the reason dad fired up the grill on the weekends. My own hometown burger joint (Ruth's in Hartsville, SC) has been family owned and operated since 1945. And my mouth still waters at the thought of my dad's Saturday night burgers – plump slabs of beef seasoned with Worchester sauce, crowned with real cheddar cheese oozing out of a bun my mom baked from scratch.
My dad, being farm raised, used to fill a stand-up freezer twice a year with local grass-fed beef raised and slaughtered just a few miles from where it was consumed.
On family trips my sister and I would beg for the stuff the networks sold during Saturday morning cartoons, hawked by kid-friendly clowns and kings – a marketing strategy I still find deeply insidious. The clown still creeps me out. And each time we were indulged, I always felt vaguely cheated sitting there in the molded plastic swivel chair with my complimentary paper crown. After Dad's burgers I knew they were hiding something under all that "special sauce."
Which brings us back to Mr. Trillin's concept of the Great American Hometown Hamburger, a tradition reborn and booming according to just about every culinary website, blog and publication in the land, including this one. This is not fast food – in fact, let's be blunt about this. There are no two more offensive words in the culinary vernacular than "fast food." In the decades since the golden arches became ubiquitous in this country the corporate armies of darkness have marched across the earth crushing all who oppose them. Okay, that might be a bit hyperbolic, but it's pretty cool if you imagine Sean Connery narrating that last line. The fact remains that the fast food giants have heavily (and I mean that literally) influenced the way we eat and think about food. Ponder this the next time you catch a Hardee's ad featuring a lingerie model scarfing a "Mile High" burger – real food porn on so many levels.
The recent rise of the "gourmet" burger in America seems to indicate that a lot of us are literally fed up with this drive-thru mentality and want something that looks and tastes more like the burgers Dad used to make. We're here to find the very best handmade, local burgers the Lowcountry has to offer.

LOWCOUNTRY PRODUCE MARKET & CAFE
302 Carteret Street
Downtown Beaufort
843-322-1900
When we launched this column we were completely surprised at the flood of comments, opinions, suggestions and pleas to join our team of Burger Beat Irregulars. Seems like everyone's got a favorite burger topped with an opinion stronger than a slice of raw onion.
There was even one individual who berated us for perpetuating America's unhealthy fascination with "junk food" before enthusiastically recommending his own favorite ("It's awesome!"). There's nothing like an order of fries with your convictions. Let's set the record straight. This has nothing – (say it your head like DeNiro) – nothing to do with junk food. It's in our credo: "The Lowcountry's best handmade burgers." On this beat I require a beer with my burger and some friggin' imagination (goat cheese and sun dried tomatoes? Why the hell not?). This is about an American original made by hand with pride and a little love. And nothing says love in the south like pimento cheese.
For years the Pimento Burger (above) was a closely guarded secret known only to the dedicated lunch patrons of Lobeco's legendary Lowcountry Produce. This wasn't just a burger; it was a destination. People drove for miles to treat themselves. Now with the location on Carteret Street, what we save on gas we can blow on burgers.
The building was designed as a Post Office and the loving restoration highlights its utilitarian charm. This is a microcosmic culinary cathedral with vaulted ceilings and high, arched windows – equal parts gourmet grocery, butcher shop, and restaurant. One of the original vaults is filled shelves of aromatic herbs and spices.
My partner on this excursion is Publisher and burger enthusiast Jeff Evans who hails originally from "The Bay Area." This means two things to me: 1) He'll either be the first or last to panic in an earthquake, and 2) I never get tired of the car chase in "Bullitt." But I digress.
We order our burgers "all the way" with lettuce, tomato, onion, ketchup, mayo, mustard & house made sweet cucumber pickles. Jeff is a notorious pickle hater. Notorious. And yet, when the burgers arrive the first thing he tastes is a pickle. Clearly the promise of jalapeño-laced pimento gooeyness has unhinged his mind.
"I'm not much of a pickle guy," he understates, "but these are really good."
This cuts to the very core of this concept: the pickles are fresh and homemade on the farm in Lobeco. Everything in this charming, airy former post office is made from scratch. The beef is a perfect medium, still juicy. The freshness is evident in every bite.
"This burger oughta come with a raincoat," he says as the works spill out on his Cheddar Mac Salad. Messy? This is hall of fame messy, triple napkin messy for rookies (I needed two). It's also damn tasty. The Pimento Cheese – the Caviar of the South – absolutely makes it. It is the perfect Southern variation on a classic – big, bold and a little over the top with just the right amount of wrong. You can taste the love in every bite.

THE OLD BULL TAVERN
205 West Street
Downtown Beaufort
843-379-2855
Chef/Owner John Marshall says the concept behind his gastro pup is pretty simple. "It's all about a high order of food [and beverage] with an emphasis on preparation in a casual atmosphere at a good price."
The high order of food begins with what's local, something Marshall's passionate about.
"If it's local and available, it's on the menu," he says. That extends to the scratch made, wood fired pizzas that redefine the power of pie in Downtown Beaufort.
Of course we're here for the burger, and it stands to reason that a pub with a Bull over the bar serves up something pretty special.
My colleague, friend, cookbook author and the Lowcountry's best caterer, Debbi Covington, joins the Burger B
eat Irregulars along with my wife, Susan. I love a good burger, but Susan really, really loves a good burger. And this burger (left) is special indeed: a baseball size half pound of MiBek farms pasture raised beef simply seasoned and seared on the flattop until medium rare. The patty's about an inch and a half thick, served on a buttered and grilled baker's bun with your choice of fixin's and a mountain of gaufrettes – crispy, thin, waffle-cut fries. We go with a slab of hand sliced sharp cheddar on the burger and nothing else.
"Super juicy, good flavor," says Debbi. "You don't need the bun. It's like a little mini steak with a nice char. And it's not over-seasoned. A lot of times burgers tend to be over-seasoned so you miss the flavor of the meat."
"The char is perfect," Susan agrees. "It's kind of crunchy and just melts in your mouth with all that flavor. The bun is just right, too. Not too hard, not too soft and it's a good ratio to the meat."
We all agree that the cheese – well aged and rich – is a nice compliment to the beef. MiBek Farms is a cutting edge, family run operation based in Barnwell, SC. Michael and Becky Worrell are former agriculture professors turned sustainable farmers. The beef is dry aged 17 days before it's processed, adding richness and depth of flavor.
"There are no condiments on this burger," Debbi points out. "No mayonnaise, no mustard, no ketchup. Just the cheese."
"And it doesn't need anything else," says Susan, who usually reaches for the mayo first thing. Debbi's got a thought on this.
"From a woman's perspective, two tablespoons of mayo is 120 calories," says Debbi. "Wouldn't you rather have 120 calories of fat in the burger with all that flavor versus the mayo?
"Since you put it that way, yes."
No one's mentioned the addictive gaufrettes, which are fast disappearing. "What about these?"
"They have got to go," says Debbi. "Otherwise I'll eat the whole thing."
"Should I get those out of the way?" asks John with a grin.
Susan stays the plate. "Oh, they're just kidding," she says.
MOONDOGGIES CAFÉ & GRILL
925 10th Street
Port Royal
(843) 522-1222
For most of a decade Moondoggies has been a true Lowcountry gem in the heart of Port Royal. It's like going to your grandma's house, provided she's a bit eccentric with a flare for whipping up some fine food at value prices. Then again if your granny charges you for meals . . . well, that counts as eccentric. Around here we don't hide eccentric. We pour it a cocktail and give it a rocking chair on the porch. In fact there's ample porch-sitting opportunity right here, but it's Thursday and we've come for Burger Night. The deal is simple: a half pound Angus burger made your way served with two homemade sides and a beer or soft drink for eleven bucks. Deal.
"It's all about the meat," says co-owner Jeff Harris "You can pile toppings all over it, but in
the end it all comes down to the quality of the meat."
With Moondoggies' burgers it's not so much the trimmings on the plate that matter, but the trimmings that go into the burger that make it superior. The ground beef is an exclusive blend made fresh each week by local butcher Julian Johnson at Islands Meat Market.
"It's made from all the choice trimmings." Harris explain. "Filet, rib-eye, sirloin and strip – what have you – all goes into these burgers."
The result is a thick, juicy, two-fisted burger that's neither too fatty nor too lean with a transcendent, luxurious flavor. I order mine with the works – lettuce, tomato, red onion – and a slab of sharp cheddar. Broccoli casserole and – yes! – Dawn's Pimento Mac & Cheese are my sides.
The table shares a couple of orders of the famous Fired Pickle Chips while we wait for our burgers. I was never a fan of fried pickles until Moondoggies. But they seem to have perfected them here. These chips are lightly battered and crisp – not greasy or slimy – with just the right blend of salty, juicy crunchiness. The horseradish sauce will cure your allergies and ward off zombie attacks.
As for the burger, one key component is often either overlooked or over emphasized – the bun. As experienced Burger Beaters Gary and Jon point out, the bun should do its job – hold it all together without a) burying the burger, or b) disintegrating into a gooey mess. A lot of thought's gone into the Moodoggies bun, says Jeff Harris. "We use a high quality Kaiser roll dusted with corn meal and then toasted," he explains. "There's a slight bit of sweetness to it and it holds together well without overwhelming the beef." It's a near perfect bread-to-beef ratio for a damn good burger experience at a great price.
Local author and Burger Beat Irregular Teresa Bruce says it best, "It's the kind of burger that makes you think, why did I waste 20 years being a vegetarian?" Indeed. So many burgers, so little time.
To be continued in our next issue….

Got a favorite local burger? Remember, no chains allowed. Email us at backyardtourist@gmail.com.