Why Habersham hops on Wednesday nights . . .
Story and photos by Mark Shaffer

LET'S DO THE TIME WARP
Wednesday night in Habersham, the award-winning New Urban community on the banks of the Broad River, just outside of Beaufort. There is a time warp vibe to the place with its lush parks and greenways, sprawling oaks and front porches. Without the cars, the golf carts and a few modern amenities, it's easy to imagine oneself in the hometown idyll of post World War II America.
It's Burger Night at Maggie's Pub and Peggy Wilson's busy seating customers as soon as the doors open. Husband, chef and co-owner Richard marshals the kitchen for the evening rush. Everyone comes to Maggie's. In October 2009, we wrote that "a year after the Wilson's sold their much-lauded Bateaux in Port Royal, the doors have finally opened on the new digs, a stylish American riff on the classic British pub and the Wilson's first foray into what Richard refers to as 'flip flop casual.'" Four years on, Maggie's is the social heartbeat for residents and a culinary destination for those of us who appreciate fine, fresh, local ingredients prepared with something akin to alchemy.
During a recent email conversation, I asked the chef to boil down his culinary philosophy and how it relates to something as basic as a simple burger.
He writes: "My philosophy towards food is simple – Balance. In flavors, in texture, in p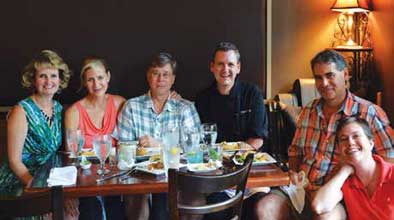 ortions . . . in all. Primarily in fats, sugars and acids. Too much of [any of these] leaves the palate wanting. Additionally, I like to think my food is a 'mirror' which reflects my travels and the wonders of the world.
"My burgers reflect both these philosophies and ideas. Seasoned and cured overnight Mibek Farms Beef 8.5 ounce patties are grilled over 700 degree lava rocks for a great texture. Great beef should always taste like great beef. To maintain its moistness, we must create a seal, thus the charring at 700 degrees. This allows us to ensure our burgers never dry out. We finish them in our oven so they can slowly cook to the desired temp."
Along with his blend of seasonings, there's also a little extra natural fat added to lend a depth of flavor to the typically lean Mibek beef. But these are secrets. And Richard's not giving up any secrets.
This evening's team Burger Beat roster includes Lowcountry Weekly Publisher and Editor, Jeff and Margaret Evans, our Everyday Gourmet, caterer and cookbook author, Debbi Covington, my wife Susan, and myself.
ALCHEMY & LAGNIAPPES
Because this is Richard Wilson, there will be more than burgers coming to the table.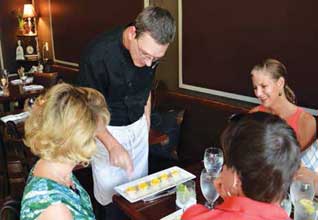 The first is the Chef's take on Falafel, made of slow roasted chickpeas and zucchini with egg, salt and pepper, and a mysterious spice called "Grains of Paradise." The mixture is flash fried like a hushpuppy – a savory Mediterranean hushpuppy. Prior to this, if you'd asked me if I like Falafel, my response would have been bland indifference – a reflection of my experience with the dish. Not anymore.
Next comes a long platter of delicate yellow blossoms. "This is my sous chef's crazy version of crab dip," says Richard, "done in puff pastry . . . and that is a cucumber blossom."
"This is not your typical Burger Beat," observes Margaret.
At this point, I've actually almost forgotten about the burgers. I'm a crab fiend and this is brilliant. The filling is like a crab mousse, airy and light but bursting with rich, crustacean goodness. And the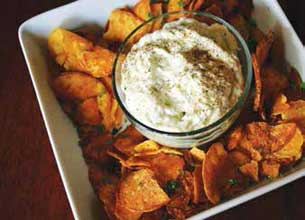 flower actually tastes like cucumber, giving the whole thing a clean finish.
"We make our own potato chips here," says Richard, as he sets down the bowl. "We don't ever sell them but we give them away to special customers. This is our barbecue version."
"And the dip?"
"This is what we call a really, truly insane food. This is blue cheese foam. Put a little in your mouth," says Richard. "Open it up a little and the foam dissolves immediately."
"And so do the calories," says Debbi.
"Sure," he grins.
We dig in. The chips are simply perfect, with a nice barbecue kick and not a hint of grease. In fact you won't find a hint of grease on anything out of the Maggie's fryer. The foam does, indeed, dissolve in a puff of subtle intensity.
"This is the best foam I've ever had," says Debbi. It's the first time I've heard anyone say this.
"Okay, last one," says Richard. "Any night you come into the pub you'll get one gift, sometimes two. And this is what everyone gets tonight: roasted mango from Montego Bay, with cilantro oil. And this is what we call Quick Pico De Gallo, which gives a nice heat to it, and then some shaved Belgian chocolate on top."
Jeff takes a bite and leans back. "Wow, there's a lot of flavor going on in that little guy."
"The cilantro's really good," says Debbi. "It really lifts it. And I like the heat. Very nice."
Susan lets a bite play on her palate, eyes closed. "Sublime." I couldn't agree more.
Peggy drops by to tell us that, yes, there are actually burgers on the way and soon.
Richard's selected three for us to sample. The Black & Blu comes with the pub's criminally addictive onion rings (I kid you not) topped with caramelized onions and Kase blue cheese. "And we put a big piece of blue on there," says Richard. Part of the blackening process involves freeze-dried molasses, unique in these parts as far as I know. The Frenchman is topped with sautéed mushrooms and an authentic sauce Mornay, served with – what else? – French fries.
"And finally," says Richard, "the burger that's meant to be good for you… but not really."
The California is topped off with an avalanche of house made avocado ranch dressing, made with local buttermilk and micro celery greens (a game changer), served with a balsamic tossed house salad of micro greens and big fat blackberries.
A BRIEF NOTE FROM THE PHOTOGRAPHER
If a picture truly is worth a thousand words, we're saving a lot of copy space here. What you see is what you get. Here's how it usually works: the food comes out of the kitchen and the photographer (yours, truly) fends off suddenly ravenous comrades with a cattle prod – or whatever's handy – while feverishly attempting to capture the essence of the dish before it's ripped away and the crew falls upon it like lions on a narcoleptic zebra. No fancy lighting, no food stylist, and only a bare minimum amount of editing, all shot on the fly. Bon appetite.
THE CALIFORNIANS

We're all a bit surprised by the consensus favorite: The Califorinia. All the burgers are good in vastly different ways. The Black & Blu is smoky, deep and nutty with the cheese and hint of molasses. And as Debbi points out, "Richard's onion rings are to die for." Actually, I'd call them Lazarus Rings, because I'm pretty sure some of us would come back from the dead for another helping. The Frenchman fills the bill with the earthiness of fresh mushrooms married to the cheeses and wine in the Mornay. But the California is a clear favorite on a sweltering Lowcountry eve.
"The creamy coolness of the avocado with the warm burger is really good and really different," says Debbi. "And the salad is wonderfully refreshing."
"We really pride ourselves on our salads," says Richard. "There are nine different greens in there, including some herbs. We always put nuts and a fruit in them, and a cheese of some sort. This one's got pecans, blackberries and heirloom tomatoes. It's a lot of fun."
And there you have Maggie's in a word: fun. It's the kind of place you'd like to have in your own neighborhood. As Richard told us shortly after the place opened, "We don't have customers, we only have friends."
IF YOU GO…
Stick around for live music from The Reconstruction, featuring Chef Wilson & friends, starting around 8:00.
Maggies Pub
17 Market, Habersham (Beaufort, SC)
843.379.1719 / Email info@maggiespub.net
Hours: Tuesday – Saturday 5pm – 9pm
Certified South Carolina fresh on the menu restaurant