Over the Moon… at Moondoggies Cafe and Grill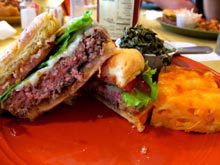 BEFORE WE BEGIN
The English eccentric, gambler and former clergyman, Charles Caleb Colton (1780-1832) once famously observed that, "Imitation is the sincerest form of flattery." Shortly after the folks at Moondoggies came up with the idea of Burger Night some years back it seemed like Burger-themed evenings suddenly became ubiquitous.
We know the feeling. As soon as we started making the rounds on The Burger Beat, burgers appeared to gain a brand new culinary relevance amongst the regional media. That's fine with us. Opinions may vary, ultimately only yours counts.
A LOWCOUNTRY GEM
Head down Parris Avenue into the heart of Port Royal's Old Village, hang a left on 10th Street and you'll find Moongoggies on the immediate right shrouded in stately, moss-drenched oaks. We described the ambiance during a 2009 Moveable Feast: The building is an old converted Lowcountry home [a stone's throw] from the marsh and Sandy Point, a nice thing to remember on a moonlit evening if you're in the mood for an after dinner stroll. Most of the first floor is wrapped in a rambling screened porch. A quarter of this is completely covered in English ivy, floor to ceiling, creating a kind of leafy green grotto. The main dining room, or Lodge Room is a vaulted chapel of wood, exposed beams and windows – rustic and airy. The richly stained flooring is tongue and groove heart pine salvaged by the original owner from old boxcars, polished by the cargo of time. Combined with the intimate lighting and the ivy draped porch the ambience is almost surreal – like a Lowcountry "Midsummer Night's Dream" – in the waning of the day.
Having revisited that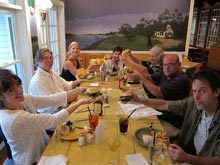 piece prior to marshalling the forces for this edition of Burger Beat I can tell you that little or nothing has changed. And that is a very good thing. After more than seven years Moondoggies qualifies as a true Lowcountry gem – like going to your grandma's house, provided granny's a bit of an eccentric with a serious flare for cooking up some fine food at value prices. Then again if your granny charges you for meals…well, that counts as eccentric. Hey, around here we don't hide eccentric. We pour it a cocktail and give it a rocking chair on the porch. In point of fact there's ample porch-sitting opportunity right here, but it's Thursday and we've come for Burger Night – all eight of us.
Co-owner, chef, chief guitarist and resident surfer, Jeff Harris, helps to shepherd us through the evening along with his wife Dawn – an old friend and colleague. Word of her Pimento Mac & Cheese (a Burger Night exclusive) may have swelled our numbers on its own accord.
Burger Night at Moondoggies is basically an indoor picnic. The deal is simple: a half pound Angus
burger made your way comes with two sides and a beer or soft drink for ten bucks. Deal. Remember, you won't find a processed, mass-produced "burger" in this column. We're just not lovin' it. The burgers on these pages are hand made and the photos are taken as soon as the plate hits the table (this is often a challenge).
"It's all about the meat," says Jeff. "You can pile toppings all over it, but in the end it all comes down to the quality of the meat."
With Moondoggies' burgers it's not so much the trimmings on the plate that matter, but the trimmings that go into the burger that make it superior. The ground beef is an exclusive blend made fresh each week by Julian Johnson at Islands Meat Market.
"It's made from all the choice trimmings." Harris explains, "Filet, ribeye, sirloin and strip – what have you – all goes into these burgers."
The result is a thick, juicy, two-fisted burger that's neither too fatty nor too lean with a transcendent flavor bordering on luxury. I order mine with the works – lettuce, tomato, red onion – and a slab of sharp cheddar. Broccoli casserole and – yes! – Dawn's Pimento Mac & Cheese are my sides.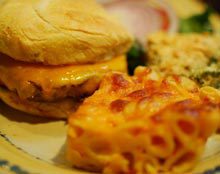 The table shares a couple of orders of the famous Fired Pickle Chips while we wait for our burgers. I was never a fan of fried pickles until Moondoggies. But they seem to have perfected them here. These chips are lightly battered and crisp – not greasy or slimy – with just the right blend of salty, juicy crunchiness. The horseradish sauce will cure your allergies and ward off zombie attacks.
SELECTED TESTIMONIALS
Anyone who has ever worked in the restaurant business will tell you that the chances of pleasing every customer in a party is inversely proportionate to the size of the party. We are eight. More than half of our number qualify as "highly discerning" when it comes not just to burgers but eating out in general. One is a reformed vegetarian…
Lolita: While I know this is all about the burger, I HAVE to mention the incredible Pimento Mac & Cheese. That extra kick the homemade pimento gave the dish was worth the trip even if the burger hadn't been so tasty!
Jon: Sitting around a table is always good with friends, but the place has a great vibe to it. The pickles were done perfectly and the horseradish sauce was a tremendous compliment. The burger? Excellent. Passed my first step: the bun being toasted. I like a juicy burger and a burger with some seasoning. I am not picky with the seasoning. But something has to be there. This had both. Truly one of Beaufort's best burgers.
And finally…
Teresa: It's the kind of burger that makes you think, why did I waste 20 years being a vegetarian?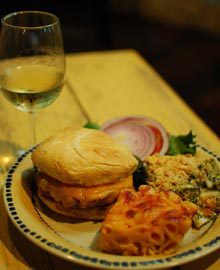 The Pimento Mac & Cheese was nearly as big a hit as the burgers. Indeed, all the sides met or exceeded expectations with the Broccoli Casserole, Collard Greens, Potato Salad and classic crinkle-cut fries getting honorable mention after the Mac.
As for the burger, one key component is often either overlooked or over emphasized – the bun. As my friends Gary and Jon point out, the bun should do its job – hold it all together without a) burying the burger, or b) disintegrating into a gooey mess. A lot of thought's gone into the Moodoggies bun, says Jeff Harris. "We use a high quality Kaiser roll dusted with corn meal and then toasted," he explains. "There's a slight bit of sweetness to it and it holds together well without overwhelming the beef." In short, it's a near perfect bread-to-beef ratio for a damn good burger experience at a great price.
"A great value doesn't have to bust your wallet," says Harris. Our party of eight couldn't agree more.
EXTRA CHEESE
Save room for dessert: the Not Yo Mama's Banana Puddin' is made with shortbread cookies instead of vanilla wafers (don't tell your dentist or dietician). The screened-in back porch and fenced courtyard are dog friendly. They'll even toss in some snacks for your Scooby. Lunch features an expansive sandwich menu. The Reuben is "to die for" according to experts on such things. Tuesday night Moondoggies serves up a family style Seafood Feast. Wednesday night is Two-for-One Prime Rib Night. Moondoggies also grills up some of the finest hand cut steaks in the area. Dine to live music Friday and Saturday evenings with fresh local seafood specials.
and by email at backyardtourist@gmail.com
MOONDOGGIES CAFÉ AND GRILL
10th Street at Paris Avenue in Historic Port Royal
Cuisine: "Fresh local seafood & hand cut steaks"
Alcohol: Beer, wine, cocktails
Hours: Tues – Satur, Lunch & Dinner 11:30 – 9:00
843-522-1222
Website: www.moondoggiescafe.net