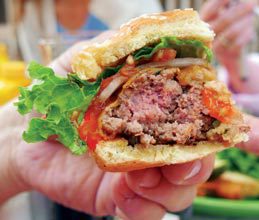 Story & Photos by Mark Shaffer
 Every time I walk into Luther's I half expect to find Norm Peterson and Cliff Clavin at the bar arguing over "Final Jeopardy." Every time. It's no accident that Luther's has a serious Cheers vibe to it. But instead of a dingy subterranean grotto, here patrons get a panoramic view of the waterfront park and the river.
The Marine Corps flag flies over the shady pet-friendly deck and families pack the place during graduation weekends at Parris Island. As we've often pointed out over the years, the Corps motto "semper fidelis" or "always faithful" certainly applies to Luther's crack team of regulars. You'll find the usual suspects polishing the same bar stools on the high side of the curiously split level bar on any given day, swapping tales and telling lies.
The building dates to 1906 and served as a pharmacy well into the 1980s. Portraits of the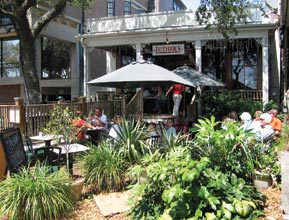 former owners Charles and Julie Luther hang on the east wall. A sign beneath them reads, "You can't drink all day unless you start in the morning." This is a fact the faithful have taken to heart. Mrs. Luther, however, appears to be less than approving.
As one might deduce from the title of this column, we're here for the burgers and we've got a Luther's regular at the table. I've recruited my friend Terry Stone to join us. Terry claimed a stool on the high side of the bar back in '87 when he and his wife Jane moved to Beaufort from Mississippi after Terry retired from the State Attorney General's office. He traded in his law books for the salt life, and usually drops into the bar to shoot the breeze and down a couple of cold ones between a morning of fishing and prepping for the evening's culinary endeavors. Terry takes his food – particularly Southern food – very seriously. The man has a copper gumbo pot big enough to boil a missionary in.
The rest of the crew includes Lowcountry Weekly publisher & editor Jeff and Margaret Evans, Everyday Gourmet Debbi Covington, and my wife and culinary conscience Susan.
Six people, six burgers, and one table: let the mayhem begin.
THE BURGERS
• Classic Burger with Garlic Peppercorn crust and a side of fried pickles (subbed for fries)
• Brewsky's Burger – topped with bleu cheese, bacon and grilled onions with waffle fries
• Stuffed Cheddar & Jalapeno Burger with steak fries
• The Burger Club – A triple-decker cheddar burger topped with bacon, lettuce & tomato
• Barbecue Bacon Cheeseburger with sweet potato fries.
• Bacon, Mushroom & Swiss Burger with sour cream & chive fries (by special request)

"This feels like the kind of place where you'd expect a great burger," says Margaret. "Nothing fancy, just really good burgers."
And the menu offers plenty of variety as well as a couple of unique choices you won't find anywhere else in town.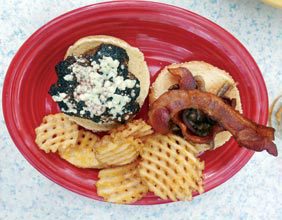 "I had the best bleu cheese and bacon burger I've ever eaten right here," says Debbi.
That would be Brewsky's Burger, the bar's bestseller and homage to a former regular passed into bar legend.
The fried pickle spears are dipped in a spicy batter and lightly fried golden brown and crispy. They've got a nice kick on the back of the palate. Terry's sampled all of these burgers at some point, but he's a big fan of the one packing the heat.
"You're going to love this stuffed jalapeno burger," he says. And I do, hell we all do. And they're not kidding about this burger being stuffed with jalapenos. Viva los pequeños pimientos picantes.
"It's an A plus," says Debbi.
Terry points out that the jalapenos themselves are generally better than average at Luther's. "I don't know what it is, they just seem to have great jalapenos here – good and crispy and firm."
"What've we got, four different kinds of fries on the table?" asks Terry. "I'm not usually a fan of waffle fries, but these are the best I've ever had."
In fact, Luther's has more choices in French fries than most places offer in burgers. We've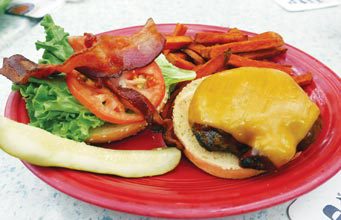 got crispy seasoned waffle fries, thick cut steak fries, the restaurant's trademark sour cream & chive fries and the trendy sweet potato fries. They've all spent just the right amount of time in the fryer – not overcooked, not undercooked and – most importantly – not greasy. Greasy fries are a not only unforgiveable, they're unnecessary and a sure sign that whoever's manning the fryer a) doesn't care, or b) doesn't know what they're doing. If my burger's sitting on the plate sopping up grease from the fries, it's amateur hour. Obviously the Luther's kitchen staff knows their way around the fryer. The pickles, alone, are proof of that.
Luther's sells a lot of burgers and there are plenty of reasons why, says Debbi. "It's a great place to hang out with your friends, enjoy the view and the casual atmosphere and have a couple of cold beers."
But the art of our Great American culinary obsession is well rendered here. Each patty is handmade and therefore unique. All six of our burgers are perfectly pink, juicy and medium rare as requested.
"I even like the presentation," says Debbi. "Just look at them. All you see is quality hamburger and the flavor backs that up."
The garlic peppercorn char crust on the Brewsky's Burger is a huge hit. It adds an extra dimension to the flavor of the beef and stands up to everything else on the bun, which is a lot. Let's face it, as far as I'm concerned you could put a live scorpion in a bun, top it with melty bleu cheese, bacon and sweet grilled onions and it's crunch time, if you get my drift.
"The big surprise for me is the Barbecue Cheeseburger," says Margaret.
"What makes it stand out?"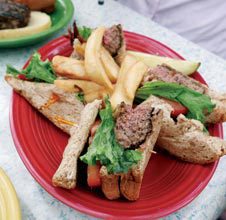 "The sauce is great and I really didn't think I'd like barbecue sauce on a burger." She pauses. "Oh, and the bacon. I mean, what's not to like about that?"
Agreed.
EXTRA TOPPINGS
Our server deserves special kudos for going above and beyond the call of duty while somehow juggling our demanding party of six and the rest of the bar all by herself.
Bravo.
Luther's is one of two spots on the park that double as sports bars. There's a TV strategically placed in every direction. The bar offers a good selection of bottles and taps and there's something going on most nights like trivia on Monday and karaoke each Tuesday with live music Thursday through Saturday. Happy hour is daily from 4-7 with booze & beer discounts. Luther's is a red meat kind of place and Wednesday's burger night is highly recommended, as are the steaks and the fall-off-the-bone slow cooked ribs. Mr. Stone highly recommends the brick oven pizza.
AND NOW CLIFF CLAVIN EXPLAINS WHY BEER MAKES YOU SMARTER
Cliff: Well ya see, Norm, it's like this. A herd of buffalo can only move as fast as the slowest buffalo. And when the herd is hunted, it is the slowest and weakest ones at the back that are killed first. This natural selection is good for the herd as a whole, because the general speed and health of the whole group keeps improving by the regular killing of the weakest members. In much the same way, the human brain can only operate as fast as the slowest brain cells. Excessive intake of alcohol, as we know, kills brain cells. But naturally, it attacks the slowest and weakest brain cells first. In this way, regular consumption of beer eliminates the weaker brain cells, making the brain a faster and more efficient machine. That's why you always feel smarter after a few beers.
Luther's Rare and Well Done
910 Bay St.
Beaufort, SC
www.luthersrareandwelldone.com
(843) 521-1888