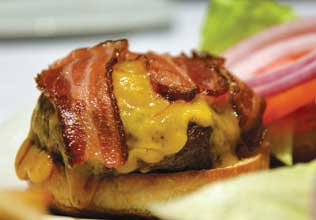 A Classy Spin on an American Classic
Story and Photos by Mark Shaffer
Editor's Note: This column is about finding the best local, made-from-scratch hamburgers the Lowcountry has to offer. No chains allowed. We eat local and fresh and urge you do the same. And we prefer an adult beverage with our burger. And another thing, what you see is what you get. No food stylists were harmed or otherwise engaged in the making of this Burger Beat. We snap the food as it comes to the table, occasionally throwing an elbow in the process. And yes, the tomatoes really were that red…
AS TIME GOES BY
A lot has changed since I first bellied up to the bar at Breakwater six years ago. For one thing, they moved the bar. Actually they moved to two whole blocks. In 2008 the restaurant and bar were on West Street in what has fortunately become the Old Bull Tavern. The three partners, Chefs Beth Shaw & Gary Lang and Manager Donna Lang, had some big ideas that just weren't going to happen on West Street. In a move hailed by many as absolute insanity, they shut down and spent the better part of six excruciating months transforming an old furniture store into something special. When the doors finally opened on the new digs in late 2009 Beaufort's downtown dining scene changed. This was real class, a swank, hip eatery and watering hole that was all at once an elegant exercise in design meets function, a slick homage to a bygone era and a funky temple for the chefs' locally sourced, made-from-scratch New Southern Cuisine. A standing-room-only crowd packed the place opening night, slack-jawed. Donna called it "shock and awe." But long time Breakwater bartender Terry Guinn put it best. "This is a showcase for what Breakwater's potential always was." Here's to living up to your potential.

CUBA LIBRE!
Flash forward to mid-December, 2013. It's Wednesday night at Breakwater and that means Burger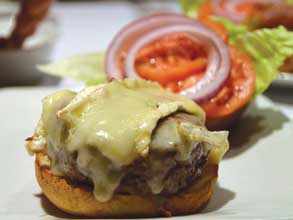 Night in the bar at 203 Carteret Street. Grab a cushy seat at the bar and enjoy the half-pound Breakwater Burger your way, with thick cut bacon and a choice of cheddar, Swiss, blue or Brie or opt for the chefs' burger special. And on the subject of style, Donna's reserved the Wine Room for the group which includes myself, food columnist and Beaufort's best caterer, Debbi Covington, and LCW Publisher and Editor (respectively), Jeff and Margaret Evans. This is burger night served up Breakwater style.
Chef Shaw's working burger detail tonight, Gary's in the upstate overseeing operations at the fabulously successful Breakwater Greenville.
First up is tonight's burger special, the Cuban: a half pound patty topped with a pile of country ham, Swiss cheese, house made pickles & mustard in a honey whole wheat bun pressed Cuban style. As with all the burgers and sliders, this sandwich comes beautifully presented on a pristine white platter with a matching bowl of Breakwater's famous fries (more on that in a moment).
"That's what I'd call a medley of flavors," says Jeff.
"I would agree."
Meanwhile Debbi's deconstructs her sandwich. "I'm a meatavore, a meatasaurus," she explains. "I go straight for the good stuff."
And there's plenty of good stuff. The pressed bun is sweet and toasty and the fresh pickles (made the day before) are crisp and bright. The creaminess of the cheese and salty ham blend nicely with the full-bodied beef patty cooked to a perfect medium rare. This isn't just a burger, it's a full on Mambo in a bun. Lucy whips one of these babies up for Ricky and she definitely gets her shot at the club (Ethel, too, for that matter).
One of the real challenges in writing about the Great American Hamburger is finding the unique in something that has become so ubiquitous. None of us have encountered a Cuban variation before. It really works and its success is the very essence of the Breakwater philosophy. You can really taste the quality of the ingredients.

A SIDE OF FRIES
I'm a freak for fries in all shapes sizes. I love 'em all. It's just that I love some a little bit more than others and love a few a whole lot more than the rest. The fries at Breakwater fall into the latter category. Even with Beth Shaw's amazing burger creations on the way, I can barely control myself with a bowl of these amazingly crisp, tender, salty strips of Solanum tuberosum right in front of me. My fellow diners are on the same page. By the end of the evening nary a fry survives. Debbi offers a simple theory as to why they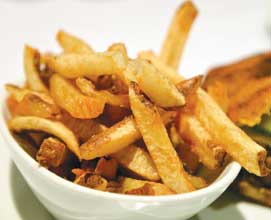 're so good.
"They taste like potato."
She's right. That's it. This is the real thing, not some processed, mass produced product shipped cross-country in a freezer truck.
"They're hand cut and then we rinse off the starch," says Beth, "then we blanch them at a low temperature and fry them at a high temperature. It's that simple."
Next out are two of the house favorites, the Brie Burger and the Cheddar Bacon Burger and they are beautiful. No, really. These platters are to burgers what Adriana Lima and Alessandra Ambrosio are to lingerie. Okay, maybe that's a bit much. But you get the point. Even the tomatoes are gorgeous.
We've requested one burger medium rare and one rare and they are both cooked to perfection. Debbi, the self-proclaimed "meatavore," likes hers rare.
"I had a friend from Texas who used to call it 'on the hoof' when it was this rare."
We're all deep into the wine room burger experience before Margaret points out that no one's asked for a condiment or reached for the salt & pepper.
"They don't need anything," says Debbi. "This is perfect as is: straight up meat and cheese. And bacon. I love bacon."
The burgers are exquisite right down to the bun-to-meat ratio: the perfect amount of bun integrity
to avoid making a mess of things without too much bread to overwhelm the patty. As all Southerners know, bacon makes everything better, which in this case is kind of nuts because the burger alone is close to perfection. The bacon is thick cut pork candy and the aged cheddar adds an extra kick to the meat. The Brie Burger goes over big. It's Donna's favorite and I get why on the first bite. The Brie is absolutely decadent – rich and creamy with an earthy nuttiness that adds a whole new level of flavor to the meat.
Regardless of what goes on top, the key to all of this is the certified Black Angus beef. Even so, this is not your average Black Angus patty.
"We house-cut our tenderloins and short ribs," says Beth. "So we just take the extra pieces from that and grind it up."
"Let's talk the bar angle," says Debbi. "Since we've been doing this we've agreed that every bar ought to have a great burger. They take it to another level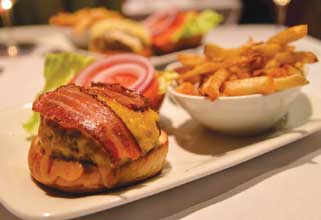 here. With Breakwater you can come to a beautiful restaurant with a very nice bar, and if you're from out of town and don't know anybody, you can enjoy a really good glass of wine or a cocktail with this fabulous burger & fries and be by yourself and still be comfortable."
And if you have the occasion to do Burger Night with, say, a dozen or so of your best friends we highly recommend the Wine Room experience. You may never eat fast food again. And honestly, would that be a bad thing?

BREAKWATER RESTAURANT AND BAR
203 Carteret Street, Historic Downtown Beaufort
Reservations recommended. Phone at 843-379-0052 or click on www.breakwatersc.com.