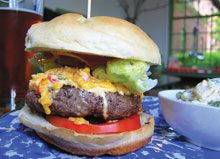 The Beat is back and hungry for more.

Story and Photos by Mark Shaffer
Charles Kuralt once wrote that in America, "You can find your way across this country using burger joints the way a navigator uses stars." A lot has changed since Kuralt wrote that line. There are far fewer of those stars thanks to the relentless flood of corporate fast food. Back in the day a burger was something made by hand and served up at hometown diners and drive-ins with names like Ruth's and Big Al's. My own hometown burger joint (Ruth's in Hartsville, SC) has been family owned and operated since 1945. Located just a few blocks from the high school, it's still the first place anyone looks for truant students.
While the Burger Beat's been on hiatus for the last 18 months, we've not lost our taste for it, and we remain dedicated to finding the best handmade burgers in the Lowcountry. This is about an American original made to order by hand, with pride, a little love and a side of fries. As we gear up for the next phase, here's a look back at some of our favorites from our first five years. Hope you brought an appetite.
LOWCOUNTRY PRODUCE MARKET & CAFE
302 Carteret Street
Downtown Beaufort
843-322-1900
For years the Pimento Burger (above) was a closely guarded secret known only to the dedicated lunch patrons of the original Lowcountry Produce in Lobeco. This wasn't just a burger; it was a destination. People drove for miles to treat themselves. Now with the location on Carteret Street, what we save on gas we can blow on burgers. Everything in this charming, airy former post office is made from scratch, even the pickles. The beef is a perfect medium, still juicy. The freshness is evident in every bite.
"This burger oughta come with a raincoat," says my lunch companion as the works spill out on his Cheddar Mac Salad. Messy? This is hall of fame messy, triple napkin messy for rookies (I needed two). It's also damn tasty. The Pimento Cheese – Caviar of the South – absolutely makes it. It is the perfect Southern variation on a classic – big, bold and a little over the top with just the right amount of wrong. You can taste the love in every bite.

THE OLD BULL TAVERN
205 West Street
Downtown Beaufort
843-379-2855
Everyday Gourmet Debbi Covington and Susan Shaffer joined me to sample Chef John Marshall's burger. It stands to reason that a pub with a Bull over the bar serves up something pretty special. This baby starts with a baseball size half pound of grass-fed beef simply seasoned and seared on the flattop until medium rare. The patty's about an inch and a half thick, served on a buttered and grilled baker's bun with your choice of fixins and a mountain of gaufrettes – crispy, thin, waffle-cut fries. We go with a slab of hand sliced sharp cheddar on the burger and nothing else.
"Super juicy, good flavor," says Debbi. "You don't need the bun. It's like a little mini steak with a nice char, not over-seasoned. A lot of burgers tend to be over-seasoned so you miss the flavor of the meat."
"The char is perfect," Susan agrees. "It's kind of crunchy and just melts in your mouth with all that flavor."
ROSIE O'GRADY'S
Irish American Sports Pub & Eatery
Beaufort Town Center next to Kmart
843.379.7676
"Everybody likes hamburgers and a good hamburger is easy to make," says Rosie O's Michael Pressley. "But a lot of people screw it up by cooking all the juice out and turning it into a hockey puck. We don't serve hockey pucks." What he does serve is a handmade burger your way.
Craving some pig on your patty? No problem. Hell, go nuts and slap on some grilled jalapeños, chili, onions and your cheese of choice. Mikey likes things spicy, even the cheese. If you need a little extra bang for the buck, throw caution to the wind and top off your burger with a hunk of ghost pepper & cheddar. You won't find that anywhere else in town. There are virtually no limits to having it your way says Mikey. "We'll put anything on a burger." All Rosie's burgers are char grilled and served with fresh lettuce, a thick cut slice of juicy red tomato on a corn dusted Kaiser roll with crinkle cut fries.
My favorite is the Rosie O's Chili Cheeseburger From Hell – not a burger for the feint of heart or anyone who has ever ordered a frozen drink in a mall bar. This half pounder is topped with generous portions of grilled jalapeños, Pepper jack and provolone cheeses, chili, lettuce, tomato and as much of Mikey's homemade habanero sauce as your physician will allow. Big, tough men with tattoos and motorcycles have shed tears of joy and pain while eating this thing. And everybody deserves a good cry now and then.

FAT PATTIES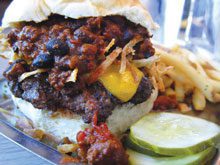 Beaufort & Old Town Bluffton
Hand crafted American burgers and craft beers
www.fat-patties.com

Nick Borreggine's dedicated Fat Patties to three of our favorite things: burgers, brats and beer.
FP's is also home to Salt Marsh Brewery, Nick's passion project with veteran brewer, James Brown. The beef comes from the grass fed, hormone free steer herd at Southern Swiss Dairy of Waynesville, Georgia, the same source for the dairy used in the restaurant's hand crafted ice cream. "The flavor profile of the meat is something you can't get anywhere else," says Nick. "It's very special."
Fat P's offers a choice of six patties, including a shrimp burger, poultry & vegan options and a half & half (half beef, half bacon!). There are toppings and possible combinations enough to fluster Alton Brown. Today the crew is all about the beef and we choose specialty burgers off the menu. The Baby Blue comes loaded with bleu cheese, caramelized onions and garlic mayo. I go with the How You Doin' (formerly the Fuhgetaboutit).
The burgers come out stacked high and cooked to perfection. I ordered mine rare – any rarer and it would be licking my face. The house-baked buns are substantial enough to soak up the juice without falling apart. The quality of the beef is undeniably superior. The Baby Blue is big on the bleu – huge crumbles of rich cheese melting into a sweet mass of caramelized onion. My How You Doin' is basically a giant meatball burger. The marinara sauce is just what you'd expect from a guy named Borreggine oozing thick and red, prompting someone to crack, "Well, this was no boating accident." I'm going to need a bigger bun.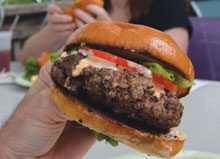 THE BACK PORCH GRILL
1 Port Royal Landing Dr.
Port Royal
(843) 525-9824
When we first cooked up this column I swore that I would never, ever, under any circumstance quote Jimmy Buffett's "Cheeseburger in Paradise." In my opinion it marks the end of J.B.'s relevance as the poet laureate of the Conch Republic and the beginning of a brand. And then I end up on the deck of a marina bar overlooking the Intra-Coastal Waterway shaded by massive live oaks and all I can hear in my head is… I like mine with lettuce and tomato… Heinz 57 and French fried potatoes…
The Back Porch Grill, with its marina view, oozes Parrothead. And "not too particular, not too precise" pretty much nails the burger menu. Did I mention you could get here by boat? Any meat-eating sailor knows that marina bars are known for great burgers. It's a basic culinary link to the land. The BPG offers three options– the basic burger, a hamburger steak "hungry man meal" and the patty melt. Dress them up and top them with a variety of cheeses, jalapenos and bacon.  My burger's topped with a blue cheese Tabasco remoulade and grilled to a juicy, pink medium rare, just the right balance of hot and tangy without overpowering the beef. And the onion rings are simply legendary. Cue the Coral Reefers and hand me another beer.

EAT TO THE BEAT
Take a bite of the Burger Beat archives at www.lcweekly.com/cuisine-burger-beat