Islands Meat Market is the real deal…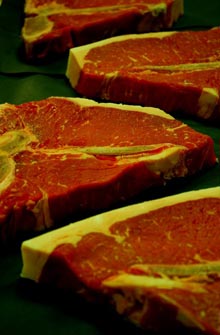 Just beyond the glass storefront the late summer downpour drowns the parking lot, discouraging all but the most intrepid or determined shopper. I'm hanging out with the man who's been cutting my steaks since we landed in Beaufort, Julian Johnson.
Julian's wife and partner, Lin, is off today and while the rain lasts we've pretty much got the shop to ourselves. Not surprisingly, the main topic is meat.
He takes particular pride in the success of the Moondoggies Burger Night as he's supplied every ounce of ground beef served in four years and points customers toward Port Royal every chance he gets.
"People come back and thank me for telling them about it," he says, "and that makes me feel good."
The same high quality hamburger served up at Moondoggies is available in the shop along with just about anything else a carnivore might crave. The cold cases are filled with hand-cut ribeyes, New York strips, T-bones, filets, big slabs of sirloin and the Shaffer household favorite – the thick cut porterhouse – all choice grade Midwestern beef, beautifully marbled for maximum flavor and tenderness, free of steroids and hormones.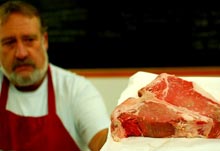 In the modern era of machine sliced, film-wrapped supermarket meat, Julian often finds himself educating his customers. Too lean and the meat's going to be tough, no matter the cut. Too much fat is no good either. No one wants to pay for a piece of meat that's going to melt away on the grill. And beef should look like beef, not like it's spent a week in a tanning salon on the Jersey Shore.
"It's all about educating the customer. Some places do dye their hamburger. You won't find any dye or pink slime in here," he says. "Our burger is pure steak trimmings and lean ground chuck."
So what's the preferred cut when the Johnsons grill out? Seems it's a split decision.
"I prefer a porterhouse," says Julian. "Lin likes the ribeye. If it's raining on Saturday night we do fillets inside and she makes a sauce to go with it."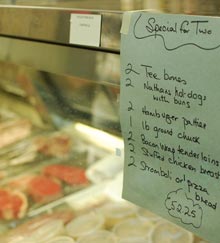 The sign outside reads "Islands Meats" and there's plenty besides beef like the fresh regional poultry and pork. We're big fans of Julian's thick cut, bone in rib chops – perfect for stuffing with goat cheese & thyme with minced sun dried tomatoes. A wide variety of sausages are all made on site, including the authentic English bangers (Lin's English). And every Saturday Julian fires up a massive 6×10 foot grill out front to cook up a mess of pork ribs and chickens. Meanwhile the freezers are packed with game like venison, elk, bison, duck and quail along with more exotic offerings like frog legs, osso bucco, and ostrich as well as goat and lamb. Today Julian's happy to hear that a supplier's finally got some alligator tail headed his way. "It's a big seller," he says.
This is a lot more than just a meat market or a butcher shop. Lin's gradually broadened the inventory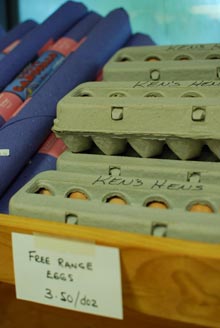 to stock a treasure trove of gourmet products from around the world – pastas, condiments, jams, jellies, sauces, oils and more. The cold cases and freezers are filled with vacuum-packed, fresh frozen veggies, Shepherd's pie, shrimp and crab pies, deep dish lasagna and more – all ready to pop in the oven after a long day at work. And don't forget the fresh bread. Wait a minute, fresh bread in a meat market? You bet, and it's all baked in the store. And this is not your average baguette (they have those, too). The list of artisan breads includes Asiago, Calamata Olive, Rosemary Olive Oil Rounds, sourdough and more. Call ahead to see what's available.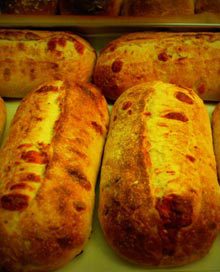 But if you're in the mood for a world-class steak, you've come to the right place. And by all means, says Julian, please be picky. The meat's not shrink-wrapped. You're welcome to see both sides of it. And if you don't see what you want, ask for it. "We'll cut it any way you want it," says Julian. He sets out a pan of golden baguettes fresh from the oven and greets the first customer to brave the storm. The heady scent of the bread is perfume on a rainy day and that last thick cut T-bone languishing on the tray looks awfully lonely.
Join the Islands Meat Market email list for weekly specials and upcoming events at islandmeat@aol.com.
ISLANDS MEAT MARKET
136 Sea Island Pkwy # 2
Beaufort, SC
(843) 525-6162