The search for The Lowcountry's best handmade burgers continues…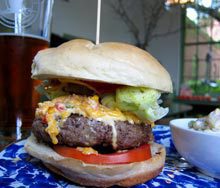 Lowcountry Produce Market & Cafe
302 Carteret St. downtown Beaufort
843-322-1900
Pimento Cheese: two words along with "grits" and "fatback" that will confound and repulse most non-southern peoples. For some reason certain staples of southern cuisine do not travel much beyond our borders. There are logical and cultural explanations for this. For example, in the greater Los Angeles area saturated fat is legal only in certain cosmetic "procedures" and grits are wrongly referred to as "polenta" and cost $32 a bowl.
When I lived in the Pacific Northwest I saw a friend sent to a "health gulag" on the Olympic Peninsula after a pack of dogs mauled him as he attempted to sneak a Smithfield ham cross town to an underground "Grits Party." There were a lot of dogs. And we really missed that ham.
I also know a pair of Southern ex-pats holed up in Vermont who smuggle in Duke's Mayonnaise by the case each year in anticipation of New England's weeklong tomato season each August. The jars are packed in crates, cushioned by bags of Jim Dandy Grits and Sunbeam Bread, and then covered in coffee grounds to throw off the dogs.
Which brings me to the most diabolically clever addition to a slab of USDA prime ground beef: Pimento Cheese.
Some of you just got chills and your mouths began to water involuntarily. Others, well, they've moved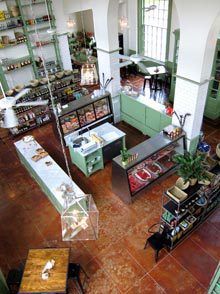 on to the classifieds. More for us…
When we launched this column last issue we were completely surprised at the flood of comments, opinions, suggestions and pleas to join the team. Seems like everyone's got a favorite burger topped with an opinion stronger than a slice of raw onion.
There was even one individual who berated us for perpetuating America's unhealthy fascination with "junk food" before enthusiastically recommending his own favorite ("It's awesome!"). There's nothing like an order of fries with your convictions. Let's set the record straight. This has nothing – (say it your head like DeNiro) – nothing to do with junk food. It's in our credo: "The Lowcountry's best handmade burgers." We won't be sampling any place with stores located on more than one continent. On this beat I require a beer with my burger and some friggin' imagination (goat cheese and sun dried tomatoes? Why the hell not?). This is about an American original made by hand with pride and a little love.
For years the Pimento Burger was a closely guarded secret known only to the dedicated lunch patrons of Lobeco's legendary Lowcountry Produce. This wasn't just a burger it was a destination. People drove for miles to treat themselves. Now with the new location on Carteret Street, what we save on gas we can blow on burgers.
The building was designed as a Post Office and the loving restoration highlights its utilitarian charm. This is a microcosmic culinary cathedral with vaulted ceilings and high, arched windows – equal parts gourmet grocery, butcher shop, and restaurant. One of the original vaults is filled shelves of aromatic herbs and spices.
My partner "J" is a burger enthusiast who hails originally from "The Bay Area." This means two things to me: 1) he'll either be the first or last to panic in an earthquake, and 2) I never get tired of the car chase in Bullitt.
We order our burgers "all the way" with lettuce, tomato, onion, ketchup, mayo, mustard & house made sweet cucumber pickles. "J" is a notorious pickle hater. Notorious. And yet, when the burgers arrive the first thing he tastes is a pickle. Clearly the promise of jalapeño-laced pimento gooeyness has unhinged his mind.
"I'm not much of a pickle guy," he understates, "but these are really good."
This cuts to the very core of this concept: the pickles are fresh and homemade on the farm in Lobeco. Everything here is made from scratch in the kitchen by chef Robert & staff. The beef is a perfect medium well, still juicy. The freshness is evident in every bite.
"This burger oughta come with a raincoat," observes "J" as the works spill out on his Cheddar Mac Salad. Messy? This is hall of fame messy, triple napkin messy for rookies (I needed two). It's also damn tasty. The Pimento Cheese – the Caviar of the South – absolutely makes it. It is the perfect Southern variation on a classic – big, bold and a little over the top with just the right amount of wrong.
EXTRA CHEESE
Manager Fran Tuttle tells us a third location is slated for Hilton Head. Meanwhile, the Beaufort store adds outdoor seating and invites patrons to come by after work for a glass of wine or a craft beer and sample some Chef Robert's house made goodies.
Tell us about your favorite burger. We might just take you along.
Email backyardtourist@gmail.com or find us on Facebook.