The Beaufort Children's Theatre production of Willy Wonka, Jr. will be held at the University of South Carolina Beaufort Performing Arts Center on Saturday, June 6 at 7 PM and Sunday, June 7 at 3 PM.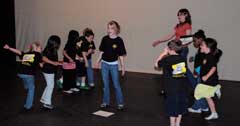 Over 60 aspiring young actors will bring all of your favorite characters to life in Roald Dahl's timeless story of the world famous candy man and his quest to find an heir in this stage adaptation of Charlie and The Chocolate Factory, which features the songs from the classic family film "Willy Wonka and the Chocolate Factory." The memorable score features "The Candy Man", "Pure Imagination", "Oompa Loompa" and "I Want it Now" by Academy® and Grammy® award winners Leslie Bricusse and Anthony Newley.
Beaufort Children's Theatre production of "Willie Wonka, Jr." is part of Beaufort Performing Arts expanding programs for children and adults. Ticket prices are: In advance: Adults $12, children $7; at the door: adults $15, children $10. To reserve your tickets call the BPA box office at (843) 521-4145.