Three years after opening a small satellite medical center in Bluffton, Beaufort Memorial Hospital has tripled the size of the facility to accommodate the growing demand for premier health care services in the booming south-of-the-Broad market.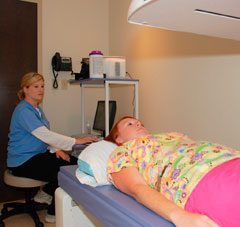 Along with additional exam rooms for physicians, Beaufort Memorial Bluffton Medical Services in Westbury Park now features a rehabilitation center, a full-service lab, digital mammography, bone density scan, x-ray and ultrasound testing.
The public can tour the new facilities during a community open house being held from 4 to 6 p.m. Wednesday, June 10. For more information on Beaufort Memorial Bluffton Medical Services or the open house, call 706-8660 or visit www.bmhsc.org.
"We initially opened the Bluffton facility to provide office space for physicians who wanted to try out the market in southern Beaufort County," said Laurie Martin, senior director of Bluffton Medical Services. "It didn't take any time before we were elbow to elbow with physicians."
Rather than drive to Beaufort to see doctors who practice at the Duke University-affiliated non-profit hospital, residents of Hilton Head Island, Bluffton, Sun City and Jasper County can schedule appointments at the satellite center, located in the same building as Wachovia Bank, near the intersection of Highway 278 and Buck Island Road.
A dozen new exam rooms were incorporated into the 8,000-square-foot expansion on the second floor of the building, allowing for more doctors to participate in the "med share" program. The addition also includes a large waiting room and a 1,500-square-foot rehab center.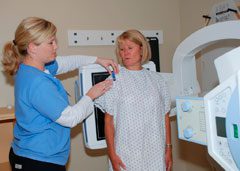 Several exam rooms in the original first-floor quarters were converted to allow space for diagnostic procedures, including ultrasounds used in obstetrics and to conduct examinations of organs such as the liver, pancreas, spleen and thyroid.
"The doctors were asking for more space and the ability to perform tests on site," said Bluffton Medical Services Manager Mary Ann Dabek. "With the expansion, you no longer need to go to the hospital to have your annual mammogram, an ultrasound or bone density scan."
Physicians can check lab results and diagnostic images at the hospital, facilitating a quicker response to their patients.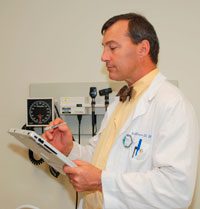 "We have paid close attention to what our physicians and the community have said they want from us," Rick Toomey, president and CEO of Beaufort Memorial Hospital. "You can expect to see a significant growth of comprehensive care in the next 12 months."
A total of 13 doctors, specializing in general, vascular and orthopedic surgery, internal medicine, neurology, pediatrics, obstetrics and gynecology, are now seeing patients one to five days a week at the Bluffton facility. The need for comprehensive medical services south of the Broad River has continued to increase over the years as more and more patients from the greater Bluffton area are choosing to be treated by physicians practicing at the hospital.
Affiliated with Duke University Medical Center for heart and cancer care, Beaufort Memorial has become one of the leading health care providers in the region. The 196-bed hospital is ranked among the top 10 percent in the nation for spine and orthopedic surgeries, including joint replacements.
Starting in June, the rehab center will begin offering speech and occupational therapy for children and adults, along with the current schedule of physical therapy treatments.

"To sustain an effective practice, doctors need clinical ancillary services at their fingertips," said Toomey. "We are committed to providing the support they require to best serve residents of Bluffton and the surrounding communities."