Hilton Head's Louise Lawrence has never stopped learning… and now she's making sure that others have the same opportunity. Louise Lawrence has her own girls' school in Egypt.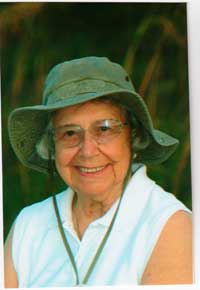 Before I tell you about it, you need a little history on this remarkable woman.
Louise Lawrence was born Louise Ledbetter in 1926, in Duck Town, GA… twelve miles from the closest red light.
"My grandpapa was the postmaster when the town was known as New Harmony, but because there were so many towns by that name in Georgia, half the mail would be sent to the wrong place." The Postmaster of Georgia asked him for input on renaming the town, "and my grandpapa said that when it rained, the ducks were so noisy that we should just name it after them." So Duck Town it was.
Louise's great grandfather and grandfather owned and ran a cotton gin company that she calls an 'early franchise' business. It burned down in 1931.
The family then moved to Ball Ground, GA, where her parents opened a store that sold Atlanta Stoves, another 'early franchise.'
"Most people bought stoves and furniture on time with a dollar down and a dollar a week," she says.
During the Depression, Louise's parents noticed that people weren't spending much money, but that beauty parlors and movies were busy, so they put a beauty parlor in their furniture store. It did so well they built another beauty shop a few blocks away. Louise laughs, " In those days it was cheaper to have pay phone in a business than a regular line, so my parents put a pay phone in the store and I put a soap box near the phone so that I could reach it." Taking beauty appointments became Louise's first job at the age of ten.
Louise's father died at age 36, when Louise was 16, and in her first year of college. Her mother continued running the store as she had for years, and Louise took a summer job at the Atlanta Constitution as a copy girl.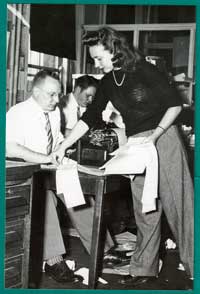 "There were no computers in those days and I ran copy. The writers would attach their copy to lines that ran across the news room. I took the copy and delivered it to the editor. I ripped the copy from the AP and teletype machines across the street, and delivered them to the news room, too."
The editor, Ralph McGill, insisted that Louise go back to school at the University of Georgia and major in journalism. There she met George Lawrence, a lawyer, whom she later married. The couple moved to Eatonton, GA, a "town was so small you could walk to everything, which was lucky because we did not own a car and there was no public transportation."
When Louise's first child Ann was two, in 1948, Louise went back to college at Georgia State to finish her degree. The college had a nursery for students and faculty where you could take your child for $15.00 per month. The Lawrence family grew larger with the birth of Chip in 1950 and Sally in 1955.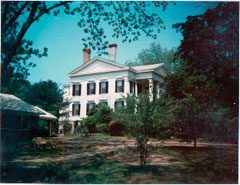 By 1957, Louise had fallen in love with the Kitty Greene House, a grand historic home built in 1850 by the Greene family from Atlanta. "It had three floors and each floor was 3,000 square feet. The ceilings were twelve feet high on the lower floor and fourteen feet high on the upper floors. The only heat came from fireplaces that burned coal. The house was on the market for $45,000. George didn't want to live in an old home, but agreed to put a bid on the house if I agreed to sell it when Sally graduated from high school."
Moving day arrived with great excitement. "George, Ann, Chip, Sally and I were walking through the house when we noticed a little old lady living in the basement rooms," says Louise. "The real estate sales woman said, 'Oh, I forgot to tell you, Julia comes with the house."
So the Lawrences had their new house, and they had Julia, who lived with them for many years.
As agreed, Louise and George sold the Kitty Greene House after Sally graduated from high school. George said they could have gone around the world several times for what it had cost them to live there. When you own something historic there is an obligation to maintain it and usually it is quite expensive.
In 1977 Louise and George divorced. Louise moved to Hilton Head Island, and worked as a property manager for Sea Pines from 1978 – 1991. Louise and George remarried in 1991 and moved back to Eatonton, where they lived happily until George's death in 2003.
Louise immediately returned to Hilton Head. "I love it here," she says. "We have the purest air in the world. Our biggest industry is tourism, and I thank Charles Fraser for keeping polluting industry from the area."
Now, about that school. Louise has very strong feelings about people, freedom and education. She says, "If people can't read and write they can be controlled. If you can teach them to read and write you can give them the freedom to pursue endless possibilities in life."
A few years ago, Apache Corporation, the largest gas and oil leaseholder in Egypt, wanted to do something for the country, so they partnered with the Egyptian government and the UN to build one-room schoolhouses for girls in rural areas. They hired an Egyptian architect to design a wonderful plan for the schools; it included a tall chimney that would allow heat to escape, and windows up high that would provide light while keeping direct sunlight out of the working area. These schools would be built for $15,000 each. Apache raised the money to pay for the schools from private individuals and corporations and Apache provided the administrative oversight of the construction. The Egyptian government supervises the teachers, chooses the curriculum, sets the school hours and monitors them.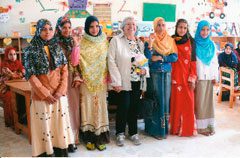 It just so happens that Louise's son, Chip, is on the board of Apache Corporation and is chairperson of their Springboard Education Project. Three years ago, he bought one of these Egyptian girls' schools as a gift to his mother.
Louise says, "I had never seen my girls' school except in photos, so when Chip offered to take me anywhere in the world for vacation, I said that I wanted to see my school." In November 2008, Chip and his wife, Barbara, took Louise to Egypt. They hired a Nubian driver, Muhammad, to take them 150 miles south of Cairo to the small town of Minia, where Louise got to meet her girls and see her school "up close and personal." The experience was amazing!
Louise recalls, "The girls greeted me with a 'bouquet' of flowers that they had crafted themselves. I keep the bouquet in my living room." They gathered around Louise and all got to meet this person who had given them a chance to become real students. The girls are allowed to attend school until the age of sixteen.
"The girls performed a skit for me where they pretended to take a sick baby to a doctor," Louise remembers. "The doctor examined the baby, then prescribed medicine and gave written instructions on how to care for the child. The girls took the baby home, and when the baby did not get better, took it back to see the doctor. The doctor shook his finger at the girls and said they had not followed his instructions. He told them that one cannot raise a family if one cannot read and write." This simple message could help keep this program alive.
Louise would love to tell you about her school. You can find her most any morning, out walking on the beach. If you can keep up with her, she may share some other stories about her many world travels. I am very proud to say that Louise Lawrence is my friend and an island treasure.
Writers Note:
What the Egyptians are doing is extraordinary, especially now, when the Taliban are currently bombing girls' schools to eradicate education for females.