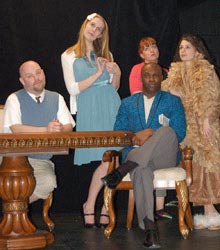 Six gifted local actors – Carrie Freeman, Joellen Hirschey, Benji Morgan, Tracy Smith, Rob Spencer, and Mike Young – play 57 different characters in a mosaic of vignettes in A.R. Gurney's Pulitzer Prize-nominated classic, "The Dining Room."
The play, produced by Misspent Youth Productions and directed by Gail Westerfield, opens March 24 in the Black Box Theater at ARTworks. 
The play was a long-running Broadway hit and turned Gurney, who also wrote the popular "Love Letters," into a major American playwright.
The script glows and sparkles like the fine china and crystal that once routinely adorned upper-class dining room tables. But the play isn't just a nostalgia piece about the charms of a bygone era; while many of the characters populating the play's scenes adore "the lovely room," as a realtor calls it, just as many find it repressive and outdated.
One character, an anthropology student, uses the room and its owner, his ultra-proper Aunt Harriet, for a class project on the "vanishing culture" of "the WASPS of Northeastern United states." A teenager complaining to a friend about her family's nightly dinner ritual claims, "the whole thing bites. It really bites. It bites the big one."
The set is beautiful but simple – Gurney describes it as surrounded by "a sense of void" and seeming almost to be a museum display. While the 18 scenes take place over the course of a day, they often intersect, and the space comes to represent all sorts of dining rooms over a span of many decades and many lives.
Love it or hate it, the dining room is really more about the people who use it for everything from tense holiday meals to term paper writing to flirtations with the handyman.
"The dining room is an archetypal space," according to Westerfield. "It encompasses so many different kinds of experience: sibling rivalry, tender moments between parents and children, joyful squeals and strict discipline, lust and longing, repression and rebellion, all the comedy and drama of relationships."
Joellen Hirschey feels confident that "audiences can expect to see a knock-out performance of epic proportions!"
You certainly don't need to be an upper crust-y WASP to recognize yourself in the characters and situations in "The Dining Room," Hirschey believes. "Everyone should expect to see pieces of themselves. There are so many characters, everyone can relate to at least one of them."
"Audiences should be prepared to laugh, then cry, and then repeat. It's definitely not your average night of theater," Hirschey promises.
Performances are March 24 – 26 and March 31 – April 2 at 8 pm and March 27 at and April 3 at 3 pm.
The public is invited to a special pre-show party before the March 26 performance.
Tickets are $15, $10 for students, and $10 each for groups of 10 or more. The March 24 and March 31 performances are "Pay What You Can."
Tickets can be purchased at ARTworks in Beaufort Town Center (next to OMNI Gym and near K-Mart and Bi-Lo) Tuesdays – Fridays, 11 am – 6 pm, and Saturdays 12 pm – 4 pm, by calling 843.379.2787, or online at www.beaufortcountyarts.com/theater