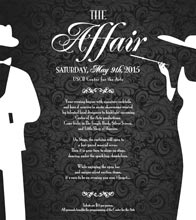 USCB Center for the Arts invites you to fall in love with the arts all over again at The Affair.
In a town filled with phenomenal fundraisers like the Lafayette Soiree, the Valentine's Ball, Twilight Run and Bands and Brews, USCB Center for the Arts desired to throw an event worthy of the rest. Something captivating, entertaining, and downright fun, with no guilt included. Thus, you are cordially invited to The Affair, an evening of libations, savors, entertainment and good company. Lisa Mykleby of M Home and Garden has united several of our community's most talented local interior designers to create spaces worthy of our night. Each space will be themed to celebrate the tremendous offerings the CFA provides: a lush, tropical getaway in honor of the upcoming Beaufort Children's Theatre production of
The Jungle Book
, a sophisticated Silver Screen room to highlight "Monday Night is Movie Night at the CFA," and finally, our own Little Shop of Horrors to celebrate Beaufort Theatre Company's opener for the 2015-2016 Season. Each room will have its own signature drinks and hors d'oeuvres.
At 8 pm, the theater doors will open and guests will be treated to a fast-paced musical revue directed by Libby Ricardo and Anna Schaffer. Actors and singers who have driven audiences to their feet for multiple standing ovations will perform selected music from Grease, Always Patsy Cline, Little Shop of Horrors and many other classics. The cast includes: Maggie Norden, Penney Smith, Marlena Smalls, Elaine Lake, Velma Polk, Karl Wells, Drew Hillis, Brad Ballington, Hannah Brown, Beaufort Theatre Choral and Acting Classes, and of course, Anna and Libby. "We wanted to create an evening of entertainment that honored the fantastic achievements of our performing arts community, and of course, that paid homage to our patrons. Beaufort is a burgeoning theatrical scene, and there's nothing more exciting than looking to our past and gearing up for our future," says co-director, Libby Ricardo.
As the evening draws to a close, the audience will be invited on stage to dance to the tunes of the 1960's as sung by Beaufort favorites, The Sweetgrass Angels.
Throughout the event, guests will be able to bid in a silent auction to support the CFA. Items available for bids include a vacation at a cottage in Ireland, Magnums of autographed Cakebread wine, cocktail parties for friends in beautiful Lowcountry settings, boat cruises, and, of course, exclusive golf packages. Take a sneak peak to see all the auction items by going to www.uscbcenterforthearts.com.
The Center for the Arts does not receive any state funding. Ticket sales do not support the wide variety of programs offered. We are offering you a fun, tasty, entertaining, and tax-deductible way to support the Center for the Arts. This is an Affair to feel great about for only $75.
So get ready for a night you will not forget! Begin your affair with the CFA and be at the center of it all.
Tickets are available online at www.uscbcenterforthearts.com or call 843-521-4145.