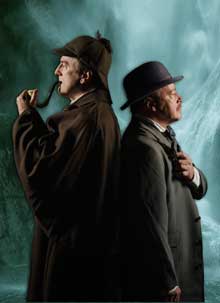 The world's greatest detective has retirement on his mind but something's indeed afoot that proves too difficult to ignore. The King of Bohemia is about to be blackmailed by a scandalous photograph, sending Sherlock Holmes abruptly back into action with his trusty sidekick Doctor Watson by his side. Hot on the trail, Holmes pursues the case—and then the affections of Irene Adler, the famous opera singer at the heart of the crime.
Michael Strauss, who is a "perfect Sherlock," tall with an aristocratic air, brings the delightfully clever character to life, while revealing Sherlock's one tender spot is in the romance department. In fact, it could be said that in Irene (Chiara Motley) he has finally met his match. She outsmarts Holmes, smugly crediting her acting skills for her mastery of deception. But Holmes is clearly smitten, revealing an uncharacteristic uncomfortable awkwardness when with her.
Jonathan Holtzman as Professor Moriarty plays the confident villain without a heart. He has a fiery temper and a vengeful streak, with a brilliant mind that rivals Holmes.
And, without Dr. Watson (R. Bruce Connelly) there would scarcely be a Holmes. Watson offers many responses to the "aha moments" provided by Sherlock's deductions. In addition, Watson is also the narrator, offering signposts for the action that ensues.
Directed by New York-based Russell Treyz, Sherlock Holmes: The Final Adventure was a top selection from the Arts Center's audience survey for the 2013-2014 season. Under the direction of Treyz, the eight-person cast is incredible and pitch-perfect in each of their roles. The ever-changing, lavish sets are creation of designer Brian Riley with lighting design by VP Production Terry Cermak, and the sumptuous, authentic-period costumes were created by Diana Griffin.
Clever and lively-paced dialogue, interspersed with plenty of action will keep you on the edge of your seat, while the element of humor adds a hefty dose of fun to this thrilling adventure!
Sherlock Holmes: The Final Adventure is on stage October 1 – 20. Tickets are $44/adult and $31/child with preview prices (Oct 1-3) $34/adult and $21/child. They may be purchased at the Arts Center box office, online at www.artshhi.com or by calling (843) 842-ARTS (2787). Group rates for ten or more are available and are accompanied by two free tickets!