Beaufort artist finds new inspiration beyond Bay Street. By Mark Shaffer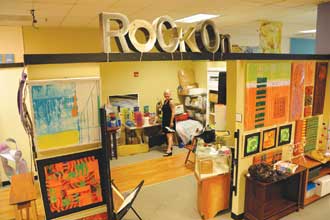 "Half of creating is waiting for something to dry."
– Deanna Bowdish
It's early on a quiet weekday morning at ARTworks in Beaufort Town Center. As the overheads flicker to life it's easy to pick out Deanna Bowdish's new studio space from the others. Towering over the threshold in giant mismatched letters are two simple words: ROCK ON. Anyone who knows Deanna recognizes her favorite conversational benediction. But that simple statement represents a philosophy of personal and creative perseverance that runs deep.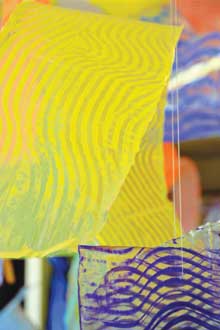 This morning she begins the final push to assemble all the pieces for the giant installation she takes to her fourth ArtPrize competition in Michigan. "Cascading Colors" represents nearly five months of labor. It is a gargantuan mobile of 90 bent, folded and twisted resin panels bearing individual patterns rendered in kaleidoscopic colors.
Her sleeveless black dress reveals the tattoo on her left arm of a tall ship riding the waves with the words "Carry On" inked below. It's a tribute to her ancestor, Nathaniel Bowditch (1773-1838), the mathematician, astronomer and sea captain considered the father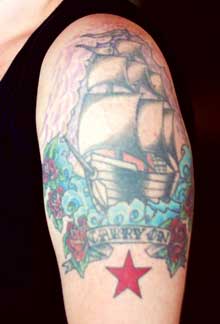 of modern maritime navigation. His 'New American Practical Navigator," first published in 1802, is still standard issue aboard every American naval vessel. "Carry On" refers to the famous children's book based on his childhood, "Carry On, Mr. Bowditch." Even though Deanna grew up racing sailboats on the Great Lakes, it was years after relocating to the Lowcounty that she discovered an ancestral connection to the area: Nathaniel's son, Henry J. Bowditch, helped found Penn Center. Karma.
For most of a decade The Gallery was a fixture at 802 Bay Street, an eclectic collection of what Deanna proudly called "art for art's sake." This was not your mama's Lowcountry Landscapes Unlimited. This was a cavernous space filled from floor to rafters with a range of styles, mediums, techniques and materials unique to Beaufort. Inside, Deanna greeted browsers from behind a famously chaotic desk. Out front, taking a smoke break, she easily herded complete strangers into the shop. No doubt scores of people purchased their first pieces of art inside 802 Bay.
Last month The Gallery ended its run on Bay Street as Bowdish moved in to the Arts Council's multi-tasking space on Boundary Street as Curator of the site's Feature Gallery. Much of the inventory from the Bay Street shop is here representing the new, downsized owner-friendly version of The Gallery. "Now I get to have things called 'weekends,'" she says.
"I love Beaufort and I love this community, but art isn't always about the pretty picture."
From the moment she set foot in Beaufort back in 2002, Bowdish has been an outspoken and vital force in the local arts community. With her move to ARTworks, what's past is most likely prologue and the new role is a custom fit.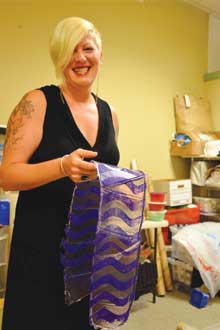 Deanna Bowdish: I've wanted to add "Curator" to my resume for a while. I've done it for more than nine years [at The Gallery]; my card just didn't say it. It was "Owner/Director." Curating is something that tends to be overlooked. I think in this community we sometimes tend to just try and fill spaces with warm bodies and entities. We're not always thinking about the quality of the work. It's like, okay we know we've got this space open from this time to that. The idea is let's find someone who wants to put something in it as opposed to seeking out individual artists and bringing them in whether they're local, regional or national.
My goal with this space is to feature and showcase solo shows, group shows, juried exhibits, community events and then some edgier things, too. Maybe new materials, new mediums and a new way of seeing things a bit more controversially and politically – things that make us think. I love Beaufort and I love this community, but art isn't always about the pretty picture.
"There are people who really want to see downtown succeed and there are those who have no desire to see it exist there at all."
Mark Shaffer: We always suspected you were trouble. But we like edgy and controversial. (Laughs)
DB: Me, too. I may regret it in the end. Who knows? (Laughs) With the traveling that I do, going to shows and going to ArtPrize, I meet amazing artists. Last year, for instance I met a phenomenal sculptor who would love to get his work down here. That's the kind of project where I need a partnership, whether it's USCB, the Open Land Trust, the city and waterfront park – bringing in things that are temporary but are about public art and accessibility to art.
I guess that was always one of the most depressing and sad things about sitting in my gallery on Bay Street for nine years, the number of [locals] who came through who had never been in before, or who never went downtown or never checked out the galleries.
It's been said that we have the largest saturation of art per square footage per capita of any city or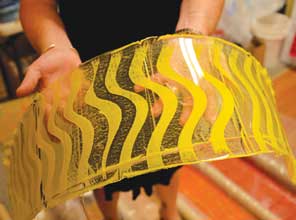 town in the country. And it's free to walk through that door! It doesn't have to always cost you to leave, but it makes us a lot happier if it does.
MS: As a longtime downtown business owner you understand how difficult it can be. I hear complaints all the time from business owners, resident and visitors alike. There's a lot of contention that seems to work against the success of a viable downtown
DB: It's true one hundred percent. There are people who really want to see downtown succeed and there are those who have no desire to see it exist there at all.
One of the exciting things about making the jump to ARTworks is being part of a team, not being chained and confined to that window box six or seven days a week, freedom to go find new artists, to create my own art work, to travel around the region, to find the artists lurking in these corners and down these dirt roads and celebrate their creativity. Every day I learn about somebody new doing something different in this community. So, as part of this team I'm hoping to take ARTworks to another level, to engage more of the community and garner more of that tourist and traveler dollar, too. This is an amazing resource for this little town and every day I'm amazed at how many locals don't know we exist.
MS: Downtown's not the same without The Gallery. But in the end it was just too much.
DB: Too much time, too much money, too much energy, too much thought, too much art, too much space and not enough people through the door. And I wasn't enjoying it anymore. I wasn't excited to get up and go to work some days. That should never be the case. This was something I've been thinking about for a while. I just didn't know how to do it. By being part of this team I'm not chained to this place. People can come in. Things can sell and I can take my cat to the vet, get my hair cut. I could have a day off. And there's this thing called a weekend. I'm going to figure out what that's about. I feel three inches taller. And I swear it's not the platform shoes.
If you have a retail entity you're married to it. I'm starting a new chapter and that new chapter means taking my personal art to the next level.
GO BIG OR GO HOME: ArtPrize, the world's largest art competition.
Part of that next level means heading back to ArtPrize for the fourth straight year along with colleague Terry Brennan. Brennan specializes in mixed media assemblages. This year's installation is called "The Nursery: Immaculate Perception." At first glance it appears to be a high-end designer nursery. Closer examination reveals that all the subtle components are made of guns. "The reactions should be interesting in a conservative, gun-loving area of Michigan," says Deanna. Indeed.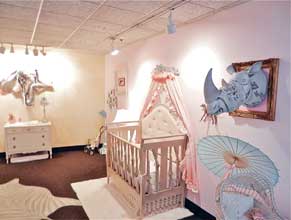 Par for the course, according to www.artprize.org which describes this as "a radically open, independently organized international art competition with an unprecedented $200,000 top prize decided entirely by public vote." In other words, it's edgy. It's also one hell of an event. For three weeks nearly every square inch of downtown Grand Rapids (3 square miles) is transformed into "an open playing field where anyone can find a voice in the conversation about what is art and why it matters." It's all free and open to the public and last year nearly 400,000 people participated in feeding the local economy.
MS: What's the breakdown on the competition?
DB: There are about 160 venues, about 1550 artists from 45 states and 47 countries. The first round of voting is ten days long. In that time they'll take that field of 1500 plus down to ten. After the first four days, they announce the top 100.
MS: This is a huge boon to the local economy and literally puts Grand Rapids on the world map every year. Can we do it in Beaufort?
DB: We could totally do this in Beaufort. I've been thinking about this now that I'm part of a team that works with so many community organizations and groups. It takes the whole community. That's what I worry about: will everyone come together to make it happen. Lake City did it in April with Art Fields (www.artfieldssc.org). I couldn't make it because I was in Jacksonville at One Spark (www.beonespark.com), also based on ArtPrize.
It can happen in Beaufort. We need funding to attract the artists. We need the community to step up and be a part of it, everything from hosting artists to volunteering and participating. ArtPrize started as a social experiment, as a way to get people together and revitalize their downtown. I think this would be an amazing way to feature not only our community and the quality of the arts here, but to showcase this fabulous place. We've got a lot of places and spaces where it could happen if we work together. It's definitely a possibility.
GET MORE/GET INVOLVED
Find Deanna Bowdish and Terry Brennan on Facebook and Twitter and follow them at www.artprize.org.
Find out more about ARTworks at http://beaufortcountyarts.com
Mark Shaffer's email is backyardtourist@gmail.com