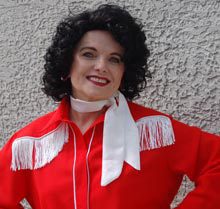 "Patsy Cline has always been my singing idol," says Maggy Norden, who plays the country legend in "Always…Patsy Cline," opening October 7 at the University of South Carolina Beaufort Center for the Arts.
"'Crazy' has always been my signature karaoke song. In fact, I won a 'Singing in the Shower' contest in Dallas with 'Crazy' and was flown to New York City for the finals! So it's really a dream come true to get to play her."
"Always…Patsy Cline," after a successful off-Broadway run, has been performed throughout the country, becoming one of the most produced musicals in the United States, and has toured Canada, Australia and the United Kingdom.
To prepare for her role, Norden "watched Jessica Lange's performance in 'Sweet Dreams' again and two documentaries on Patsy" because, she said, "there are songs in the show that I had no idea that she sang, her earlier works like 'Blue Moon of Kentucky' and 'Lovesick Blues.' I also read 'Love Always, Patsy' which is a collection of letters between her and a fan club president, Treva Miller."
The musical is based on true stories of Patsy's friendships with her devoted fans. Gail Westerfield, who also directs the show, plays a devoted fan, Louise Seger – a composite of Patsy's real fans, some of whom Patsy established friendships and correspondence with. Louise narrates the play from Cline's letters written after they met in a Texas honky-tonk in 1961 until the singer's tragic death in a plane crash in 1963.
According to Westerfield, "Louise is a totally confident, larger than life character, a true Texas gal who has no qualms at all about expressing her love and devotion to her idol. She and Patsy have both had pretty tough lives, especially in the romantic realm, and they find each other to be kind of oddly kindred spirits. She gets to live this fantasy, briefly, that everyone has about meeting and befriending someone they idolize."
Norden discovered through the play and her research that she and her singing idol were also kindred spirits in a way: "We both can't read music and don't know what key we sing in! Patsy started singing when she was 4 years old and had no formal training, and I haven't either. And I've always sung: My mother told me I was humming 'Around the World' when I was nine months old."
Though she's not a strict country music fan, Norden said she considers herself "an alternative country music person. I've always loved her voice, and like Louise's character says in the play, Patsy sang the way I always wanted to sing."
"You don't have to be a country music fan to love Patsy," Westerfield added. "In talking about the show, I haven't met anyone yet who's not familiar with her work, even if they don't really know her story. Patsy's voice and style was so unique and beautiful, and really, there are moments when Maggy just seems to channel her. I get goosebumps and the audience will, too!"
"Always … Patsy Cline" spotlights the songs that made Patsy famous, as well as the personal story behind the songs. She sang some of the most recognizable songs in American music history in her brief but stellar career. Norden sings 27 of those songs, from those Patsy made famous – "I Fall to Pieces," "Walkin' After Midnight," "Sweet Dreams," and of course, "Crazy" – to her lesser-known recordings, all to the accompaniment of a live band.
"I couldn't be more excited to get to play such a huge, fun character," as Louise, Westerfield said, "and to get to be on stage again with Maggy, who's one of the best actors I've ever gotten to work with. Talk about fearless!"
Norden and Westerfield met when Norden auditioned for Westerfield's production of "Talking With…" at ARTworks in 2010. They also appeared together in ARTworks' production of "Steel Magnolias."
"Quite some time ago, I was discussing Maggy with Bonnie Hargrove, who's producing "Always…Patsy Cline," Westerfield recalled. "She was talking about how talented Maggy is, and I said, 'Well, you ought to hear her sing 'Crazy.' She's fantastic.' And Bonnie said, 'Have I got a show for you!'"
Norden, who recently celebrated what would have been Patsy's 79th birthday by singing Patsy's songs at karaoke, feels certain audiences will love "Always…Patsy Cline" because "everybody misses Patsy and wishes that she were still with us. We're recreating a chance for those who never got to see her live to experience the energy and joy that that was. Or even people who did see her perform back in the late Fifties and early Sixties will get to have that experience again. Besides, everybody loves live entertainment, and it's going a lot of fun."
IF YOU GO
"Always…Patsy Cline" will be performed October 7, 8, 14, and 15 at 7:30 PM with one matinee on Sunday, October 9 at 3 p.m.
Tickets are $22 for adults, $18 for seniors and $15 for youth. Group rates are available for parties of ten or more.
For tickets or more information, call the USCB box office, 843-521-4145, Tuesday – Friday 10 am until 2 pm.