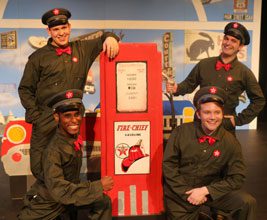 You can drive from Chicago to Los Angeles in about thirty-one hours – if you
stick to the interstates. However, for the road warrior who isn't in a hurry, a cruise along old Route 66 can be an unforgettable journey – one with surprises beyond every curve. Now, a musical comedy comes to town –
Route 66
, by Roger Bean – that celebrates the golden era of the quirky old highway.
            Often called "America's Main Street", U.S. Route 66 is a retro-fantasyland of art deco motels, roadside attractions, Indian trading posts, novelty drive-ins and old-fashioned spit-and-polish service stations. In its heyday, the highway boasted such landmarks as the Spooklight in Quapaw, Oklahoma, the giant Jackalope in Fort Worth, Texas, Meteor Crater in Leeup, Arizona, the Wigwam Village in Holbrook, Arizona, El Sombrero Restaurant in Albuquerque, New Mexico, the Regal Reptile Ranch in Alanreed, Texas, the Chain of the Rocks Bridge near St. Louis, Missouri, the giant Rocketman in Wilmington, Illinois and the Iceberg Café in Albuquerque, New Mexico.
In the 1940's and '50's, hundreds of fancifully-designed motels, motor lodges and motor courts sprung up along the great highway, many of which are still in operation today.
            One prominent feature of Route 66 was also the popular Burma Shave signs that dotted the landscape with their humorous poems from 1927 to 1963. Each phrase of a poem was on a different sign, sometimes miles apart. One example:
                        Don't stick
                        Your elbow
                        Out too far
                        It might
                        Go home
                        In another car
                        Burma Shave 
            A rambunctious musical comedy, Route 66, leads the audience along the great "Mother Road" in a nostalgic celebration of music and whimsical highway fun.
            The show arrives here in Beaufort SC on Friday, March 31for one performance at USCB Center for the Arts .
            The high-octane musical is performed and produced by Springer Theatricals which is on a ten week tour of 27 states.
            In Route 66, a gang of rowdy Chicago service station attendants strip off their snappy Texaco uniforms and head off on a westward-bound road-trip filled with music, dance and highway mischief.
            The talented quartet of singing grease monkeys leave Chicago and follows the Mother Road down through Missouri, Kansas, Oklahoma, Texas, New Mexico, Arizona and conclude their travels at the beach in Santa Monica, California.
            The show features rock and pop music from the 1950's and '60's including hit tunes like King of the Road, Dead Man's Curve, Six Days on the Road, Hot Rod Queen, I Get Around, Little Old Lady from Pasadena, GTO, Fun-Fun-Fun and, of course, Route 66.
            Because of its comic antics and tight-harmony vocals, the show has been called a hybrid of Grease, Forever Plaid and Pump Boys and Dinettes.
 The show's author, Roger Bean, first created Route 66 for the Milwaukee Repertory Theatre and then developed it further at the famous Oregon Cabaret Theatre. Bean has now turned the production over to the 145 year-old Springer Theatre, which is Georgia's official State Theatre.
     Route 66 will be performed Friday, March 31 at 7:30 pm at USCB Center for the Arts.  Tickets for the show are Adult $30, Senior/Military $25, Student $20 and are on sale now. Call 843-521-or go online www.uscbcenterforthearts.com