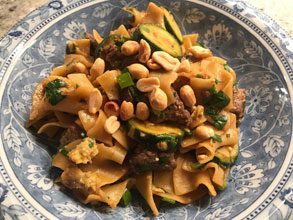 It's a real treat for me to find recipes that don't completely wreck my kitchen. Dirty dishes seem to follow me everywhere I go. I guess it's one of the hazards of my chosen profession. Both of the recipes this week are super delicious and super easy. Best of all, they both only use a very few dishes. Happy Cooking!
One Pot Spicy Thai Noodles with Beef
4 tablespoons brown sugar
½ cup low sodium soy sauce
2 tablespoons sriracha sauce
3 heaping teaspoons minced ginger
1 pound beef tenderloin*
Salt and pepper, to taste
2 tablespoons vegetable oil
2 small zucchini, sliced into thin rounds
8 ounces baby portobella mushrooms, sliced
2 cloves garlic, minced
2 large eggs, lightly beaten
¼ teaspoon crushed red pepper flakes
1 (12-ounce) package egg noodles
¼ cup salted peanuts
4 green onions, chopped
½ cup fresh chopped cilantro
In a medium bowl, combine brown sugar, soy sauce, sriracha and ginger; whisk well to combine; set aside. Cut beef tenderloin into bite-sized pieces. Season with salt and pepper. In a large stock pot, heat 2 tablespoons vegetable oil. Add beef to hot oil and stir fry until meat is browned and medium-rare in the center. Remove beef, set aside and cover to keep warm. Add zucchini, mushrooms and garlic to the pot. Saute over medium-high heat for 7 to 10 minutes or until vegetables are tender. Remove vegetables and set aside. Add beaten eggs and red pepper flakes to stock pot and stir to scramble. Remove and set aside. Fill stock pot with water and bring to a boil. Cook egg noodles according to package directions. Drain. Turn heat down to low, add pasta, vegetables, beef and eggs back to the pot. Pour sauce over and stir gently to combine and warm through. Remove from heat, add peanuts, green onions and cilantro. Serve warm or cold. Serves 6 to 8. *Chicken or shrimp may be substituted for beef tenderloin.
Slow Cooker Chicken Thighs with Creamy Lemon Sauce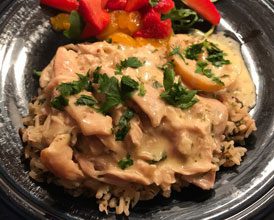 6 boneless, skinless chicken thighs
2 teaspoons dried Italian dressing mix
1 clove garlic, minced
1 (10.5-ounce) can cream of chicken soup
1 tablespoon grainy mustard
¼ cup lemon juice
¼ cup heavy whipping cream
Cooked rice
¼ cup chopped fresh Italian parsley
Sprinkle each side of chicken thighs with Italian dressing to season. Place in crock pot. Combine garlic with cream of chicken soup and pour over chicken thighs. Cover and cook on high for 3 hours. Remove chicken and cover to keep warm. Add mustard, lemon juice and whipping cream to crock pot and whisk to combine; heat through. Pour sauce over chicken and serve with rice. Garnish with Italian parsley before serving. Serves 4 to 6.
The writer owns Catering by Debbi Covington and is the author of two cookbooks, Gold Medal Winner of the Benjamin Franklin Award, Celebrate Everything! and Dining Under the Carolina Moon. Debbi's website address is www.cateringbydebbicovington.com. She may be reached at 525-0350 or by email at dbc@cateringbydebbicovington.com.