Nine local children took part in a standing room-only performance of 'The Play's The Thing' – Scenes from . . . The Most Excellent and Lamentable Tragedy of Romeo and Juliet on June 27 at the Celadon Activity Center & Spa performance stage on Lady's Island.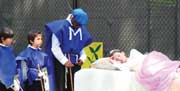 The young thespians learned the scenes during a three-week workshop lead by retired teacher, Barbara Carter, co-founder of the New Rochelle Children's Shakespeare Festival. Because the theatrical company was a small one, several of the actors played more than one part in the production. All helped in the creation of the scenery and costumes; all helped in the staging and production of the show.
The performers and their roles were:
Ben Hetherington as Tybalt;
Grant Hetherington as Romeo;
Demetreus V. Singleton as Mercutio / Montague fighter;
Cade Suginaka as Benvolio I;
Kobe Suginaka as Benvolio II;
Alek Wagner as Narrator / Lord Capulet/ Assistant Manager;
Hannah Wagner as Juliet / Capulet fighter; Sophie Wagner as Capulet Messenger;
Ashley White as Nurse / Capulet fighter.
Also starring in the production was Cat Island resident Claudette Humphrey, as the Queen.
J. W. Rone, Executive Director of Arts Council of Beaufort County, played a significant role in the production, helping as both Drama Coach and Director of Stage Combat, choreographing the dramatic sword fight scenes.

Michelle Chmielewski, Fitness Trainer at the Celadon Activity Center & Spa, served as the Director of "Actors are Athletes" Calisthenics and "warmed the children up" for learning the ins and outs of Shakespeare during the three-week workshop.
Alek Wagner, an actor in the group, also served as Assistant Director and accompanied the group on keyboards during a song.
Refreshments of gingerbread, grapes and root beer were served to the substantial crowd that came to see the performance. These refreshments were the kinds of foods similar to what Shakespearean audiences were served at the Globe Theatre during performances.
All of the child actors received certificates of accomplishment created by area calligrapher Nancy Dennis.
The performance was sponsored by the Celadon Community Arts Trust Association.