Santiago Sosa and Erin Dailey prepare to bring Shakespeare's ultimate power couple to the stage at USCB. 
By Margaret Evans, Editor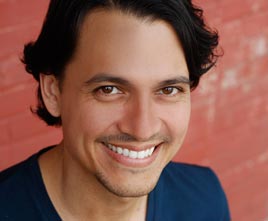 On April 23rd Shakespeare Rep will celebrate the Bard's
450th birthday with a new production of Macbeth at the USCB Center for the Arts. We recently caught up with Santiago Sosa and Erin Dailey – Macbeth and Lady Macbeth – to talk about the production . . . among other things.
Santiago (Santi) Sosa received his MFA in Theater from the University of Wisconsin and has played a long list of Shakespearean roles with Illinois Shakespeare and the American Players Theater, among other companies. He has traveled to Beaufort from his home in Chicago to take on the role of Macbeth. Erin Dailey is also an accomplished actor with many productions to her credit, including Cymbeline and A Midsummer Night's Dream. She's a graduate of the South Carolina Governor's School, from which she went on to study at Julliard in New York. Erin is currently a student at USCB, where she writes the official Student Blog.

Q: Imagine you're a marketing guru attempting to sell Macbeth tickets to a bunch of young people who think Shakespeare is stuffy and boring. What's your pitch?
Erin: As a marketing guru (with a great big budget) my team and I would utilize a short movie trailer to capture our youth. This would include footage of some ramped up war scenes, some hot heavy love scenes, integrated with screams of terror, heart wrenching tears of loss, spilt blood, dark humor, wild magic, severed dreams… thrown into the cauldron with a Don LaFontaine-esque voice-over beginning with "In a World…" and ending it with "now imagine seeing it live"… and naturally we would post it all over every social media network and get it on the tube.
Santi: My pitch? "The original Game of Thrones."

Q: The Macbeths are Shakespeare's ultimate power couple. Do you see any couple out there in the "real world" who compares?
Erin: I thought hard about this one and really I think the great thing about any couple who find themselves so in love is that we all have the capacity to reach that moment where things are going so well (the future seems so bright and hopeful with our significant other) that we begin to think "pshhh, we got this – we could totally rule the world together…" When all's said and done I think love can take us in one of two directions: if we understand it, it takes us in a healthy direction, if it gets lost in translation or the chaos that lives around it –well frankly I think it can be our demise. Every couple, I believe, can relate to the intensities and confusions of love, the complexities of desire, the struggles of building a future and handling life that the Macbeths face and that's the beauty of this.

Q: What's your favorite version of Shakespeare on film?
Erin: 10 Things I Hate About You with Julia Stiles and Heath Ledger, I think. I was probably in middle school when I saw it and I remember how much it delighted me. While it is only utilizing Shakespeare's idea of Taming of the Shrew and not his language it made me interested in knowing more about him and the stories he created. In my mind a film that can even spark that alone does a serving of justice to Shakespeare.
Santi: Kenneth Branagh's Henry V seems like the most complete Shakespeare film. It was very low budget, which forced a very young Branagh to be very creative and kept the film from being too grandiose and 'Hollywood.' The Hollow Crown series is also a really wonderful achievement.
Q: Favorite role you've played on stage? (Not necessarily Shakespeare.)
Erin: I've had two, Millie from Picnic by William Inge and Imogen from Shakespeare's Cymbeline.
Santi: I'd have to say Mercutio (from Romeo and Juliet). When I was younger, I was known to be a party animal; very mercurial and a bit of a troublemaker. I am much more introverted and mellow these days. Playing that role allowed me to relive a younger version of myself, except I got to wield a sword and speak some Shakespearean text. I had so much fun with that role.
Q: Dream role that you haven't yet played?
Erin: Many, and Lady Macbeth has definitely been on that list, but I never imagined I would be 25 and have this opportunity; it's an amazing honor and a gift. Truly, with Shakespeare, I believe every played and un-played character is a dream role.
Santi: Don Armado from Love's Labour's Lost. I've seen so many productions of it and auditioned for it multiple times, and the person cast has always been a Caucasian middle-aged man who is made up to look overweight and Don Armado's portrayed as a buffoon. I've always seen that character as someone who is just as smart (if not smarter) and just as much of a lover as Berowne, Navarre, Longaville, and Dumaine, but all is lost in translation. He, in my opinion, is the perfect paradigm of not only a lover but, also, a fighter. His struggle is so intense and heartbreaking. His story is the perfect example of truth in comedy.
Q: As an actor, what are the particular challenges of performing Shakespeare that you might not face with of other playwrights?
Erin: Shakespeare gives us everything we need, actor and audience alike – everything from his meter, antithesis, sounds he utilizes coordinating with the human body's emotional well, his storyline, and more. It all comes together, a structure of truth, to play and have discovery inside of. It is a combination of ingredients, unveiling the magnitude of truth imbedded within its story. The trouble is breaking all the habits we've picked up along the way in our world – a world that is so often disconnected from its body, its voice, its rhythm, its huge range of ability . . .
Santi: The biggest challenge is playing roles that are over 400 years old. Roles that have been played so many times by so many people all over the world, and trying to ignore all that and really make the character my own and stay on point with making words that are so famous sound new and freshly minted.
Q: Your director Debra Charlton says that Lady Macbeth is a misunderstood character. Do you agree?
Erin: I have had people say to me how wicked and mean and twisted and crazy Lady Macbeth is… I have to pause, because I know she's not! Yet she reaches some really dark places, and she does and says some really twisted things. But this is it – it is so human to become lost, and when you become that lost it is that much easier to lose your hope, to lose your faith, your morals, your mind, your care, yourself…
Santi: Lady M is certainly misunderstood. She wants what is best for her husband and her family as any woman would. Killing for power and the crown was not uncommon in those days. What the Macbeths did could be considered to be inherent Darwinism. If you think about the history of the United States; how this country came to be is really not that much different. The original settlers said they no longer wanted to be under British rule and so they killed, essentially their brothers, to be their own independent country. It takes a certain type of person to be able to follow through with this kind of survival of the fittest approach, and the Macbeths were scared and panicked and, ultimately, not cut out for it. They were too young and sensitive and never really fit to rule. I often think of the Macbeths as Romeo and Juliet. Two people very much in love that made some really poor decisions, only the decisions the Macbeths made affected an entire kingdom.
Q: Why do you think Shakespeare is still being read and performed 450 years later?
Erin: Four hundred fifty years later we still can see: Shakespeare had a gift. Maybe it was the pouring out of his own soul, his own life, his own understanding, and discovery, and faith and love, onto paper, that made him so able to eternally capture ours.
Santi: The reason why we still perform and read Shakespeare to this day is the same reason why people listen to Beethoven or marvel at the Mona Lisa; they're masterpieces. Masterpieces never get old and never lose their artistic luster.
Q: I asked Debra Charlton this question in our last issue. Have you taken the BuzzFeed quiz that asks, "Which Shakespearean Character are you?" If so, what was your result?

Erin: I got Hamlet, and my best friend got Macbeth, and I think it kind of makes sense because we balance each other out.
Santi: I have not, but I think I would be either a Benedick or a Hotspur.

Macbeth will be performed at the USCB Center for the Arts April 23 – 26 at 7:30 pm. For more information, visit www.shakespearerep.co/ To purchase tickets, visit www.uscbcenterforthearts.com