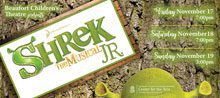 If you are between the ages of 7 -€" 18, Beaufort Children'€™s Theatre needs YOU! Auditions Shrek the Musical, Jr. have been set for Tuesday, September 12 and Wednesday, September 13 at USCB Center for the Arts.
Nasty will be nice and Beaufort will be ogre-the-moon when Beaufort Children'€™s Theatre present their production of Shrek The Musical Jr. November 16 -€" 19. The family-friendly musical comedy follows the adventures of an ogre named Shrek who sets off on a quest to save a princess from a dragon. However, it turns out that in order to ultimately succeed, Shrek must battle an even bigger obstacle: learning how to believe in himself and open his heart to others.
Shrek The Musical Jr. follows an ogre named Shrek who has learned the hard way that "people hate the things they cannot understand."€ For many years he has protected himself from the hurtful actions of those who are scared of him by living as a recluse in a cozy cesspit. One day, his peaceful swamp is disturbed by new tenants: fairytale misfits -€" including Pinocchio, the Ugly Duckling, the Wicked Witch, Peter Pan, the Three Pigs and the Big Bad Wolf — have been banished there by the villainous Lord Farquaad. In order to gain back his land, Shrek makes a deal with Farquaad to rescue the feisty princess Fiona from a tower guarded by a fierce dragon. Setting off with his faithful companion, Donkey, Shrek begins the journey of a lifetime filled with adventure, romance, and hilarity.
With music by Jeanine Tesori, book and lyrics by David Lindsay-Abaire, Shrek The Musical is based on the Oscar®-winning DreamWorks Animation film and the book Shrek by William Steig. The original Broadway production, starring Brian d'Arcy James as Shrek and Sutton Foster as Fiona, ran for twelve months and received a total of twelve Drama Desk Awards and eight Tony Award nominations, including Best Musical. The musical was adapted to be performed by students by educational musical theatre consultancy firm iTheatrics under the supervision of Timothy Allen McDonald.
Production dates for Shrek the Musical, Jr. have been set November 17 and 18 at 7 pm, November 19 at 3pm, and November 16 at 9:30 am and 12 pm (for schools only) at the Center for the Arts.
Rehearsals are held Tuesdays and Thursdays 6-7:30 and Sundays at 2-4. Depending upon the part, you may not be required to attend every rehearsal, but should be available in case. Tech week (the week prior to shows) rehearsals are every day, and are absolutely mandatory for all parts. If you are interested in auditioning, please arrive 15 minutes prior to the audition time to complete the registration information. Please bring a non-returnable recent photograph of the person auditioning. No experience or preparation is required, only a positive attitude.
Audition times: Tuesday, September 12- 5:15-6:30 for ages 7-9 and 6:30 – 8:00 for ages 10 -12; and Wednesday, September 13, 5:15-7:00 for ages 13-18 and 7:00-8:15 for Call-Backs. USCB Center for the Arts, 805 Carteret Street, Beaufort. For more information, call 843-521-4145.