Beaufort Performing Arts, Inc. is thrilled to present Dr. Doolittle, the last of its four children shows known as PJ & Play.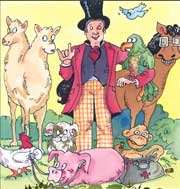 This performance is part of the theatre series for children three to twelve years of age. It will take place on Friday, April 24th at 7 pm at the USCB Performing Arts Center. Please feel free to bring your child or children in pajamas, all ready for bed. We hope this event will serve as their bedtime story–only with live characters and plenty of entertainment. All participants will receive cookies and milk. There must be at least one (1) adult accompanying every four (4) children.
In the story of Dr. Doolittle we are introduced to the good doctor who gives up treating people after Polynesia, his parrot, teaches him animal languages. He already knew sign language. Who would have thought he could learn animal languages, too? His fame in the animal kingdom quickly spreads throughout the world. Using all his language skills, he sets off to cure a monkey epidemic in Africa, finding all sorts of adventures on the way.
The play presents a magical blend of languages, of spoken English enhanced by the spatial beauty of American Sign Language.
Tickets are on sale now at the USCB Box Office. Tickets may be purchased by phone. Box Office: (843) 521-4145, Monday-Friday 10 am to 5 pm. Ticket prices are $7 for children and $12 for adults.