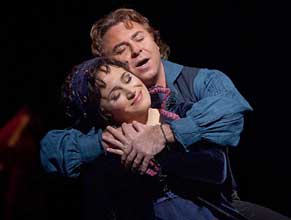 The Met: Live in HD will present Puccini's "Tosca," a passionate tale of three people – a famous opera singer, Floria Tosca, her lover, a free-thinking painter, and a sadistic chief of police, when one of the most popular of all operas takes the stage on Sat., Nov. 9 at USCB Center for the Arts.
The Luc Bondy production features an exceptional cast led by Patricia Racette in the title role of the jealous diva. Roberto Alagna sings her lover the idealistic Cavaradossi, and George Gagnidze is the corrupt, lustful Scarpia. The story is set in 1800 against the backdrop of great political unrest as Napoleon's army advances against Rome.
One of the most brutal and intense of all operas, "Tosca" is a tragic story of revenge and sacrifice set to some of Puccini's most passionate and beautiful music.
Tickets online at www.uscbcenterforthearts.com Adults $22 Olli Members $18, all seats reserved. Box Office opens one hour prior to 12:55 p.m. curtain at USCB Center for the Arts, 801 Carteret St., downtown Beaufort. For more information call 843-521-4145.