As he prepares for his final concert in Beaufort, chamber music legend Charles Wadsworth reflects on a truly extraordinary life. By Lanier Laney

It's not often I get to interview a living legend – much less a humble, funny one – but I had that pleasure at brunch last Sunday on the porch of the Rhett House Inn. It was a lovely spring day and my guest was Charles Wadsworth. A Southerner boy born and bred, who literally went out and 'changed the world' as far as Chamber Music is concerned.
Charles' list of firsts is amazing:
In 1960 he originated the Midday Chamber Music Concerts at the Festival of Two Worlds in Spoleto Italy. Then he led it for 50 years, launching the careers of dozens of music stars of today like Yo-Yo Ma, Jessye Norman, Kathleen Battle, Frederica Von Stade, and many more.
In 1969 he founded the Chamber Music Society of Lincoln Center and was Artistic Director of that incredibly popular series for 20 seasons.
In 1977 he launched the wonderful Chamber Music Series at the Dock Street Theater at the first Spoleto festival in Charleston, which continues today.
And for the past 19 years, we in South Carolina have been doubly blessed by Charles, as along with his yearly appearances at Spoleto, he has regularly visited Beaufort, Columbia, Hartsville and Camden with his touring group of world-renowned Chamber music stars as 'Charles Wadsworth and Friends'. Sunday, April 26th, marks the final concert for Charles in Beaufort before his retirement on his 80th birthday in May.
I was lucky enough to have attended Charles' first Chamber Music concert at the Dock Street Theater at the first Spoleto in Charleston in 1977. Like any other college kid, I had little interest in classical music, but the event was so beautiful it became a major "aha! Moment" in my life. I finally 'got' what all the hubbub surrounding classical music was about. It was like a door opening to a light filled room. Charles' fun demeanor on stage had gotten me to drop my defenses and prejudices and hear in a different way than I had before.
The setting of a Chamber Music concert is much more intimate than a large concert event. "The musicians communicate with each other with their instruments and engage the audience in this 'conversation'." says Charles. "It's important to me that the audience be relaxed and open. I use humor to set a non-intimidating tone. The chamber musicians – usually four people – must communicate well with each other and with the audience across the footlights. I love soloists. Extraordinary soloists know how to project that virtuosity out."
Mr. Wadsworth should know, he toured as Beverly Sills' personal piano accompanist for four years. He also heard Jessye Norman sing at a friend's wedding when she was just out of school. He brought her to Spoleto, Italy, where she became a sensation with the European press – an overnight star who returned in triumph to Lincoln Center in New York.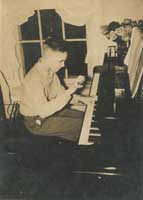 Charles came from humble beginnings in Newnan, GA. His father lost the fight with the boll weevil when it struck the families' cotton farm in the 1920's. Charles' joked, "The Wadsworth family was unaffected by the Depression because we had nothing in the 20's to lose." They moved into town and his father got a job clerking in a grocery store and his mother at a ladies' ready-to-wear shop. "My mother was the educated one in the family, she had finished the fourth grade, while my father had only completed the second before having to go to work full time on the farm," said Charles smiling. "But they were both very cultured in their own way, and my mother was passionate about music. She forced me to go listen to the classical music record collections of several wealthy people in town, so my ear got an early exposure to some great recordings. I wasn't able to study piano myself until I was 9 years old (which is late) because there simply was not a teacher in town. Finally a Miss Lucille Weddington moved to Newnan, and she had studied under some great teachers. I studied under Miss Lucille for three years until she said 'I can't give you anymore, you must now go study with Mr. Hugh Hodgson in Atlanta.' "
The 12 year old child prodigy caught the train to Atlanta and did audition for Mr. Hodgson, a renowned musician who was in charge of the music for Atlanta's largest Episcopal church. "I had to play for him and the entire choir in the sanctuary, I must have done okay, because he agreed to take me on as a student and teach me every Saturday."
"But how did you pay for the lessons?" I asked.
"Good question," said Charles "How indeed? Mr. Hodgson wanted seven dollars a lesson which was a lot back in the 30s. Miss Lucille sent me over to the brother of one of her teachers, a man by the name of Mr. William Banks who had set up a foundation to help students. I had to give this rather stern man my plea for seven dollars a week. He agreed and paid for all my lessons all they way through my tuition at Juilliard. His son, William Banks Jr., later helped me found the Chamber Music Society at Lincoln Center and was one of the first benefactors for the Chamber music series at Spoleto."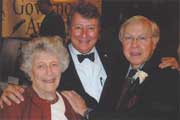 "How did you as a youngster of 12 develop the ability to speak to these people convincingly without losing your nerve, a quality which you still have with audiences today?" I asked.
Charles replied, laughing: "Growing up, every Wednesday night, my Presbyterian church had a prayer meeting and the minister would open it up to anyone. As a kid I loved to stand up and thank God for everything and everyone I could possibly think of. I'm sure after a while, people would roll their eyes when they'd see me stand up, but it taught me how to speak in an intimate way in front of a large group. I also learned over the years not to be afraid of gaffes, as funny gaffes can work for you. If people laughed they became more relaxed and more receptive to what they were going to listen to. It glided off me to the performers who also relaxed."
"Why did you focus on Chamber Music versus other types of classical music performances?" I asked.
Charles replied, "I would look out at the audience of all these incredibly stressed out New Yorkers at Lincoln Center. I saw how Chamber Music had the ability to make their faces relax, and their bodies relax, how it took them out of their day-to-day problems. One of the joys in Chamber music is making music with someone else. In 1960 Gian Carlo Menotti encouraged me to start a 12 noon concert at the Festival of Two Worlds in Italy. We knew we were on to something when people starting lining up at 8 o'clock to buy tickets and we always sold out. By 1964 Lincoln Center had been hearing about what I was doing in Italy. William Schumann became president of Lincoln Center and called me in for a meeting. He wanted to start a Chamber Music series based on my series in Italy, but he asked me to put together a list of 37 sample concerts over the weekend – 37(!) with the names of all the performers, soloists etc. that I would have. I somehow did it and he okayed the series. In 1965 Alice Tully Hall opened and we began the series there. I was artistic Director of that for 20 years. In 1977 we began the Chamber music series in Charleston when Gian Carlo Menotti selected Charleston as the spot for the American version of the Festival we had been doing in Spoleto, Italy. I was glad to be back in the South."
It seems that Charles' career had come full circle when he launched his 'Charles Wadsworth and Friends' to tour small cities of South Carolina and Georgia. Like the Miss Lucilles and Henry Hodgsons of his youth had changed his life, Charles wanted to bring great music to the smaller towns like Beaufort, Camden, Hartsville, Savannah, Athens, and Newnan.
"It's been a tremendously happy experience in my life to feel like I can bring music and musicians of the highest level to the smaller cities and see people start to realize something special is happening. That is incredibly fulfilling since I love the South especially."
And the South has returned the favor. The small rental house that Charles grew up in in Newnan no longer stands. Instead it's been replaced by a fire Department built to protect the Charles Wadsworth Municipal Auditorium nearby. He's also been honored by the Republic of France as a Chevalier in the Order of Arts and Letters, and by Italy as a Cavaliere Ufficiale in the Order of Merit. He has received New York City's highest cultural award, the Handel Medallion, in addition to South Carolina's Order of the Palmetto and most recently, the Elizabeth O'Neill Verner Award, the only non-native South Carolinian ever to receive the award.
Charles turns 80 in May and the Sunday April 26th concert will be his last tour stop in Beaufort. "I'd give the world to be 75 again," said Charles, "and 70, oh, 70 is great! Beaufort is very special to me and I plan to return the next few years for individual concerts and fly back to New York. But the touring just takes too much out of you at my age, so it's time to give that up."
Charles is turning over the reins of 'Charles Wadsworth and Friends' to Edward Arron, "an extraordinary cellist" according to Charles, "who is Artistic Director of an acclaimed music series at the Metropolitan Museum of Art in New York." Charles couldn't say enough good things about Edward, and is thrilled to be leaving the Beaufort chamber music series in such competent hands. Charles is also so very grateful to all the people in Beaufort who have supported the series over the years with their contributions and attendance.
"The University had established a great series, and I was pleased to continue its tradition of bringing exceptional artists here five times each season. Several years ago there was a proposal to cut back the performances, and I will be eternally grateful to all the wonderful people who helped keep the series going with all its concerts. The people in Beaufort will always have a very special place in my heart. Thank you all so very, very much."
And Charles, from all of us, THANK YOU!
Charles' last concert in this series will be presented Sunday April 26th at 5:00 pm at the Performing Arts Center, USCB, on Boundary Street – remarkable for its superb acoustics and Steinway concert grand piano. Individual tickets can be bought at the Beaufort Chamber of Commerce Visitor's Center at 2001 Boundary Street, 525-8534, or e-mail Linda@beaufortSC.org or tickets may be purchased at the door the evening of the performance.