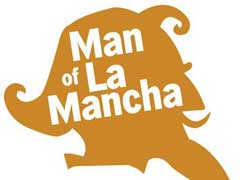 For everyone who ever dreamed the impossible, "Man of La Mancha" brings its unique brand of optimism and hope to the Arts Center of Coastal Carolina.
A Broadway classic, "La Mancha" will open the Arts Center's 15th anniversary theater season with discounted preview performances Sept. 29-30. The show runs through Oct. 24.
"It's a timeless story with a universal message," said director D.J. Salisbury. "It reminds us that even in our darkest hour, hope will get us through."
Based on Miguel de Cervantes' novel, "Don Quixote," the Tony Award-winning musical centers around Cervantes, a tax collector and playwright who gets thrown into prison by the Spanish Inquisition for foreclosing on a church in default of its taxes.
Surrounded by thieves and robbers, Cervantes begins to tell them the story of Alonso Quijana and his alter ego, the knight errant Don Quixote, an eccentric idealist, who dreams the impossible dream and fights windmills with his faithful sidekick Sancho Panza.
In his quest to see beauty in a greedy and cynical world, Quixote champions the underdog against all odds. The focus of his self-imposed crusade becomes the fallen Aldonza, whom he envisions as the fair maiden Dulcinea.
"At the start of the play, I'm just a low life covered in mud — at least that's how Aldonza sees herself," said Broadway veteran Leenya Rideout, who has been cast in the lead role. "But in time, Quixote's optimism and chivalrous view of the world brings about a real change in me. I become the beautiful Dulcinea."
Rideout, who starred as a Kit Kat girl in the original cast of the 1998 Broadway revival of "Cabaret," has been in two more-recent Broadway productions — "Cyrano de Bergerac" and "Company."
"I saw her on Broadway in 'Company,' and she was fantastic playing the role of the meek, sheltered wife," Salisbury said. "In 'Man of La Mancha,' she will play the polar opposite character."
Playing her champion is Gary Lindemann, a cast member of Broadway's "The Phantom of the Opera" from 1990-98. The Arts Center production will be his third performance as Cervantes.
"Every baritone out there wants to sing 'The Impossible Dream,' " Lindemann said. "It's one of those songs that stays with people."
The show also includes such memorable numbers as "Man of La Mancha," "Dulcinea" and "I'm only Thinking of Him."
First produced on Broadway in 1965, "Man of La Mancha" scored five Tony Awards, including Best Musical. It has since been revived four times, becoming one of the most enduring works of musical theater.
Most of the story takes place in the prison, a dungeon-of-a-room created by Emmy Award-winning scenic designer Bob Phillips. The production designer for "Sesame Street," Phillips used black, purple and green hues to convey the dark mood of the prison. Additional scenery is brought in as Cervantes weaves in and out of Quixote's fantasies.
"I'm doing a traditional version of the show," Salisbury said. "There's nothing to alter here. It's such a beautifully written play, it doesn't need a new take. It works just as it is."
The Arts Center's season opener will be followed by another Broadway classic, Jerry Herman's "Hello, Dolly!," "Alfred Hitchcock's The 39 Steps," "Hairspray" and "Smokey Joe's Café."
Season subscriptions for all five shows are also available. Subscribers enjoy discounted ticket prices, advanced seat selection and free ticket exchange.
Single tickets are $32 for kids and $46 for adults during preview performances, and $35 for kids and $51 for adults for regular shows. Group discounts are also available. For tickets, visit www.artshhi.com or call the box office at 843-842-ARTS.