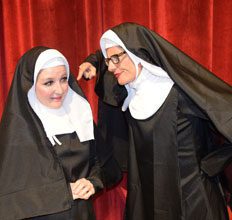 Beaufort Theatre Company's summer production Nunsense: The Mega Musical is all the fun of the original Nunsense,super-sized with more nuns and fun! Nunsense: The Mega Musical centers around the Little Sisters of Hoboken as they pull out all the stops to put on a talent show including tap dancing, habit humor, and much more!
The production will be held at USCB Center for the Arts on June 8, 14 and 15 at 7:30 pm and June 9 and 16 at 3pm. 
Laughter is a blessed event in this made-for-cable adaptation of the popular off-Broadway revue. When the sisters, a former missionary order, discover their cook, Sister Julia, Child of God, accidentally killed 52 residents of the convent with tainted vichyssoise, they find themselves in a bind. It seems they don't have enough money to bury all the deceased nuns, so they decide to hold a fundraiser to help bury four remaining Nuns still on ice in the convent's freezer.
The 15 desperate sisters decide to stage a variety show, so they take over the auditorium at Mount St. Helen's School, where students hace been rehearsing for their own production ofGrease.
This wacky show is filled with vaudeville-type performances – done with a Catholic flare – and outrageous quips with a clerical slant as the singing nuns' unique talents and personalities, long been hidden beneath the habit, emerge unchecked.
"You don't have to be Catholic to enjoy this show," said Joshua Wall, Nunsensedirector. "It's just a fun family show guaranteed to make you laugh. When you come, be ready to participate as well!"  
Nunsense: the Mega Musical cast includes:  Reverend Mother – Corrie Frohnapfell; Sister Mary Hubert – Elaine Lake; Sister Robert Anne – Jennifer Ford; Sister Mary Amnesia – Megan Taylor; Sister Mary Leo – Lauren Tillapaugh; Sister Julia, Child of God – Melissa Florence; Sister Mary Brendan – Francis McCarthy; Sister Mary Luke – Rhonda Conner; Sister Mary Wilhelm – Sarah Hyle; Sister Mary Louise – Janet Gregory; Father Virgil – James Duffy; Brother Timothy – Barry Reese. 
The creative team includes: Director – Joshua Wall, Choreographer- Christopher Crabb; Music Director – Jordan Plair; Set Designer- Greg Rawls; Costume Designer- Pat Wilcox; Scenic Artist Mary Ann Ford; Producer; Bonnie Hargrove.
Tickets are available online at www.uscbcenterforthearts.com or call the box office 843-521-4145. Ticket prices $30 Adult, Senior/ Military $25 and Students $15.  USCB Center for the Arts is located in a beautiful historic district. (801 Carteret Street, Beaufort SC 29902)