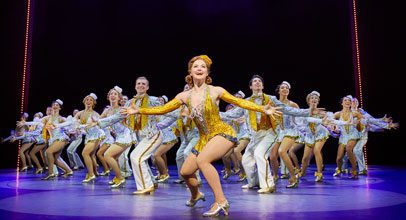 USCB Center for the Arts announces the fabulous addition of National Theatre Live and By Experience Live to their dynamic offerings to the Beaufort community. National Theatre Live and By Experience Live bring award winning live stage performances from all over the world to the big screen at Center for the Arts. 
The National Theatre Season kicked off Sunday, May 26 with Shakespeare's KING LEAR, recorded live from London's West End, featuring an extraordinarily moving portrayal by Ian McKellen. 
On Sunday, June 2 at 3pm, one of Broadway's most classic and beloved tales,42ND STREET, comes to Center for the Arts screen in the largest-ever production of the breathtaking musical. Filmed at London's Theatre Royal, this eye-watering extravaganza is full of crowd-pleasing tap dances, popular musical theatre standards, and show-stopping ensemble production numbers. Tickets for this By Experience production are $18 and are available online at www.uscbcenterforthearts.comor at the Center for the Arts box office located at 801 Carteret St. in Beaufort.
Check our website (www.uscbcenterforthearts.com) for more National Theatre and By Experience Shows as well as movies coming to USCB Center for the Arts this summer! We have a great line-up heading your way!