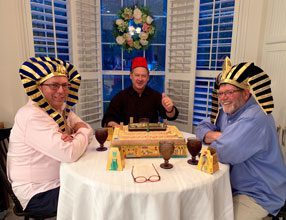 Back in December 1971, for my birthday, the only thing I really and truly wanted was a Voice of the Mummy game. I'd seen the spooky pharaoh's tomb commercials on television where the ominous voice of the mummy actually spoke from the sarcophagus at the top of the board game pyramid. (Keep in mind that I'm from the "Scooby-Doo, Where Are You?" era, when we'd close the drapes and build a fort out of blankets and pillows to watch our favorite "scary" Saturday morning cartoon. Sort of the same thing.)
Well, my parents came through, that year at least, and at my birthday party I unwrapped the most precious of games. Mama and Daddy even sprung for a pack of the gigantic D batteries that were needed to power the mummy's voice, which was actually a tiny record player ensconced in a gold plastic sarcophagus-looking box. The small record could be turned over and played on both sides. I was beyond over-the-moon thrilled – until I realized that I didn't have anyone to play the game with. It only required four explorers. Back then, it was truly hard to get three friends together to play a game that had actual rules/instructions. So, I played with it by myself – with the jewels, the serpent and the mummy. No matter, it was my all-time favorite birthday gift that year.
So, I grew up, or at least older, and eventually the Voice of the Mummy ended up in Mama and Daddy's attic. I'm guessing it was ultimately given to the Salvation Army or sold at a charity function of some sort. Anyway, it was too late by the time I realized that my precious game was gone forever.
About ten years ago, back when Ebay actually had good stuff to sell, my husband Vince found a vintage 1971 edition of the Voice of the Mummy – complete with ALL of the parts (jewels, serpent, temples, record and instruction booklet). It just needed to have a tiny wire soldered to the circuit board to make the turntable work. I'm not certain, but I think we paid about $80 for it. (FYI, these days they're selling for $250+ on Amazon.) Oh, it was a very happy day when I finally had my hands on a Voice of the Mummy game once again! Vince found someone to repair it for another $50 bucks. We sent the mummy's sarcophagus off for restoration and it came back in perfect working order. Once again, I was all set to play. But, like in 1971, finding two other friends who enjoyed vintage board games (and had the attention span to play) were few and far between. Imagine how thrilled I was to learn that two of our dearest friends, Ken Davis and Ken Harwell, were interested in helping us let the mummy speak once again. Busy work schedules worked against us, but we were able to come up with a game night last month. I couldn't resist, I went on Amazon and purchased Egyptian headdresses for all of us (Vince, Ken and Ken were good sports). I also researched Egyptian cuisine to come up with the perfect menu for our special game night. The food was delicious and we had a blast! We actually followed the game directions and played it twice. I'm sure the mummy had laryngitis by the time the night was over. Laughter was abundant! I'm hoping we can do something like this again soon. And, I totally recommend Game Night to everyone reading this column. There are so many cool old board games out there. Dark Shadows, Operation, Mystery Date, Twister, Chutes and Ladders –- go online and find your favorite from back in the day. You can always resell it (with a profit) when you're done. Vintage Game Night is the BEST!
Ful Mudammas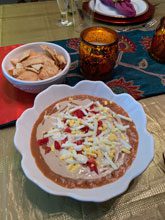 This Egyptian dish of fava beans topped with tahini is much like what you'll find around the streets of Cairo. It's traditionally served for breakfast. Look for fava beans and tahini on the international food aisle of your local grocery store.
For the beans:
2 tablespoons olive oil
1 small onion, diced
½ teaspoon ground cumin
1 (14-ounce) can fava beans, undrained
1 tomato, diced
2 tablespoons lemon juice
1 teaspoon salt
2 teaspoons chopped parsley
For the tahini sauce:
3 tablespoons tahini
2 tablespoons water
2 tablespoons lemon juice
1 clove garlic, minced
Salt, to taste
Garnish:
Chopped boiled eggs
Diced tomatoes
Pita chips
In a frying pan, cook the onion and cumin in 2 tablespoons olive oil until onion is tender. Add the fava beans with liquid. Bring to a boil and simmer for 1 minute. Crush the beans using a potato masher. Add the diced tomato, lemon juice and salt. Simmer for 2 minutes. Remove from heat and stir in parsley. To make the tahini sauce, whisk together the tahini, water, lemon juice, garlic and salt. To serve, pour the mashed fava beans into a bowl. Drizzle with the tahini sauce and garnish with chopped boiled eggs and diced tomato. Serve warm with pita chips. Serves 4.
Mast-O-Khiar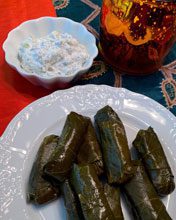 Similar to Greek tzatziki sauce, mast-o-khiar is delicious served with stuffed grape leaves. Stuffed grape leaves may be found on the international aisle of your local grocery store.
½ English cucumber
7 ounces Greek yogurt
1 tablespoon dried mint
Dash of salt
Peel cucumber and remove seeds. Chop cucumber into small cubes. Place yogurt in a bowl. Add cucumbers and mint; stir well to combine. Season with salt. Serve with stuffed grape leaves. Makes about 1 cup.
Fattoush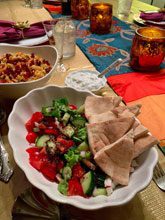 Fattoush is a lot like the Italian bread salad panzanella, except that it features pieces of pita.
For the vinaigrette:
3 tablespoons vegetable oil
1 tablespoon lemon juice
1½ teaspoons red wine vinegar
2 cloves garlic, minced
1 teaspoon sumac
½ teaspoon dried mint
Salt and pepper, to taste
For the salad:
Green leaf lettuce, torn
English cucumbers, sliced and quartered
Tomatoes, diced
¼ -½ red onion, finely chopped
Sliced radishes
Pita bread, cut into small pieces
In a small bowl, whisk all of the vinaigrette ingredients until well combined. Place the salad vegetables in a large bowl; toss with vinaigrette. When ready to serve, add pita bread.
Middle Eastern Lamb Shawarma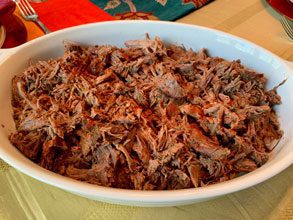 Leg of lamb is roasted in an oven cooking bag, making the lamb tender and delicious.
1 turkey-sized oven cooking bag
1 (6½ to 7 pound) leg of lamb, bone in
Spice rub:
3 cloves minced garlic
3 tablespoons lemon juice
1½ tablespoons ground coriander
1½ tablespoons smoked paprika
1½ tablespoons ground cumin
1 tablespoon ground cardamon
1½ teaspoons salt
½ teaspoon black pepper
Combine spice rub ingredients in a small bowl. Place lamb leg on a clean surface and coat both sides with the spice rub mixture. Move oven rack to center of oven. Preheat oven to 300 degrees. Place seasoned lamb in a turkey-sized oven cooking bag on a baking sheet. Close tightly with bag tie. Bake in preheated oven on center rack for 4 hours. Remove the lamb from the oven and let rest for 20 minutes, then shred with two forks. Toss the shredded lamb with some of the juices in the cooking bag. Serve warm. Serves 10 to 12 and freezes beautifully.
Jeweled Rice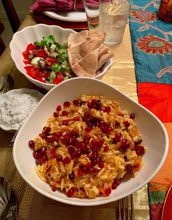 There are a number of steps in this recipe, but they're easy and quick, and totally worth the extra effort.
1 cup water
½ cup sugar
Zest of 1 orange
1¼ cups finely chopped carrots
¼ cup dried cranberries
¼ cup raisins
¼ teaspoon saffron threads
2 tablespoons butter 
1 tablespoon olive oil
1 medium onion, finely chopped
¼ teaspoon ground cardamon
¼ teaspoon ground cumin
1½ cups basmati rice, cooked according to package directions
Salt
¼ cup salted pistachios
¼ cup slivered almonds, roasted
Pomegranate arils
Zest orange. Bring 1 cup water and ½ cup sugar to a boil in a medium saucepan, stirring to dissolve sugar. Add orange zest and carrots, reduce heat and simmer, stirring occasionally, until carrots are tender, 5 to 10 minutes; drain and set aside. Discard syrup. Combine dried cranberries and raisins in a small bowl and cover with hot water; let soak 10 minutes. Drain and set aside. Place saffron in another small bowl and add ¼ cup hot water; set aside. Heat butter and 1 tablespoon oil in a large skillet over medium heat. Add onion. Season with salt and cook, stirring often, until onions are soft. Add cardamon, cumin and 1 tablespoon saffron mixture. Cook until fragrant, about 1 minute. Reduce heat to low. Add cranberries and raisins and cook for 3 minutes. Stir in carrots; season with salt. Set fruit and nut mixture aside. Cook rice in a large pot of boiling water, stirring occasionally until grains are cooked through. Fold in fruit and nut mixture. Drizzle remaining saffron mixture over rice. Season with salt. Stir in nuts. Garnish with pomegranate arils. Serve hot. Serves 6.
Umm Ali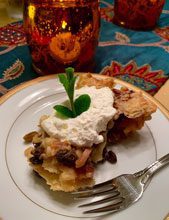 Umm Ali is a delicious traditional Egyptian dessert equivalent to southern bread pudding. You can serve it with sweetened whipped cream or even ice cream.
1 (17.25-ounce) package frozen puff pastry, thawed
½ cup raisins
¼ cup slivered almonds, toasted
1 (3-ounce) package pine nuts, toasted
¼ cup pistachios
¼ cup sweetened flaked coconut, optional
2½ cups whole milk
½ cup sugar
½ teaspoon vanilla extract
1/8 teaspoon ground cardamon
Ground cinnamon, to garnish
Fresh mint, to garnish
Sweetened whipped cream
Preheat oven to 400 degrees. Place puff pastry sheets on a lightly greased baking sheet. Bake for 15 minutes or until puffed and golden brown. Break the puff pastry into pieces and place in a lightly greased 8×8-inch baking dish. Top evenly with the raisins, almonds, pine nuts, pistachios and coconut. Pour the milk into a saucepan. Add the sugar, vanilla and cardamon. Heat until hot but not quite boiling. Pour over the mixture in the baking dish. Reduce oven to 350 degrees. Bake, uncovered, for 30 minutes. Remove from oven and let stand for 5 minutes. Sprinkle with ground cinnamon. Serve warm with sweetened whipped cream. Garnish with fresh mint. Serves 6 to 8.
The writer owns Catering by Debbi Covington and is the author of three cookbooks, Celebrate Beaufort, Celebrate Everything! and Dining Under the Carolina Moon. Debbi's website address is www.cateringbydebbicovington.com. She may be reached at 525-0350 or by email atdbc@cateringbydebbicovington.com.