USCB presents "The Phantom of the Opera" 25th Anniversary production live from the Royal Albert Hall… and "Love Never Dies" a week later.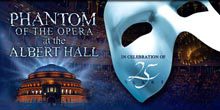 To mark its 25
th
Anniversary year, Andrew Lloyd Webber and Cameron Mackintosh present "The Phantom of the Opera" in a fully-staged, lavish production, set in the sumptuous Victorian splendor of the Royal Albert Hall. Audiences are invited to join the
celebration when the staged production is shown at 6:30 pm on August 7 at USCB Center for the Arts. Presented by Omniverse Vision, More than 200 original and current cast members will pay special tribute to "the music of the night" during this special tribute featuring the breathtaking songs "Masquerade," "Angel of Music," "All I ask of You," "The Phantom of the Opera," and more.
"The Phantom of the Opera" at the Royal Albert Hall will star Ramin Karimloo as 'The Phantom' and Sierra Boggess as 'Christine.' They will be joined by Barry James as 'Monsieur Firmin,' Gareth Snook as 'Monsieur André,' Liz Robertson as 'Madame Giry' and Wynne Evans as 'Piangi' together with a cast and orchestra of more than 200 including special guest appearances.
And a week later…
Come and enjoy the fully staged pre-recorded performance of "Love Never Dies" captured from The Regent Theatre in Melbourne, Australia at USCB Center for the Arts on Tuesday, August 14 at 6:30 pm. This is a mesmerizing follow-up to the multi-award winning "The Phantom of the Opera," featuring a 21-piece orchestra and an impressive cast of 36, including actors Ben Lewis as 'Phantom' and Anna O'Byrne as 'Christine.' The production will enchant and bring audiences into a world of passion, obsession and romance. Based on a book by Ben Elton, the captivating love story of the Phantom and Christine Daaé continues in New York's playground, Coney Island. After his disappearance from the Paris Opera house, the Phantom begins a new life in New York amongst the freaks and side shows. The only thing missing from his new life is his musical protégée Christine. In an effort to win back his love, the Phantom lures Christine and her family to this new sparkling unknown world.
This fabulous event will also include an introduction from Andrew Lloyd Webber discussing the creative process and stumbling blocks of developing Love Never Dies and behind the scenes content that follows Lloyd Webber on set as he provides his creative insight and direction to the cast and crew.
General Admission seating is available at the door on the day of the broadcast, or in advance by calling the Center for the Arts box office (843) 521-4145. Ticket prices are: Adult $10, Senior and Student $8 Visit www.uscbcenterforthearts.com for additional programming information.