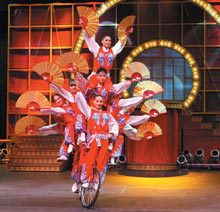 Deeply rooted in an ancient, time-honored tradition, the Golden Dragon Acrobats bring to the stage incredible grace, power and beauty in performance that is unparalleled in other art forms.
The troop's dedication to the highest production values, and 'attention to artistic details,' affirms their status as the premier Chinese acrobat touring company, and this September they are taking over the USCB Center for the Arts in Beaufort for a one-night engagement on September 24, 2015, at 7:00 pm.
This award winning team has toured throughout the United States in prestigious theatres in major metropolitan cities. Impresario Danny Chang and choreographer Angela Chang combine award-winning acrobatics, traditional dance, spectacular costumes, ancient and contemporary music and theatrical techniques to present a show of breathtaking skill and spellbinding beauty. This winning combination has brought the Golden Dragon Acrobats wide recognition in the performing arts community and beyond. Their limited engagement in the esteemed New Victory Theatre, in New York City, the premier theatre for young audiences, resulted in two New York City Drama Desk Nominations – Danny Chang for Unique Theatrical Experience and Angela Chang for Best Choreography. A lifelong commitment to the art of the acrobatics, the Golden Dragon Acrobats first began to tour the United States in 1985 and continue to be the only Chinese Acrobat company touring the country, year round.
The Center for the Arts is proud to bring the Golden Dragon Acrobats to the Lowcountry. It is not always possible to find performances that bring all generations together, but the Golden Dragon Acrobats is just that: an opportunity for all audiences in the Lowcountry to experience the magic of the arts, together, in a single event. Engaging both young audience members and adults alike, this type of performance is a night at the theatre that does not come often.
The Golden Dragon Acrobats will perform on Thursday, Sept. 24 at 7 pm. Tickets may be purchased online, over the phone, by calling the box office at 843-521-4145 or in person at the Center for the Arts, 805 Carteret Street, Beaufort SC 29902.