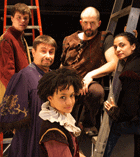 Aquila Theatre – as part of a major national tour – will perform one of Shakespeare's greatest comedies "As You Like It" on Saturday, January 30 at 7:30 PM at USCB Performing Arts Center.  Aquila is the foremost producer of touring classical theatre in the United States. Aquila infuses "As You Like It" with their unique blend of fun and entertaining theatricality.  The production is faithful to Shakespeare and relevant to and accessible to present day.
Set in a period of revolution in France when love conquered all, "As You Like It" tells the story of power hungry men exiling their brothers, girls playing guys, and finding love in unexpected places.  Frederick exiles his brother, Duke Senior, so he can reign over a French Duchy.  Simultaneously, Orlando, who has been forced from his own town by foolish bloodthirsty brother, finds himself in the Forest of Arden. Dressed as men Rosalind and her best friend and cousin Celia, run from Fredrick's regime and seek shelter in the forest where they are fated to find the exiled Orlando and Duke Senior.  Shakespeare's comic brilliance is wrapped in gender–confused, unrequited love.
This presentation of "As You Like It" is an American Masterpiece project, supported by the Southern Arts Federation and the National Endowment for the Arts which believes that a great nation deserves great art, and in partnership with the South Carolina Arts Commission.
Aquila will also offer a Master Class for aspiring actors that same day, from 2:30 – 4:30 pm. The class is limited to 30 people, age 17 and over. The cost is free.
To register for the master class or purchase tickets for "As You Like It," call the BPA box office (843) 521-4145 or go online to beaufortscperformingarts.com. Tickets are $40-$35-$30.  Students are half price.   The box office is located at USCB, 801 Carteret St, Beaufort.