What do you get when you take a timeless love story, blend it seamlessly into an electrifying score by multi-Grammy-winners Elton John and Tim Rice, and add a dash of Disney magic? One memorable night of theater.
"Elton John's Aida," Broadway's pop powerhouse, comes to the Arts Center of Coastal Carolina April 28-May 30 in a stunning production to rival last year's much-acclaimed "Les Miserables."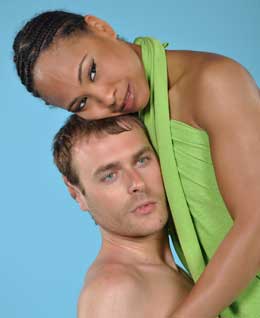 "'Aida' is the love story to end all love stories," said director Casey Colgan, who is directing his 20th musical for the Arts Center. "It's a very emotional, passionate show, but there's a lot of happy in it, too."
Colgan also directed "Les Mis" and will team up once again with scenic designer Bob Phillips, lighting designer Terry Cermack and musical director Frederick Willard to stage the epic tale of forbidden love.
Winner of four Tony Awards, including Best Score, the mythical tale follows Radames, captain of the Egyptian army, who has returned home from war with Aida, a woman from Nubia captured by his soldiers near the Nile River. Captivated by her courage and dignity, he saves her from a life of slavery and offers her as a handmaiden to his betrothed, Princess Amneris.
Unbeknownst to Radames, Aida is a Nubian princess. The two fall in love even as a friendship develops between Aida and Radames' fiancée. The love triangle becomes even more complicated when Aida is forced to choose between true love and saving her father, the king of Nubia.
"She is so conflicted," said New York actress Adrienne Muller, who is playing Aida. "She knows she has a duty to her country, but her heart is taking her in another direction."
The musical originated from a children's storybook version of Giuseppe Verdi's "Aida," one of the grandest of all operas. Disney studios acquired the rights for a proposed animated feature film but decided instead to turn it into a musical. The New York production, which was produced by Disney, ran for 1,800-plus performances, making it one of the longest running shows in Broadway history.
"It's got everything you could want in a musical — an amazing love story, powerful music and dazzling theatrics," said Muller, who starred in the national tour of another Disney blockbuster, "The Lion King." "People can relate to her plight and the difficult decision she has to make."
"Aida" also features Seth Golay as Radames and Broadway veteran Timothy Warmen as the villainous Zoser. Warmen starred in the original Broadway cast of "The Who's Tommy."
Elton John, who composed the music for "The Lion King" and "Billy Elliott," wrote the "Aida" score combining eclectic musical styles from reggae to Motown to gospel to pop.
The music's African, Indian and Middle Eastern influences create the perfect platform for exuberant dancing, staging and singing.
"It's a very big dance show," Colgan said. "You're going to see hip-hop, African dance, belly dancing and modern dance numbers performed in the style of Alvin Ailey."
The set design, like the choreography, is contemporary with an Old-World flavor. As large and elaborate as the sets for "Les Mis," "Aida's" scenery will be constantly coming and going as the action moves from the Nile River to the Pharaoh's palace to the slave camp.
"It was quite a challenge," Phillips said. "There are lots of bells and whistles and things that light up and move around. You're always traveling to different places, sometimes within the same song."
Along with the playful numbers are some touching ballads, including "I Know the Truth," sung by Amneris when she discovers Radames and Aida have fallen in love.
"It's a huge moment for her," said Tara Bruno, the New York actress playing Amneris. "It's the first time she reveals her vulnerability. We see the fashionista is not who she really is."
Tickets for "Aida" are $50 for adults and $35 for children on preview nights (April 28 and 29), and $54 for adults and $37 for kids during the show's run. For tickets, visit www.artshhi.com or call 888-860-2787.