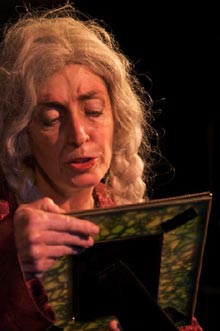 Alzheimer's Family Services of Greater Beaufort invites you to dine with 99-year-old Lucy Marsden, as she tells her story of life with the Captain, a veteran of the War for Southern Independence. The play "Her Confession," both bawdy and heartbreaking, is the last confession and prayer for judgment of a woman with "a good memory for grudges" and a mortal need for forgiveness. Jane Holding plays Lucy, having adapted the play from the best-selling novel "Oldest Living Confederate Widow Tells All," together with its author, Allan Gurganus.
Published in 1989, "Oldest Living Confederate Widow Tells All" was that rarity, a first book reviewed on page one of the "New York Times Book Review." It went on to win the American Academy's Kaufman Prize for best debut novel, selling two million copies in sixteen languages. The work inspired a "New Yorker" cartoon and a clue on "Jeopardy": ("Names for four hundred").
Lucille Marsden, the fiction's 99-year-old narrator, has outlived her husband, the last surviving veteran of the American Civil War. She bore his nine children and is a living repository of his war lore. Her voice, as lyrical as gritty, might have started as a solo instrument; but memory and history have by now rendered it symphonic work.
CBS's version of the novel won four Emmys. It starred Anne Bancroft as the old Widow, with Diane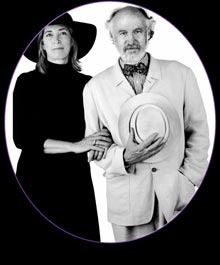 Lane playing her younger self. The Broadway one-woman show of "Widow" featured Oscar-winner Ellen Burstyn. Actress Jane Holding, a lifelong friend of Allan Gurganus, saw this New York version. She imagined how to recast the script, shrinking two acts to one. By focusing on the Marsdens' not-so-Civil War of a marriage, Holding, with aid from Gurganus, reconceived the play. The new work was recently published by theatrical publisher Samuel French and is already being performed by companies worldwide.
IF YOU GO:
Saturday, June 25, 2011
Palmetto Ballroom
Holiday Inn – Beaufort
Cocktail Reception and Silent Auction 6:00 p.m.
Dinner Buffet 6:30 p.m.
Pre Performance Entertainment 7:00 p.m.
Silent Auction Closes 7:55 p.m.
Performance 8:00 p.m.
Dinner Theatre Tickets – $75
Signed copy the novel by Allan Gurganus $25
(Book signing prior to and immediately following the production)
Call 521-9190 for more information and to purchase tickets