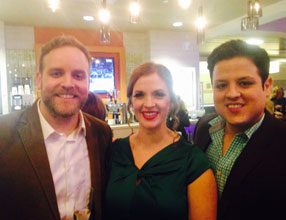 Review by Margaret Evans, Editor
"Opera isn't going anywhere… it's just changing," Maeve Hoglund tells me as we chat at the bar of the Sonesta Resort on Hilton Head. "It's becoming smaller. More intimate. Getting back to its roots. Like tonight."
I've just watched Maeve turn in a bravura performance as Musetta in Martin McFie's production of La Boheme, and it was, indeed, intimate. Marvelously so. (I'm pretty sure I made eye contact with Marcello. Don't tell my husband.) But I'm hard pressed to call the production "small." Yes, the venue was a transformed hotel ballroom instead of a grand opera house. Yes, there were only a few hundred people in attendance, not a thousand. (It was sold-out, by the way.) But from the orchestra to the set design to the costumes to – especially – the voices on stage, this was world-class opera. And it was magnificent.
The Charleston Opera Company, under the artistic direction of David Templeton,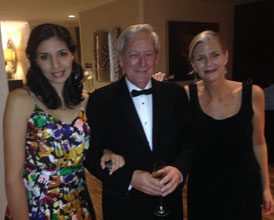 provided a solid ensemble to support the principals, all seasoned performers who hailed from New York to Venezuela and beyond. Their voices were perfectly blended and I've never heard Puccini's exquisite score soar any higher than it did in this production. From the joyous crowd-pleaser "Musetta's Waltz" to the heart-stopping duet "O soave fanciulla," every note – every nuance – was on point, as these singing actors told the sad, beautiful story of young artists in love ­– and loss – one more time. (I, for one, can never get enough.) For the audience, it was an emotional workout. A feast of feelings. Catharsis on a silver platter. This is why I go to the opera.
Not that I do it very often. Alas.
If Martin McFie has his way – and after witnessing what he pulled off last night, I have no reason to doubt it – we Lowcountry dwellers may soon be able to go to the opera more often. He's already looking to next year, with hopes of presenting La Traviata.
Only somebody with an obsessive passion for this art form would consider taking on a project of such magnitude and complexity . . . again. And that's Martin McFie. As I watched him bustling around in his tux before the show – greeting audience members, attending to last minute details – he reminded me of a proud papa preparing to walk his daughter down the aisle. This production of La Boheme was Martin's child in every conceivable way. Tonight, he "married her off" to an adoring audience who doted on her and will treasure her for years to come.
Bravo, Mr. McFie! Bravo!
 
Pictured Above:
Chris Magiera (Marcello), Maeve Hoglund (Musetta), and Cesar Delgade (Rodolfo)
Maria Antunez (Mimi), Martin McFie (producer), and Margaret Evans (LWC editor)
Ryan Kuster (Colline)