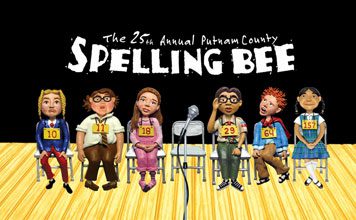 The University of South Carolina Beaufort Center for the Arts and Beaufort Theatre Company announce auditions for the Winner of the Tony and the Drama Desk Awards for Best Book, The 25th Annual Putnam County Spelling Bee on Tuesday, November 29 at 6 pm and Thursday December 1 at 6 pm. 
  Auditions will be held in the Center for the Arts auditorium.   The 25th Annual Putnam County Spelling Bee has charmed audiences across the country with its effortless wit and humor. Featuring a fast-paced, wildly funny and touching book by Rachel Sheinkin and a truly fresh and vibrant score by William Finn, this bee is one unforgettable experience.
            An eclectic group of six mid-pubescents vie for the spelling championship of a lifetime. While candidly disclosing hilarious and touching stories from their home lives, the tweens spell their way through a series of (potentially made-up) words, hoping never to hear the soul-crushing, pout-inducing, life un-affirming "ding" of the bell that signals a spelling mistake. Six spellers enter; one speller leaves! At least the losers get a juice box.
Audition Requirements: Please prepare 1 minute of a contemporary musical theatre or pop song for the audition. Please do not sing from the show – but do familiarize yourself with the different musical styles of each song. Those auditioning for ensemble, please prepare a song that shows your personality and vocal ability. Bring sheet music in your key; an accompanist will be provided. A CD with an accompaniment-only track is also acceptable, provided it is edited and cued correctly. No a cappella auditions. Please also wear or bring comfortable dance attire, as all auditioners will be required to learn a short dance/movement combination; there will also be cold reading from the script. All those auditioning are encouraged to provide an résumé of their onstage experience when registering for auditions. Please bring a list of all potential conflicts including travel, etc. Any conflicts with the posted schedule must be discussed with the Producers and agreed to by the Director before casting can be confirmed. "Open Call" auditions. No appointment necessary
            Roles are available for 5 men and 4 women.
For additional information please contact USCB box-office 843-521-4145 or Spelling Bee director Anna Wheeler or anna.wheeler@beaufort.k12.sc.us