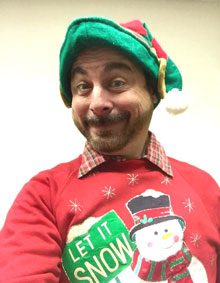 Squabbling sisters, a surly Santa an unexpected visit from Elvis make for holiday hilarity! Local theatre company Coastal Stage Productions, CSP, who is quickly gaining a reputation for quality short-run theatre projects, returns for the holiday season to area venues with the hilarious holiday comedy Christmas Belles, from the creators of The Dixie Swim Club.
It's Christmas-time in the small town of Fayro and the Futrelle Sisters – Frankie, Twink and Honey Raye – are desperately trying to keep the Tabernacle of the Lamb's Christmas Program from spiraling into chaos. But, things are not looking too promising. Miss Geneva, the ousted director of the previous twenty-seven productions, is ruthless in her attempts to take over the show. The celebrity guest Santa Claus is passing a kidney stone. And, the
entire cast is dropping like flies due to food poisoning from the Band Boosters' Pancake Supper. All hope for a successful program seems lost, even with an Elvis impersonator at the manger. But, the feuding sisters find a way to pull together in order to present a Christmas program never to be forgotten. This family friendly journey through a misadventure-filled Christmas Eve is guaranteed to bring a smile to your face and real joy to your world!
This colorful cast of players is a wonderful combination of very talented Beaufort County actors including: Daniel Bittick, Donna Capps, J.T. Chin, Rebecca Donaldson, Robyn Erickson, Dave Falls, Christine Grefe, Lyndsay Malphrus, Carol Miller, Kay Owen and Rodney Vaughn.
Luke Cleveland & Mark Erickson are co-directing this hilarious production. Cleveland is co-owner of Coastal Stage Productions and this is Erickson's third project with the company. Both are talented director/actors on the Lowcountry theatre scene and have completed many successful productions.
Christmas Belles, presented by Coastal Stage Productions, opens Saturday, November 19 @ 8pm and Sunday, November 20 @ 2pm at The Shed Event Venue, 809 Paris Avenue, Port Royal, SC. Christmas Belles will also be performed on December 2 and 3 @ 8pm and Sunday, December 4 @ 2pm at Main Street Theatre, 3000 Main St., Hilton Head, SC.
General admission tickets: Students $15 (Age 18 and under) – Adults $18.00 in advance, $20 at the door. Online tickets for all events: www.brownpapertickets.com. Local box-office, group pricing or more information: 912-656-1598
Coastal Stage Productions, is a high quality, travelling theatre company based in Ridgeland, SC.