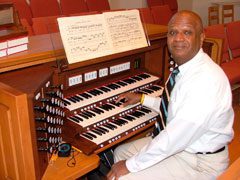 Charles D. Frost, organist, and the Charleston Symphony Brass Quintet will present a recital of music for organ and brass on Sunday, February 12 at 4:00 p.m at Sea Island Presbyterian Church, 81 Lady's Island Drive, Beaufort, South Carolina. The program will feature a variety of styles of music. Together they will perform works by Gabrieli, Campra, Strauss, Pinkham, and Gigout. The quintet will perform  "The Girl in the Flaxen Hair" by Debussy, selections from Westside Story by Bernstein, and "Three-cornered Hat" by deFalla. Frost will perform Bach's Toccata  in F Major".
Members of the quintet are Kyle Lane and Antonio Marti, trumpets; Brandon Nichols, horn; Michael Robinson, trombone; and Tom Joyce, bass trombone. They are all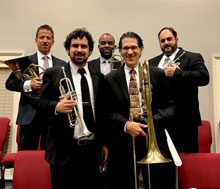 members of the Charleston Symphony. In addition to their duties with the Symphony, they perform regularly with other orchestras, both locally and nationally as well as teach privately.
Frost has been Minister of Music at Sea Island Presbyterian Church since July, 2002.  In addition to his organ responsibilities, he directs and oversees a Music Ministry program that includes children and adult singing choirs and a handbell choir. The church has an extensive series of music programs and concerts throughout the year, which Frost oversees. He is a graduate of Westminster Choir College, Princeton, New Jersey where he received both the Bachelor and Master of Music degrees. His organ studies were with Dr. Joan Lippincott. He studied choral conducting with Dr. Joseph Flummerfelt.

Donations will be appreciated. For more information, contact Charles Frost at 843-525-0696 or cfrost@seaislandpresbyterian.org