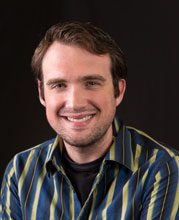 Joseph Ausanio will star in Lean Ensemble Theatre's 'Tribes'
When Lean Ensemble Theater director Blake White decided to stage Nina Raine's critically-acclaimed
Tribes
, he knew he'd be plunging the two-year-old theater company into new territory. The play, which tells the story of a young deaf man and his struggle to be understood in a hearing world, needed an actor who had experienced those challenges firsthand.
On stage, the actor who would play Billy would have to navigate through a family of talkers—a family who, out of a desire to make him feel "normal," had decided against teaching him sign language. Instead he would rely on lip reading. But this is a clan whose conversations are dizzying in their complexity and verbal acrobatics, leaving Billy isolated. When a girlfriend introduces him to signing, he enters a new realm of communication, creating complications with and within his familial tribe.
After screening many audition tapes, White, who also serves as LET's founding artistic and executive director, chose Joseph Ausanio, a 25 year-old LA-based deaf actor and writer who had played Billy in a West Coast production. Ausanio's portrayal had blown White away.
What is it like to be a deaf actor in a profession with a strong focus on the spoken word?
Below Ausanio offers us a glimpse.
What made you decide to be an actor?
Well, it started when I was very young. I was about 7 years old and I saw Marlee Matlin's Oscar-winning performance in Children of a Lesser God. I was blown away by the fact that she's deaf like me and she could perform. This showed me the fact that deaf people can do anything.
What was your first role?
My first acting role was when I was 13 years old. I was cast as a Snake Charmer in Aladdin. And no, they didn't use a real snake.
How do you deal with the challenges of being deaf in a profession that relies so heavily on speaking?
I took speech therapy for many years and my family also taught me how to speak. I'm able to use those skills in this profession and the real world. If I don't understand something, I would stop to ask them to repeat themselves. They didn't mind doing it.
Your credits include a role in a college production of the musical Hairspray, featuring deaf performers. How did that work?
Hairspray was such a fun production to be a part of. I was fortunate to play one of my dream roles, Corny Collins. I've never imagined being in a musical. In my high school's musicals, I was always in the background. We did Hairspray at my college, Rochester Institute of Technology/National Technical Institute for the Deaf. Our director, Luane Davis-Haggerty, cast two actors for each character – the deaf actor and the voice actor. The voice actors stood behind the deaf actors or stood on the opposite side of the stage during the show, because that way, the audience members were able to see the deaf actors' hands while we signed the songs and the lines. The voice actors would mirror the deaf actors. You could see two Tracy's and two Edna's onstage at the same time. It was an exciting experience.
How are you preparing for the role of Billy, the young deaf man, Lean Ensemble Theater's production of Tribes?
After I saw the show in Boston, I felt connected to Billy. I understood where he was coming from. After seeing what he went through, it was powerful to see and we share so many things in common. I cried at the very end of it. It was a beautiful show. The script is so brilliant. I could go on and on about it.
What would you like the audience to come away with after seeing Tribes?
I hope the audience can learn something they haven't thought about before. Tribes is the kind of a show that makes you think. 
What do you see as possibilities for future roles?
Maybe a deaf love interest in a musical. I also would love to do a dramedy. I'd probably have fun playing a bad guy in a mystery.
And if you could play any role you wanted?
That's a tough one to answer, there are so many to choose from. I would love to play Mark in Rent.
Not only are you an actor but also a writer.
I love telling stories that feature deaf people. I wrote for a couple of web shows and I wrote a few screenplays in the past year that showcases #DeafTalent. I'm currently working on a few new ones. I also write for Tru Biz Entertainment at DPAN.tv, The Sign Language Channel. It's a news channel that provides captioning, sign language and voiceover for all kinds of audiences. I love my job!
DETAILS
Tribes by Nina Raine. American Sign Language interpreters at all performances. Audience talkbacks with members of Lean Ensemble following each show. January 26-28 & February 2-4 at 7:30 PM. Sunday matinees January 29 & February 5 at 2 PM. Hilton Head Preparatory School Main Street Theatre, 3000 Main Street, Hilton Head Island. Tickets: $40 evening performances; $35 matinees; $15 students/active military. www.leanensemble.orgor call 843.715.6676.
Lean Ensemble Theater invites first responders to be our guests asa thank you for service you provide to our community. Please contact us at 843.715.6676.