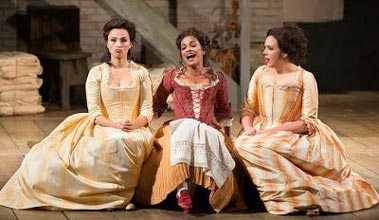 Metropolitan Opera's music director James Levine makes his long-awaited return to the podium to conduct Mozart's beloved opera, Cosi fan tutte, on Saturday, April 26, at the USCB Center for the Arts.
In a review of the first Live in HD performance of the opera, NY Times critic, Anthony Tommasini, said, " Over the years I have heard Mr. Levine give some remarkable accounts of Mozart operas, and I don't think I have ever heard a more vibrant, masterly and natural performance than this Cosi fan tutte …." Mr. Levine has been absent from the podium for two years due to health and injury problems and chose this opera to mark his return.
Set in late 18th century Naples, Cosi fan tutte, translated as "Thus do all women," is a comedy about testing the ties of love with unintended consequences. A sexy young cast brings Mozart's characters to life. Suzanna Phillips and Isabel Leonard are the sisters Fiordiligi and Dorabella, Matthew Polenzani and Rodion Pogossov are their lovers Ferrando and Guglielmo, with Danielle Niese as the scheming maid Despina and Maurizio Muraro as the cynical Don Alfonso.
The two young men are military officers and while in a café they go on and on about how virtuous and faithful their respective fiancés are. Tired of listening to them brag, a cynical old bachelor joins the conversation and challenges them to a bet that he can prove that, like all women, their girlfriends are fickle. They agree to the bet and tell the women that they must go off to war and then return in disguise as exotic strangers to try and seduce each other's lovers. Don Alfonso enlists the help of the ladies' maid, Despina, and comic situations and confusions abound right to the end when the two sisters are marrying the "imposters." At the last minute the trickery is exposed and there is forgiveness all around.
For tickets go to www.uscbcenterforthearts.com or contact the box office at 843-521-4145 between 10 a.m. and 3 p.m. Adults $22, OLLI members $18, all seats reserved. Also available at the door one hour prior to curtain at 12:55 p.m. USCB Center for the Arts, 801 Carteret St., Beaufort, SC.