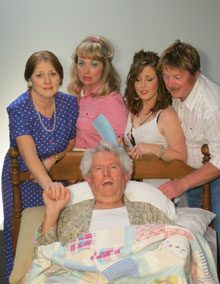 Local theatre company Coastal Stage Productions (CSP) who had audiences rolling with the gang from The Great American Trailer Park Musical last November, returns to The Shed in May with the hilarious comedy Daddy's Dyin' – Who's Got the Will, written by Del Shores, author of Sordid Lives. Set in Texas in the 1980's, Daddy's Dyin' is hilarious and hopeful as it focuses on four siblings who feverishly scheme to get a piece of their dying father's fortune, all the while unknowingly rekindling their misplaced sense of family. When the Turnovers learn that the family patriarch has become incapacitated, they all return home to claim their fortune. Instead they find their father has not only lost his faculties, but also the only remaining copy of the family will. Old rivalries, childhood memories and typical family dynamics lead to some hysterical and over-the-top exchanges.
This colorful cast is a talented assemblage of new and returning CSP Players: Roscoe Sandlin plays the ailing father Buford, Donna Capps is the sharp-tongued matriarch Momma Wheelis, Kelley Ard is the sassy town beautician Sara Lee Turnover, and Connie Dudeck-Hoskins plays Marlene the embattled daughter-in-law and weight loss advocate. The new faces to the CSP family are Kay Owen, who plays the Bible-thumping older sister Lurlene Turnover-Rogers, Christa Fortney as six-time divorced Evalita Turnover, Mark Erickson playing vegetarian hippy, Harmony Rhodes, and Dave Falls who has great fun as the foul-mouthed, only-son, Orville Turnover.
Veteran director Christine Grefe returns to lead the cast. She was also the director for the CSP's premier production, The Dixie Swim Club, in April 2015.
"You think your family is dysfunctional?" said Grefe. "You're sure to identify with someone among the eccentric members of our Texas Turnover clan."

Performances: May 20-22 and Comedy Dinner Theatre: May 20-21, 2016.
Friday & Saturday Dinner Theatre – Doors Open at 6 pm, Dinner at 6:30 pm, Performance at 8 pm
Friday & Saturday Performance Only – Doors Open at 7:30 pm, Performance at 8 pm.
Sunday Performance Only – Doors Open at1:30 pm – Performance Begins at 2 pm
Deadline for dinner theatre tickets is May 18 – $48 in advance only. Performance only tickets – $18 in advance, $20 at the door. Dinner Theatre tickets may be purchased by calling 912-656-1598. Discount, senior, student & military tickets – $15 available only online at brownpapertickets.com. Performances take place at The Shed in Port Royal.

Coastal Stage Productions, CSP, is a travelling theatre company based in Ridgeland, SC. This production has been cast with talented local actors from Beaufort and Jasper Counties, SC.
Dinner theatre performances are professionally catered by Southern Spice Catering, Bluffton.