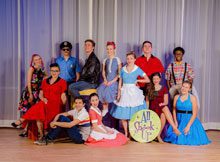 Get ready to shake, rattle and roll as Hilton Head Christian Academy's (HHCA) award-winning theater department brings the Elvis inspired jukebox musical All Shook Up to the stage March 19-21, 2020 at HHCA's Performing Arts Center.  
The show will be performed "in-the-round." This unique format, in which the audience completely surrounds the stage, will be a first for the department.
Loosely based on Shakespeare's Twelfth Night, All Shook Upwill have you jumping out of your blue suede shoes with hits such as "Jailhouse Rock," "Heartbreak Hotel," "Hound Dog," and "It's Now or Never." 
The 18-member cast is led by senior Daniel Harrington (Chad) and junior Gracie Auld (Natalie). Along with Harrington, seniors Floyd Hargrove (Dennis), Emma Stewart (Matilda), Ellie Lentz (Sandra), Ben Jones (Jim), Kaleigh Montgomery (Sylvia), Ben Pyrlik (Earl) and Rashad Gadson will also be taking their final bow with HHCA.  
HHCA Theater Director Michelle McElroy has worked with this year's seniors since they were in the fifth grade.  "This special group has been instrumental to HHCA's theater program." said McElroy "We added All Shook Upto our regular season as an opportunity to showcase their talent and give them a proper send-off. They are a special group and will be greatly missed!"
Along with McElroy, the production team boasts the musical direction of Cynthia Cullen and choreography of Jamal Edwards.  
All Shook Up will run March 19-21, 2020 at 7 pm. and March 21 at 2 pm. Tickets can be purchased at hhcadrama.eventbrite.com.Hilton Head Christian Academy, founded in 1979 and currently located in Hilton Head Island, SC, is a Christ-centered college and life preparatory school serving grades Kindergarten through 12th Grade. Learn more by visiting www.hhca.org.