MARK SHAFFER goes behind the scenes of the new Beaufort Theater Company's inaugural production, "Arsenic & Old Lace," happening Nov. 20-23 at USCB.
Henslowe: Mr. Fennyman, allow me to explain about the theatre business. The natural condition is one of insurmountable obstacles on the road to imminent disaster.
Fennyman: So what do we do?
Henslowe: Nothing. Strangely enough, it all turns out well.
Fennyman: How?
Henslowe: I don't know. It's a mystery.
– from Shakespeare In Love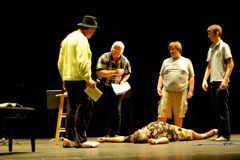 These lines from the 1998 Oscar winning film just may be the best explanation of theater. Ever. Anyone who has ever been associated with any theatrical endeavor has a story of overcoming Sisyphean odds just to make it to opening night. Tales abound. This is after all, what the theater is all about – the telling of tales. So the story of the Beaufort Theater Company's debut production of Arsenic and Old Lace will forever be linked to Joseph and the Amazing Technicolor Dreamcoat. Naturally. The venerable Andrew Lloyd Webber/Tim Rice musical was slated to herald the rebirth of local theater with a joyful noise – and plenty of it. There is hardly a spoken word in the play, just lots and lots of snappy tunes sung mostly by guys. There was just one minor obstacle: no guys. Not a single male showed up for auditions. Not one. "There was a bad moon rising over that musical," says Jeff Evans. "It was just unfortunate timing," Ian Sprague concurs. In their day jobs the co-directors of the current production publish this paper and teach at Beaufort Academy, respectively (read the accompanying interview). "Tickets had already been sold for it," says Sprague, "so it was nice to be able to call up those patrons and say 'we had to cancel Joseph, but guess what we've got for you…"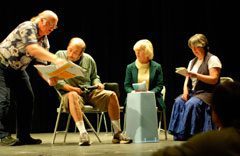 Elaine: You should be fair to these plays.
Mortimer: Are these plays fair to me?
It's 1941 in Brooklyn, New York and Mortimer Brewster is a man with issues. First off he hates the theater, which is a real problem considering he's theater critic for a big time New York newspaper. His faithful, long-suffering girlfriend has an itchy ring finger and a one track mind for matrimony. His two brothers are no picnic, either. One believes he's Teddy Roosevelt, blows a bugle and bellows "Charge!" each time he races up the staircase (San Juan Hill). He's digging the Panama Canal in the basement. Fugitive older brother Jonathan has just turned up on the doorstep on the lam with a new face – courtesy of his creepy companion, Dr. Einstein – and an affinity for homicide. Oh yes, and Mortimer's just discovered that his dear, sweet old aunties' favorite "charity" is poisoning lonely old men who come looking for a room. Indeed, poor Mr. Hoskins has recently been stuffed into the window seat for safekeeping until Teddy can take him "down to the lochs." In short, the Brewsters of Brooklyn are a mixed bag of nuts. "I probably should have told you this before," Mortimer explains to Elaine, "but you see insanity runs in my family. It practically gallops."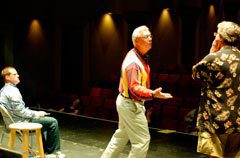 And that's the fun in Joseph Kesselring's classic American farce, Arsenic and Old Lace running November 20th, 21st and 22nd at the USCB Performing Arts Center. While insanity may gallop through the Brewster clan like Attila's Huns, Kesselring's dialogue fairly crackles in the rapid-fire style of the era. The production also marks the return of community theater to the Beaufort area for the first time in nearly a decade with the debut of The Beaufort Theatre Company, a project of Beaufort Performing Arts, Inc. "BPA provides the funding, and in partnership with USCB, the venue to make the production possible," says BPA Executive Director Bonnie Hargrove. "The whole idea it to encourage locals to come and participate without the stress of trying to raise money for costumes, royalties, and production costs."
"It's exciting that there's going to be theater in Beaufort again," observes Dave Falls. According to Evans, Falls was simply "born to play Teddy." "It's been such a long time," he says. "We've needed it." Falls is a veteran of "lots" of local groups, among them Beaufort Little Theater and Jon Sharpe's Beaufort Reparatory Company, the latter having passed beyond legend into the realm of the mythological. "Yes," Falls confirms with a laugh, "that might be the better word to describe it."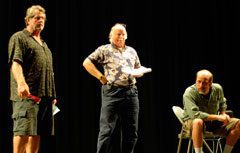 Performance space has always been at a premium in the area and the biggest challenge to building local sustainable theater. In fact, Beaufort Little Theater's eventual demise came after post 9/11 security issues barred the company from the space they were using on the grounds of the Naval Hospital. Under the umbrella of the BPA and through its partnership with the university, the fledgling company has no such worries and hit the boards for rehearsals on the main stage of the Performing Arts Center three weeks before the opening curtain. According to Falls that's an unprecedented luxury for a non-university production and could signal a new era for local theater. "I'm hoping that it'll take off again, and I think it will," he says.
"From the start it has been the theatre's business to entertain people … it needs no other passport than fun."
– Bertolt Brecht
January 1941. New Yorkers are looking for some entertainment – a distraction from the grim events in Europe and the looming reality of a second world war. On January 10, Broadway delivers just what the doctor ordered as the curtain rises on Joseph Kesselring's comedy Arsenic and Old Lace. The play is an unlikely smash with audiences and critics alike packing the house for 1,444 performances. Blitz-weary Britons eager for a diversion from the war developed a taste for Arsenic as well, and the show duplicated its New York success in London a year later. Legendary film director Frank Capra hired Julius and Philip Epstein, the writers of Casablanca, to give Kesselring's play the silver screen treatment. The classic film, released in 1944, solidified Cary Grant's status as both a box office sensation and a gifted comedic actor in the roll of Mortimer Brewster.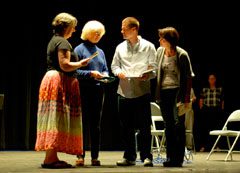 Nearly seven decades on the play is still as spry as opening night on Broadway. The reason is simple according to the directors. It's just damned funny. "The first time reading the script I was laughing out loud," says Evans. "And that's rare," says Sprague. "There's a subtle brilliance to the lines. They're well polished, they're well timed, and the characters – though odd – are still human." Sprague has a special appreciation for the polish and timing, he's also playing Mortimer. "I wasn't supposed to be in the show originally," he says. With the key part still open after a second round of try-outs, the twenty-something Sprague was asked to audition for the part of the thirty-something Mortimer. "He actually did a full-on audition," says his co-director. "We didn't just hand him the part." After several years of directing, Sprague's glad to be back on the boards. "It's nice to be on this side of it," he says, "to refresh those skills since I'm teaching drama. Don't want to get rusty."
"Acting is all about honesty. If you can fake that, you've got it made."
– George Burns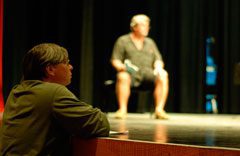 The rest of the cast is an eclectic mix of age, partnerships, experience and a bit of serendipity. Carol Miller and Sheila Tomb as Aunt Martha and Aunt Abby are both experienced actors returning to the stage after lengthy absences. Their special relationship – essentially two halves of a whole – is the key to the entire play. "The aunts are convinced that they're doing a charity," says Tomb. "A mercy," says Miller. "Are they mad though? That depends upon your definition of the word." "It's all just good clean fun," says Tomb.
"My roots go back to the first gala event in this very auditorium. Twenty plus years." says Michael Kane (Dr. Einstein). "Between the two of us we have lots of this stuff under our belts." His onstage partner playing murderous brother Jonathan is where the serendipity comes in. Tom Schuster is in the area helping to care for his ailing father. He saw the audition notice in a local paper and "figured it would be good therapy." The Miami based actor has a lengthy resume as a pro, but for now he's just glad to be able to have a little fun on stage. "If we're having fun with it, the audience will have fun with it," he says, "and we are having fun."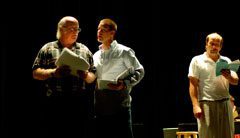 For the show's Elaine, the rehearsal process has been a journey. Mary Strick says no one was more surprised than she when the call came that she'd won the roll came. "I was shocked," she says. Strick went to the audition on a lark with a friend. "I had no idea what I was trying out for, actually," she says. The former schoolteacher always wanted to give acting a shot and recently took some classes to help hone her skills. Her initial terror at stepping into a lead roll has begun to melt away. "Oh, it's fun," she confesses. "Everyone's been very helpful and professional. Ian's been a big help." Like her fellow cast members she's excited about being part of a rebirth. "I know that if people come out and support this they won't regret it," she says.
"Community theaters are vital," says Bonnie Hargrove. "They bring people together to laugh, cry, and celebrate the creative person inside each of us – making the community closer and more cohesive. The amount of talent I have seen on stage during rehearsal is amazing." However the future of the Beaufort Theater Company may well hinge upon its debut, she says. "We'll review the success of our first play and make plans from there. In other words, if you want community theatre in Beaufort, buy a ticket and see Arsenic and Old Lace."
Dave Falls looks around the auditorium as if sizing up an invisible audience. "This is a big theater," he says. "I'm hoping we get some good response with this." He grins confidently. "I think we will."
Rehearsal winds down for the night. The improvement over the previous evening is evident, even remarkable – the mystery at work. The entire cast lets out a mass good-natured groan as Evans and Sprague set the inevitable deadline to be "off book."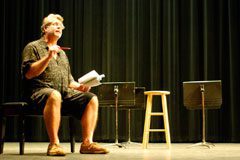 "This is coming along just swell," Evans assures them.
"Any questions?" asks Sprague.
A voice in the back pipes up, "Can we all come back and do this again tomorrow?"
"Absolutely."
Tickets are on sale now at the University of South Carolina Beaufort's Performing Arts Center or on line at www.beaufortscperformingarts.com. Ticket prices are $25-$20-$15 and half price for children 12 years old and younger. Box Office: (843)521-4145, Monday-Friday 10:00 AM to 5:00PM. University of South Carolina Beaufort Performing Arts Center is located in the heart of downtown Beaufort at 801 Carteret Street. Get more online at www.lcweekly.com