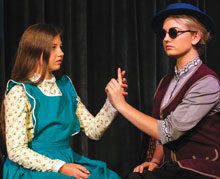 Playwright William Gibson holds a special place in my heart. His play Dinny and the Witches was my first theatre production in college – memorable mostly because the student built platform, which was shaky in rehearsals, finally gave out opening night during my exit at the end of Act I.
Most theatregoers are not familiar with "Dinny," unlike Gibson's most noted work, The Miracle Worker, which is a cycle of 20th century dramatic works derived from Helen Keller's autobiography, The Story of My Life. Gibson took his initial Playhouse 90 version of The Miracle Worker to Broadway where he garnered a Tony, followed by a movie and subsequent made for television movies.
The title originates in Mark Twain's description of Annie Sullivan as a "miracle worker." Twain was an admirer of both women, Helen Keller and Annie Sullivan, and although his own personal finances were problematic, he helped arrange the funding of Keller's Radcliffe College education.
Keller was born with the ability to see and hear. At 19 months old, she contracted an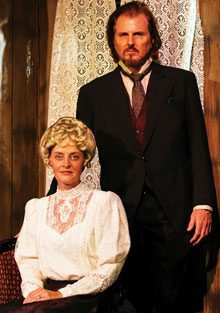 illness described by doctors as "an acute congestion of the stomach and the brain," which might have been scarlet fever or meningitis. The illness left her both deaf and blind.
Unable to deal with her at the age of 7, Helen's terrified and helpless parents contacted the Perkins School for the Blind. In response they sent Anne Sullivan, a former student, to the Keller home to tutor her. What ensues is a battle of wills as Anne breaks down Helen's walls of silence and darkness through persistence, love, and sheer stubbornness. She broke through the isolation imposed by a near complete lack of language, allowing the girl to blossom as she learned to communicate.
Ron Ruckle, last seen in No Time for Sergeants, will debut as director for this American classic, to be performed by the May River Theatre Company. Says Ruckle, "This is an important show, not just for the actors, but for the audience and theatre as a whole. We will have the opportunity to share beautiful and powerful experiences with each other. This is a deeply emotional show filled to the brim with iconic characters and performances."
Theatre veterans Ellie Lentz (Helen Keller) and Rebecca Donaldson (Annie Sullivan) are joined by Christine Grefe (Mrs. Keller) and JT Chinn (Mr. Keller). Also gracing the stage for this classic are veterans Sheila Kadra (Aunt Ev); Lily Beck (Percy); Tony Falgiani (Anagnos); Stephan Brannan (James); Hope Ruckle (Blind Girl). Players new to the MRT stage are: Michelle McElroy, (Viney); Sophia Claudio (Martha); and Aurora Liptak, (Jimmy and Helen Keller Understudy); Ami Hughey, Haylie Star, Lily Leto and Talia Boudjemaa (Blind Girls.)
            Performances are August 12 – August 28, Friday and Saturdays at 8 pm and Sunday matinees at 3 pm at the Ulmer Auditorium at Bluffton Town Hall. The Miracle Worker is presented with permission from Samuel French, New York, NY. Tickets for the show are available online at www.mayrivertheatre.com or by calling the box office at 843.815.5581. Box office hours are 10 a.m.-2 p.m. Monday-Friday. All reserved seats are $25.